Ask 5: What is your favorite thing about UWL in the fall?
Fall is by far the most adored season and at UWL, it is even better. For college students, it means extra-large sweaters, pumpkin flavored coffee and being able to sleep later because the sun won't be out. I asked five UWL students what their favorites are on campus during the autumn weather.
Peyton Aderman, first-year student at UWL shared her love of morning walks to class, "I love walking by the Hoeschler before my morning class and breathing in the fresh air. The crisp cold air is the best thing to wake me up." Aderman is not alone in considering the utmost adoration for the Hoeschler tower.
Tori Holtz, student at UWL describes her love of the bluffs on a cool day, "Walking to class and seeing the bluffs brightens up my day, they are completely beautiful and it is amazing to walk to class seeing them. The leaves changing as well is one of my favorite things."
Hiking the bluffs is a past time of many residents in La Crosse and second year, Aaron Rudd shares this same passion. He says, "In the fall I love how the trees wilt and look during my hikes up the bluffs. My friends and I try to go a couple times each fall because the scenery from the top is unreal."
Towards the more aesthetic side of fall, sweaters and pumpkin spiced coffee become a must. Sara Schmidt shares, "Wearing sweaters all fall is my favorite thing. I don't have to worry about sweating in the afternoon because it is cold all day. Being comfortable and cool is a need, I am glad not to be sweating in my dorm soon. Fall is the best season."
On the other side of things, some people are upset about pumpkin flavored things. Trevor Geerdts shares, "I think the pumpkin spice thing is sort of overdone, there are plenty of other things to enjoy about UWL besides the coffee. I wish people would be more focused on the smell of it, nothing beats the smell of UWL during fall time, it's fresh and clear."
Nothing is better than fall at UWL, and UWL and its students are lucky to be in the perfect city in Wisconsin to celebrate the changing of seasons.
About the Photographer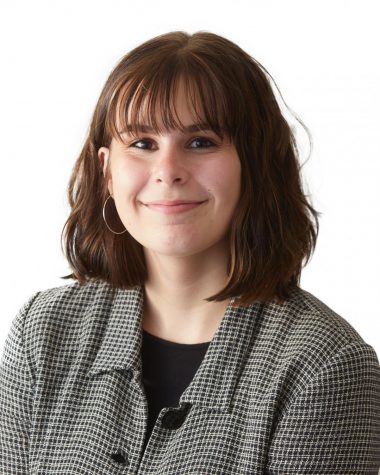 Sam Stroozas, Executive Editor

Year at UWL: Senior
PGPs: She/Her/Hers
Hometown: Hudson, WI
Major: English with an emphasis in Writing and Rhetoric, Communication Studies...