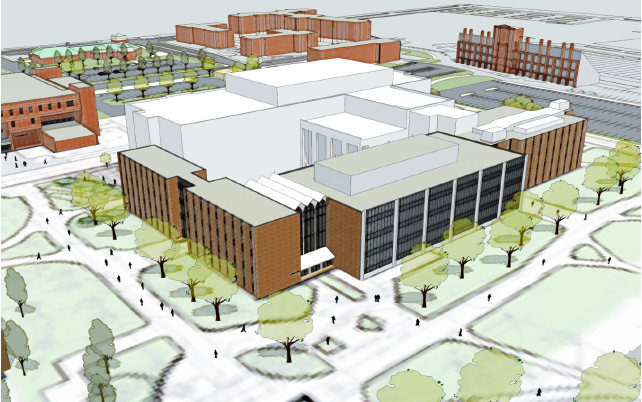 Retrieved from UWL Campus News
The construction around University of Wisconsin – La Crosse is hard not to notice. With the completion of the Student Union, Centennial Hall, and Eagle Hall, the campus looks a lot different than it has in years prior. These three projects are just the beginning for UWL, in interviews with Chancellor Joe Gow and Doug Pearson, the Executive Director of Facilities Planning and Management, mentioned that there is a lot ahead for the campus and the complete construction will most likely not be done until twenty-twenty five.
Gow began with, "These projects do take time and some may not be as interesting to some people such as the parking ramp or the chiller plant, but the campus is slowly renovating."
With the mass construction around campus, students are curious about what the future projects are and how this will impact student life. Gow reassured students, "The construction will be noisy, but there is no lack of learning or issues with student life. We are creating better spaces for students and after the opening of the new Student Union, it is easy to see that most students are in favor of the changes."
Pearson noted the many projects students may be unaware of.  The more noticeable renovations at this time is the new science lab building, Pearson said, "The project constructs a new nineteen hundred thousand square foot science building consisting of lab classrooms and research labs and is scheduled to be complete by the summer of twenty- eighteen."
The recreational eagle center is a popular place for students to work out, hang out with friends, and play intramurals. The REC Center Addition is currently underway, Pearson explained, "The REC addition will have an enlarged strength training space, a large multipurpose recreation with a storage basement beneath."
Commenting on this, Gow added, "We are expecting a lot of success with the new REC features among students, it has been requested for a while."
With sports being a staple at UWL, and the men's and women's soccer teams being popular, a new soccer field was needed. Pearson commented, "The new synthetic soccer field is an addition that will be used for the NCAA women's soccer team, club sports, and recreational sports use."
Gow also noted, "In the future, we hope to have more areas such as a fieldhouse to have more room for Recreation Management classes and Exercise and Sports Science." Sports being an enjoyment for most college students, this will assist the sport-related majors and the players on campus.
Some of the lesser known projects that are being worked on at campus right now are to improve the greater good of how we do our homework. The IT infrastructure, a project to install new fiber optic cables around campus bettering how we function as students will help improve our academic lives. Pearson stated, "The IT Infrastructure is scheduled to be complete in July of 2018 and will increase the capacity of the campus data network."
Along with the IT Infrastructure, the Wing Data Center HVAC will be assisting students and staff more efficiently. Pearson explained, "This project will replace the HVAC system for campus data center and be complete by July of 2018. This will greatly improve the reliability and capacity of the campus data system."
Gow commented on this project, "These completed and work in progress projects will help prep the way for future projects on campus."
With many projects waiting to begin, such as the gymnastics practice facility, Wittich renovation, and more parking lot reconstruction, UWL has a lot to look forward to as a progressive UW campus.
In his final comments, Gow concluded, "We are grateful for the patience the students have. It may seem like a pain to have this much construction going on but as Alumni they will appreciate how beautiful the UWL campus is. I have had many Alumni come back to campus and comment on how much the campus has changed for the better, and this can only continue."
Although the construction may cause some change in your walking path to class, keep in mind that UWL is paving the way for elite higher education and the mild construction we are enduring is only proof of a bright future ahead for this booming campus.