Club Close-Up: Latin American Student Organization
Latin American Student Organization, or LASO as it is better known, works to "expand Latin American culture throughout University of Wisconsin – La Crosse and the La Crosse community while creating a safe space for all people of any color and race to show their love for the Latin American culture."
In an interview with President Edith Osorio, she explained why students should notice LASO and its role at UWL.
This Saturday LASO is sponsoring their second major event of the year. Their first event was in the fall for the Day of the Dead. It was an all-day event in which they provided a variety of activities to celebrate Latin American culture and express love for those who have passed.
Their second event is the annual Fiesta. Osorio said, "Every year we pick a theme and influence that theme into our Fiesta. This year our theme is the Afro-Latino connection. During this event, we prepare a performance, give thanks to everyone who has been a part of LASO, and some of our members give a special presentation on behalf of the theme along with a special dinner and a live salsa band from Madison that plays and teaches the audience some salsa moves."
Although LASO's main focus is their Day of the Dead and Fiesta events, this is not the only time they are present at UWL. Osorio commented, "We connect with the community and volunteer in many areas and support the other multicultural organizations as well."
Many multicultural student organizations have existed on the UWL campus for quite a while but LASO's involvement has been timeless; Osorio noted, "We have been an organization for many years and I believe it started because of the population of students who identified as those with Hispanic ethnicities was increasing. This organization helps students who miss those Hispanic roots to find that connection again with others and even teach those who are in our organization to simply learn more of our culture."
Joining LASO is a choice readers should take into considering because of their family dynamic-like connections. Osorio stated, "LASO emphasizes becoming a family. We have lots of laugher in our meetings and it's a great way to take a break from all the school work because having a social life is important too. We express our joy for the Latin American culture by cooking meals, dancing, singing, and playing games in our meetings."
New member Sophia Jaume added to the conversation, "I have only attended a few LASO meetings but it is easy to tell that they are a close-knit group that encourages inclusion and diversity. I plan on going to the Fiesta; I think it is a great way to celebrate Latin America on the UWL campus."
Inclusion and diversity is proclaimed to be a staple of UWL, but is something we need to work towards actually seeing in our student body. To do so, Osorio encourages students to visit LASO meetings.
Osorio said, "I want UWL students to know that they don't NEED to identify as Hispanic or Latin American to join us. We accept anyone from any background- we love to teach others of our Hispanic roots and have them teach us as well. It's all about having fun and embracing diversity."
LASO's meetings are every Thursday in Centennial Hall 1401 from 5p.m. to 6 p.m. Their executive team consists of: Edith Osorio as President, Micaela Julian as Vice President. Alicia Quinones as Senator, Kelly Johnson as Treasurer, Elvia Valles as Secretary, Rafe Rodriguez as Diversity Organization Coalition Representative, Molly Benavides as Publicist, Nora Murguía as peer-advisor, and Dr. Omar Granados as Advisor.
If you are interested in attending the Fiesta, go to the information desk at the Student Union to see if tickets are still available.
About the Contributor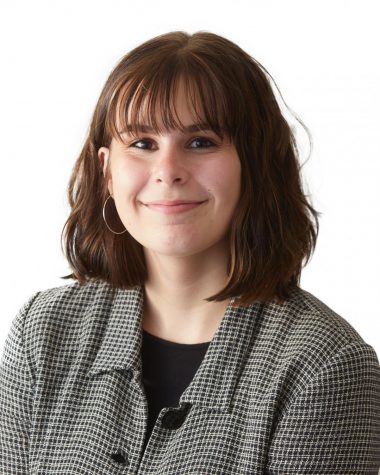 Sam Stroozas, Executive Editor

Year at UWL: Senior
PGPs: She/Her/Hers
Hometown: Hudson, WI
Major: English with an emphasis in Writing and Rhetoric, Communication Studies...