UWL Theatre Department presents Almost, Maine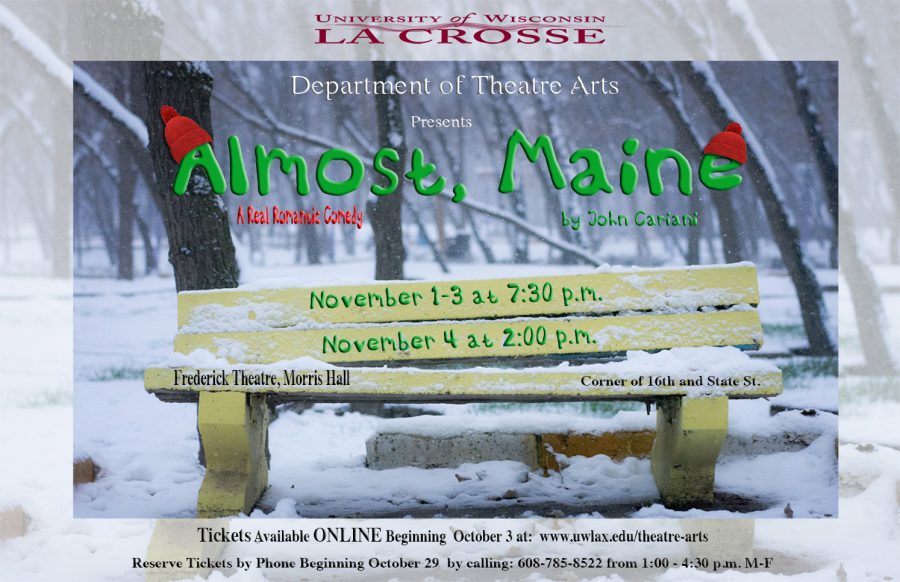 Megan Roddy, Guest Reporter
October 29, 2018
UW-L Theatre's Almost, Maine thaws even the coldest of hearts.
La Crosse, WI -The University of Wisconsin-La Crosse Department of Theatre Arts proudly presents the beloved and charming "rom-com"classic, Almost, Maine by John Cariani.
Almost, Maine tells the story of a magical night in a small mythical New England almost-town named Almost, Maine. The citizens of Almost, Maine find themselves in multiple stages of love, loss, and identity as they face impending divorces, upcoming engagements and first-time meetings. In one night, the town of Almost experiences the life-altering power of the human heart.
Propelled by the mystical energy of the aurora borealis and populated with characters who are humorous, plain-spoken, thoughtful, and sincere, Almost, Maine is a series of loosely connected tales about love. According to the New York Daily News, "Sweet, poignant, and witty. Nearly perfect. Almost, Maine charm is real. (It) packs wit, earns its laughs and, like love, surprises you." The cast is made up of six talented actors, playing 21 characters throughout the show. Two of the cast members, senior Theatre and Communications double major Carly Boles and sophomore Musical Theatre major Gabe Burdette were able to share their thoughts and experiences on the show. "Working on this production has been challenging in many ways, but the most surprising to me is the level of emotional investment and energy that's been required. This play tells stories that can be fantastical and even outrageous, but the characters are organic and raw and tug hard on your heartstrings," shared Carly. "I think this show is really inviting to people from all sorts of walks of life. The characters are funny and very relatable; they're people you would want to be your own friends. I fell in love with the script the first time I read it, and I think every audience member will find something within these stories that they truly connect with."
For Gabe, this is not the first time he has approached this material. "Two years ago I was in Almost, Maine when I played Steve. This time around is such a different experience because I'm older now, and I can now look at my real life experiences and draw from them. I also read the script with the fact that I'm playing multiple characters in mind, which was interesting. I really connected more with the piece overall, this time around." Gabe also shared why people should come see Almost, Maine. "I hope that people can take from this show that love is magical. That love is a gift that we as humans should cherish and allow ourselves to live in the moment of that magic. Although, not all stories have happy endings–every story has magic and it is up to us to keep it alive."
Almost, Maine will warm even the coldest of hearts on November 1-3 at 7:30 p.m. and November 4 at 2:00 p.m. in the Frederick Theater, lower level of Morris Hall on the UW-L campus on the corner of 16th and State Streets.
IF YOU GO:
WHO: UW-La Crosse Department of Theatre Arts
WHAT: Almost, Maine by John Cariani
WHEN: November 1-3 at 7:30 p.m.; November 4 at 2:00 p.m.
WHERE: Frederick Theater, Morris Hall, 1615 State Street, La Crosse, WI 54601
COST: $18 adults; $16 senior citizens/non UW-L students; $6 UW-L students. Tickets may be purchased online beginning October 3 at www.uwlax.edu/theatre-arts. In person/phone reservations begin October 29 by calling 608-785-8522. Box office hours are Monday through Friday 1:00-4:30 p.m. and one hour prior to each performance. General admission seating.
CAST: Carly Boles, Gabe Burdette, Violet Englebert, Wriley Hoffner, Megan Roddy, Devin Vogel
CREW: Mary Leonard (Director), Megan Gunderson (Stage Manager), Renata Orth (Scenic Designer), Mandy Kolbe (Lighting Designer), Willie Pearson (Sound Designer) Michelle Collyar (Costume Designer)