Student-Athlete of the week: Katie Block and Mason McMahon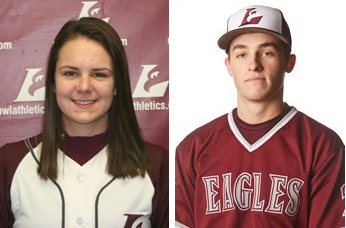 Trevor Kliebenstein, Sports Reporter
March 24, 2019
Hang on for a minute...we're trying to find some more stories you might like.
On March 19, University of Wisconsin-La Crosse Eagles Senior baseball pitcher Mason McMahon and softball third baseman Sophomore Katie Block were awarded Student-Athlete of the Week. 
Katie Block 
Block had tremendous plate appearances last week, going 8 for 13 (.615) in four starts. She had a .643 on-base percentage and a 1.231 slugging percentage. She recorded at least one hit and one run in all four games. Block went 4 for 4 with two runs, one double and one home run in UWL's 8-6 victory over 15th ranked Central College (Iowa) on March 17. She finished the week with six runs, two doubles, two home runs and two RBI's.  
Block grew up in Minnesota City, Minnesota and played high school softball at Winona High School. At Winona, she was a two-sport athlete, playing both softball and volleyball.  
She earned five letters in softball and four in volleyball. As a captain, she led her team to a state championship in softball her senior season while being named First team all-state. She was named to state all-tournament team, All-Big 9 Conference and All Section team. She also excelled in school, graduating with High Honors and being named Academic all-state.  
The UWL softball team just completed their ten-game trip in Tucson, Arizona. The Eagles went 5-5 on the trip, improving their record to 10-8 on the season. On the season, Block leads the team in both hits (24) and runs (18). She's started all 18 games and is fourth on the team in batting average (.421). She also leads the team with three homeruns.  
Block could not be interviewed due to her team's trip to Tucson, Arizona. 
Block and the UWL Softball team look to improve on their 10-8 record March 27 when they battle Saint Mary's University (Minn) in La Crosse. 
Mason McMahon 
McMahon made his first start of the season March 17 against 12th ranked University of Southern Maine. He went 6 innings in a 2-0 loss, allowing only three hits, two runs and two walks while striking out six. McMahon is now fifth in career strikeouts (170) at UWL. 
"Moving into fifth for the all-time career strikeouts record against Southern Maine felt great because there have been so many great pitchers who played here before me," said McMahon. 
McMahon has a few goals in mind for his last year pitching for the Eagles. First, he would love to break the all-time strikeout record at UWL. "It would be a very humbling and satisfying feeling seeing my name atop the record books when the time comes to look back and reflect on my athletic career here at UWL," said the senior. 
On top of the strikeout record, McMahon has goals of leading his team to what would be UWL's first National Championship in the College World Series. "We have the talent, leadership, and drive to do it so I believe it is a goal that could become a reality," said McMahon. He also has goals of leading the pitching staff to the best pitching staff in the country. 
The Eagles have already played seven tough games in Auburndale, Florida against some of the top teams in the country. The Eagles won only two of these games, but all seven outings were close, down to the wire games.  
McMahon stated, "My takeaway from our team's trip down to Florida is that from top to bottom we have an extremely talented team that can compete with and beat any team in the country." He was also happy with how great the pitching staff looked from top to bottom. 
The senior realizes that this will be his last ride pitching for the Eagles, and he's giving everything to the university he's called home the past four years. He said, "I'm embracing my final season here at UWL with the mindset of not leaving anything left on the table. When my career at UWL is over I want to know that I did everything I possibly could to help make this team successful." 
McMahon was a standout pitcher for his high school team, Maple Grove, Minnesota. He holds the single season and career saves record for Maple Grove. He didn't skip a beat in his transition into college as he appeared in nine games freshman year. In 2017, his sophomore season, he finished 6-1 with a 3.68 earned run average. Last season, McMahon pitched a career high 67.1 innings with a career-high 107 strikeouts. With these 107 strikeouts, he led the Wisconsin Intercollegiate Athletic Conference (WIAC) in strikeouts last season. This season, he's looking to lead of one the best pitching staffs in the country. 
McMahon attributes his tremendous success these past four years to God, his family and the amazing personnel at UWL. He credited his dad and brother for inspiring him to play the game he loves, his upperclassmen that mentored him his freshman and sophomore year of college, and his coaching staff for helping him both mentally and physically. He's also thankful for his teammates and roommates for pushing him to be the best baseball player and individual possible. "The people I've met here at UWL are second to none and I am so grateful to be able to be around them every day," said McMahon. 
While McMahon has the possibility of getting drafted into the MLB, he's focused on pursuing his dream of working for Perfect Game USA, "an Elite baseball company that specializes in player development, scouting, recruiting, and player promotion," according to the senior. He's double majoring in marketing and communications.  
Outside of baseball, he enjoys spending time with family back in his hometown, Maple Grove, Minnesota, watching his younger siblings compete in sports. He also enjoys cooking, as his roommates always beg him to make dinners for them.  
In La Crosse, he loves spending time outdoors whether it's hiking the bluffs or rollerblading along the Mississippi River. He also takes trips downtown to support the local businesses on 3rd street. "There is always so much to do no matter what time of year it is, which makes La Crosse such as great place to attend college," said McMahon. 
McMahon and the Eagles baseball team play next at home on March 26 vs. Luther College (Iowa) at 3:00 p.m.