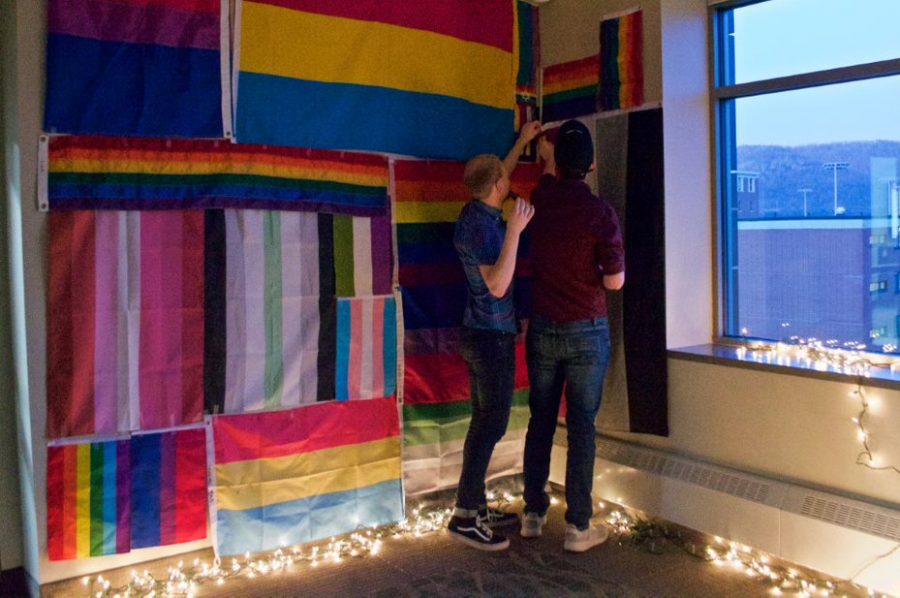 On Friday, Apr. 5 the University of Wisconsin-La Crosse wrapped up Social Justice Week with their ninth annual "Pride Prom". Students and faculty from UWL and from the LGBTQ Center in downtown La Crosse gathered to celebrate with food, music and dancing.   
Pride Center Director Will Van Roosenbeek shared how Pride Prom came to fruition. "A lot of time in high school folks didn't go to their prom, either because they weren't allowed to with the person they wanted to or they weren't allowed to dress the way they wanted to. So about 9 years ago students said, 'We should do our own prom' and I said, 'Yeah!' So, we did it," said Van Roosenbeek.  
For the first Pride Prom, UWL's Pride Center invited people from the community. Van Roosenbeek said, "It was a bigger affair back then. The first year the students really wanted to go all out, so we ordered all that stuff from those prom companies." 
"When we got it we were like, 'Are you kidding?', we paid like 300 dollars for cardboard that we had to paint ourselves and glue together. I mean it was pretty, but we don't even need all those decorations. We've got skeletons up from Halloween still!".  
A few UWL students commented on why they were attending Pride Prom: 
"I like this because I get to actually dance with my partner and not get stared at—cause that's no fun" said UWL student John*. 
Another UWL student, Sally*, said, "It's nice to be able to support everyone, no matter how they feel or how they identify. It's definitely one space that's not wide spread around campus; it's nice and small where everyone feels safe."  
"I'm here 'cause I like a lot of these people and I actually didn't go to prom either year so figured might as well," said UWL student Sarah*. 
"A lot of high schoolers didn't go to prom because they felt uncomfortable, like they were forced to be with the opposite gender. This gives you the ability to have your prom, but be who you want to be and just feel more comfortable about it—high school sucks", says UW-L senior Tori Kempken. 
Pride Center Graduate Assistant Garrett Denning explained how the event is an outlet for student stress. "With everything going on in the world, with everything going on on campus, the different things students have to deal with on a day-to-day basis, it's nice to be able to come here and just dance it out," said Denning. 
Van Roosenbeek agreed and discussed the shift in campus dances over the years. "We don't really do dances anymore on campus. When I was a grad student here they had a dance on campus every weekend, and it was packed!" said Van Roosenbeek. 
UWL student Emily Stoll is a member of the Social Justice Advisory Committee. Stoll summed up the event in one simple sentence, "This is our family, so we try to have a space they can feel loved". 
*These UWL student's names were changed due to them wishing to remain anonymous.  
Show Global Grounds cashier this article for a FREE bagel with the purchase of a regular-priced drink! Limit one coupon per customer.