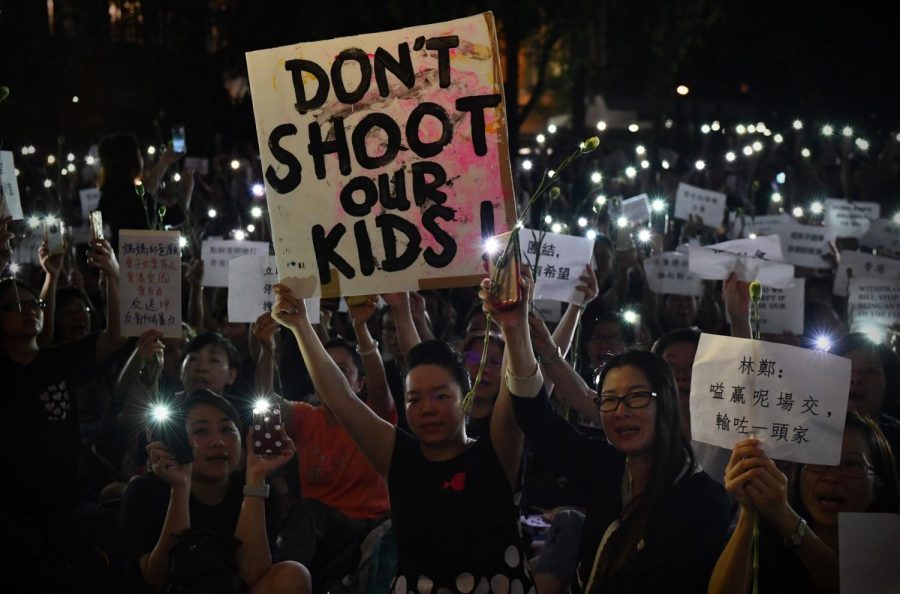 Hong Kong, or otherwise known to China as the "Hong Kong Special Administrative Region of the People's Republic of China," has a peculiar relationship with its mother country. Hong Kong is free to do as they wish under China's official "one country, two systems" ideology. Its citizens refer to themselves as "Hongkongers" instead of Chinese, with 40 percent of the population identifying themselves as Hongkongers, compared to the 18 percent who identify as Chinese. In Hongkong iconic British red telephone booths line streets named "Hollywood rd." and "Shelley street," while monuments of George VI and Queen Victoria and Prince Albert stand.
There are transportations with British undertones of the "5-stat ferry" and double-decker buses similar to London. Their roads are traveled on the right side and bowling greens are found all over the city for the British game of "lawn bowls." England's western influence in the east brought a glimpse into what democracy could look like for China, but the customs that have allowed Hong Kong to become the 'gateway to the west' have felt intervention from China.
In the late 1600s to early 1700s, Britain began trading with China. China had valuables such as porcelain and silk, which were rare commodities sold as exotic treasures to Londoners. The product England wanted the most however was Chinese tea. While Hong Kong benefited from England's business, the British wanted more and more Chinese tea and with demand so high from the country, it became a part of England's own culture. The only way that China would allow for this trade to happen was through the exchange of bullion, or silver coins.
Over many years of Britain's involvement with the herb, English bullion began to diminish. But England found loopholes in order to obtain more bullion; smuggling opium into Hong Kong. They would sell the drug for Chinese silver and then use that same coin to buy more tea. China became aware of this swindling drug trade and halted it, seizing all opium from the port and disposing of it into the ocean. England retaliated, parking their gunboats in Hong Kong's port, sparking the Opium Wars.
After four years of waterway war, peace treaty discussions came to be. British diplomat Sir Claude Macdonald drew up the treaty and stated that China would lease Hong Kong to the brits for "99-years"; but for Macdonald, the number of years in the treaty was a formality, he was quoted saying that the deal was "as good as forever," with no intention of giving Hong Kong back to China.
The thirst for tea lead to more colonizing and a path to the trade culture that has affected Hong Kong today with its modern cityscape and a booming economy. In 2019, Hong Kong was given a 90.2 economic freedom score by the "2019 index of economic freedom," ranked as the most economically free"country" in the world; HKD, Hong Kong's modern currency, is the 13th most traded worldwide, and with no tariffs on imported goods and small excise duties on tobacco and alcohol, and 130,000 people packed per square mile, they have become a world leader. The same 2019 index gave the United States a 76.8 overall economic freedom rating, based on the country's rule of law, the size of its government, how regularly efficient the country is in its business, and how open the markets are for trade and financial freedoms. China scored a 58.4 (100th overall).
On July 1, 1997, the final day of British rule, the handover was put into place by both Chinese president Jiang Zemin and U.S Secretary of State Madeline Albright, which assured Hongkongers that their growth during the last 99-years would be respected by the Chinese until July 1, 2047. Hong Kong's life would thrive, practicing free speech and enterprise right under China. June 4 is a day of remembrance in the city for the 1984 Tiananmen Square massacre, where citizens came together to oppose China's one-ruler political system, an event that resulted in Chinese soldiers killing what's speculated to be 10,000 people
Hongkongers met with candlelight remembering their neighbors with prayer. Remembrances like these have respect from China, as long as it's outside of their republic's walls. However, a border has never stopped China from entering and conquering, such as China's presence in Tibet.
Currently, China has the world's longest sea-crossing from Macau, China to Hong Kong, a bridge as long as 55 kilometers (34 miles). One of Hong Kong's legislative council members Claudia Mo sees it as China's latest attempt to keep Hong Kong connected to its motherland through its concrete "umbilical cord."
The bridge has been opened now since October 24, 2018. In 2014, China decided to intervene in another democratic right by controlling who could run for office in Hong Kong, in hopes of securing a pro-China delegate. This sparked the "umbrella movement" where University students gathered to oppose, using umbrellas to protect themselves from tear gas and pepper spray.
In 2015, five employees from a Hong Kong book store, which shelved books covering the sexual and corrupt secrecies of the Chinese government, disappeared suddenly without a trace. One of the bookstore owners appeared on television a few weeks later, stating how sorry he was and how "willing" he is in accepting any Chinese punishment for his actions.
The Chief Executive of Hong Kong Carrie Lam, voted into office Mar. 26, 2017, has served the Hong Kong government since 2007. She held both the Chief Secretary of Admissions and Secretary of Development positions for five-year terms each before her time as Chief executive of Hong Kong. Lam earned the nickname "777" for the 777 pro-Beijing ruling elite who voted for her.
Because of Lam's endorsements, the murder case of Poon Hiu-wing was suspicious to the Chinese public. Last year, Poon Hiu-wing, 20, and her 19-year-old boyfriend Chan Tong-kai traveled to Taiwan for a vacation, where Chan then murdered her. In order to prosecute Tong-kai, Hong Kong would need to remove its strict borders, a move regarded to be China's version of a "Trojan Horse" into Hong Kong.
Protestors accuse this bill to be a pawn for Lam's political endeavors, calling Lam's motives "too secretive and blindly opportunistic." This ruling, if put into place, would allow China to intervene in any judicial case in Hong Kong, immediately placing criminals onto the chopping block to be extradited back to China for prosecution; the city's borders would become completely obsolete and the freedoms Hong Kong has been accustomed to for centuries now comes at a very dangerous price.
Lam has been pressured to cancel the bill indefinitely, Hong Kong continues to protest for the bill's complete withdrawal during its most current suspension. The people of Hong Kong have been standing together against this bill for four weeks. Protests in Hong Kong streets haven't happened as often as they occur in other areas of the world, but now crowds of people who have relied on Hong Kong's economic benefit to the world have been as large as two million.
In 2003, protests against the governments on-again-off-again bill "Article 23," which would have secured a plan to ensure the region's national security, was placed on hold. China attempted to intervene by placing a more communist definition of justice and law for the Hong Kong people in "Article 23," after they've lived for many years under democracy. It is still to this day in a limbo state, a place many fear Lam may place the extradition bill.
With the G20 summit having met in Osaka, Japan on June 28-29, protestors aimed to catch the attention of world leaders on their needs and rights. A campaign built around newspaper advertisements appeared in Canada, Japan, the U.S, and several European countries. China's assistant minister of foreign affairs Zhang Jun informed that China will not allow the G20 to talk about Hong Kong.
Prime Minister of Japan Shinzo Abe reportedly mentioned the issues Hong Kong faces to President Xi Jinping. President Trump praised Xi Jinping during the summit, stating also that Hong Kong "wants democracy." With China's tight political hold on Hong Kong and its gerrymandering, which was responsible for Lam's election, Trump said that the situation is "very sad"
July 1 of this year marked the 22nd anniversary of Hong Kong handover, and it was met with young protestors breaking into the Hong Kong debate quarters and vandalizing the building. These actions led to Hong Kong riot police to intervene in the demonstration, covering the entire area, including themselves, in tear gas, which brought a temporary end to the four-week protests.
China has rejected any 'foreign intervention' from world leaders, with China's foreign ministry spokesperson Geng Shuang urging that "Hong Kong's affairs are purely Chinese international affairs, and no country has the right to intervene." Shuang went on, saying "I also want to point out, that Britain has been arbitrarily interfering with Hong Kong affairs repeatedly. We advise the British side to have a clear understanding of itself, stop interfering in Hong Kong affairs in any way." U.S National Security advisor John Bolton told reporters on July 2 "I think our policies on Hong Kong and Taiwan are very well known. And in particular, with respect to Hong Kong, we expect China like every other country to adhere to its international obligations, I think that is very clear"
If you'd like to learn more, the South China Morning Post has covered these protests extensively, as well as most popular U.S News publications. If you would like to gain a better perspective or understanding of how this may apply to you as a consumer, citizen, or student, you can consult UWL professors. Alan Bigel has taught political science at UWL for 35 years, and has a "wide and deep" understanding of Constitutional law; Hongying Xu teaches Chinese current events (CHI 326); Timothy Dale specializes in democratic theory, popular culture, and politics, and is the department chair for the political science program.