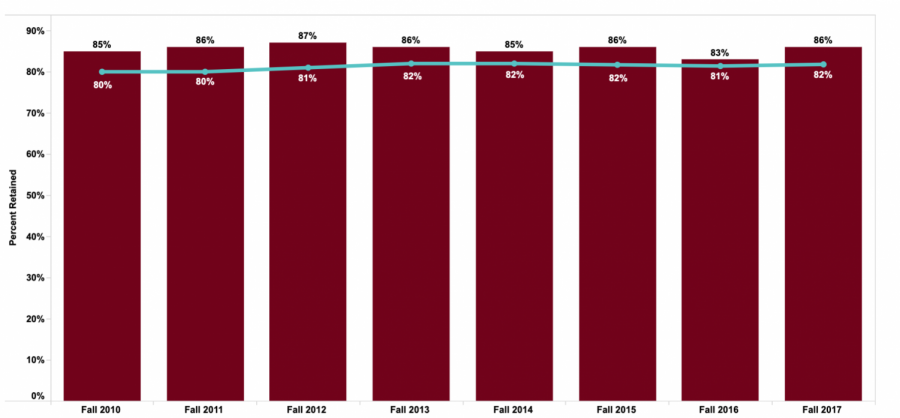 Transferring colleges is a process that 37.2 percent of American students experience each year, as they work to find the environment that best helps them succeed in higher education. The Herzberg Motivation-Hygiene theory, also known as the "two-factor theory," states that there are certain factors which cause both satisfaction and dissatisfaction. Satisfaction factors include motivations, such as achievement, recognition, and personal growth, with dissatisfaction being influenced by hygienic factors, such as working conditions, peer relations, and policies.
The International Journal of Educational Management published a study conducted by Cal State Northridge professor of marketing Oscar W. Deshields, and Pennsylvania State University-York associate professor of marketing Ali Kara, which stated that by using this model on 160 undergraduate business students South Central Pennsylvania, they were able to conclude that a certain amount of faculty interaction, class types and sizes influenced the happiness levels for a student, thus impacting the University's retention rate.
The University of Wisconsin-La Crosse has a retention rate of 86%, meaning the University is able to retain most of its first-year students. Having a positive college experience is imperative to keeping a high retention rate, and employees at UWL are working to make these positive experiences and keep students at UWL.
Jo Arney, Director of Student Success at UWL, explained her opinion as a transfer student herself. She found her college experience to be unfulfilling while attending Carthage College in Kenosha, WI, so she transferred to UW-Stevens Point, but moving to a new school made her feel out of place and insecure. "You may know how something works in college, but once you transfer, you have an entirely new set of norms to follow through with," said Arney.
Arney's job is to measure student success at UWL.  "Student success for me is a moral imperative. To take a student's tuition money is to ensure them that they are comfortable enough here to succeed," said Arney.
UWL currently has one of the largest first-year classes to date, with 2,180 enrollees for the 2018-2019 school year. Arney said that UWL's retention rate is strong, but it could always be better. "An 86 percent retention is awesome and everything, but I would love to see 90 percent," said Arney. "The students who come here are seeking a place where they can study what they are passionate about, and we want keep as many students as we can who deserve to be here."
This past summer and fall transfer class saw a total of 392 transfer students, which outnumbered the previous semester's average of 350. Transfer students who come to UWL have the opportunities and the resources, according to Arnie, to make sure they are retained. The most important advice she could give to any transfer student who is entering a new college atmosphere is to be as social as possible.
"The more involved you are the more likely you are to stay," said Arney. One way that Arney's department reaches out to students who may be struggling is by monitoring their activity on campus. If a first-year student has not picked up their books from book rental services, the Student Success Office will contact them to seek out what may have caused this. If students have not swiped into any type of UWL event, RA's are sent to talk with the student to determine why they may be so inactive. "This is what my job is. It's to find where the cracks are and how we can fix them," said Arney.
One method that UWL has tried regarding the preparation of first-year students was through their one-credit seminar, UWL 100. UWL 100 allows for students to "individually and collaboratively pursue the question 'what does it mean to be an educated person?" According to Arney, first-generation students who were placed into the course were likely to be retained more often than those in the same category who did not participate.
The revitalization of a new 3-credit model led under the Political Science Department Chair Timothy Dale sets UWL on pace to attract first-year students into seminars that are not only beneficial for the student, but also for faculty. "What we did here is we combined two credits into an in-person class, and one credit into an online version which will be called the 'common experience', and not only will it be insightful, with videos both produced and found by UWL faculty meant to help students complete certain activities, but also applicable, with a "test-yourself" portion where students are to place what they've learned in class into real-world situations," said Arney.
"By combining both the interesting topics that professors choose and the online 'common experience,' we are setting the standard for a new and unique model which is not seen very often on other universities."
Arney hopes this program will boost UWL's retention rates. "When a student can see someone who is really passionate about something, I think it makes a difference. It's really hard not to be interested in something that someone else loves," said Arney.
Under this new program, students will be able to view the many resources provided for them by UWL in a more educated and paced manner, versus simply being handed a sheet of paper that they may just end up losing. Students who take their first steps onto UWL's campus will have both the opportunity to extend their education past what they are used to and apply it to subject matter that interests them.
With all the focus being placed on retaining first-year, traditional college students, Arney feels that more needs to be done in order to secure a comfortable transfer student experience. Arnie believes that UWL could do a better job of creating a community of transfer students. "I made most of my friends during my second or third year of undergraduate," said Arney. "So if you're a transfer you may not have much of an expansive time to get to know people, but we are working on it."
UWL's fast facts portion of their website, which provides an overview of the student body at UWL, does not provide much information about diversity on campus, instead showing numbers on campus demographics from place of student origin (80 percent Wisconsinite), average ACT score, number of undergraduate and graduate programs, student-to-faculty ratios, and a section labeled "Points of Pride" which shows UWL's  retention rate and the percentage of classes that have fewer than 50 students. A total of 228 students of color were a part of these metrics, a 10.5% increase compared to other first-year classes, but UWL's racial diversity is still below average, with 89 percent of the student body being white. UWL is ranked 2,132 out of 2,718 of American universities in ethnic diversity. 
"It's not enough, I never think it's enough," said Arney. "We are always looking to increase diversity on campus. Once we bring in multicultural students and make them feel belonged, many studies indicate that it benefits our retention and campus climate."
K.C. Cayo, a transfer student from the Milwaukee area, has noticed this disparity. As a non-traditional student who is a senator for the Student Association and a member of the Pride Center, their story is about priority rather than how a University has shaped them. During a short stint while finishing their final year of high school, Cayo rode what was known around the area as the "scholarship bus," which was their only mode of transportation to school. "I came to realize how awful that name is for a bus," said Cayo.
Having had some difficulties in their final years in high school, Cayo opted to move out of Wisconsin for the more-progressive northeast, where they spent a year at a small liberal arts school called Pine Manor College in Newtown, Massachusetts. "I just wanted to get out of Wisconsin," said Cayo. They found the east coast to be much more accepting of their non-binary identity, but the distance was too far for them so they transferred.
"Unless you're in the Pride Center, there really isn't much acceptance here for people like me," said Cayo. "I was almost always one of the only white people in most of my classes while at Pine Manor, but I feel as if I learned more useful information from my peers than my professors because of that, and then I came here, to a population I was more used to seeing during the first 18 years of my life."
Having grown accustomed to interacting with many different people, Cayo had doubts about UWL. The implementation of a gender-neutral bathroom in the Whitney Dining Center gave Cayo a sense of relief, as they'll finally have comfort while working at Chars and will no longer have to wait until they punch out before they can use the restroom.
Last September, Cayo protested against Supreme Court Justice Kavanaugh's stance against LGBTQ rights, which was a few weeks prior to Christine Blasey Ford's accusations. They opted to take a week off of school in order to protest on the U.S Capital steps in Washington D.C. They're also the regional manager for Western Wisconsin's Woman's march and advocate for the acceptance of students of color.
"I know that many students of color here don't return after their first year, ranging from professors neglecting their needs as students of color and the political climate that surrounds UWL," said Cayo. They recalled the decline in scholarships for international students, whose web page displays a blank white page with the words "coming soon".  
Fifth-year senior Ben O'Connell also transferred to UWL from St. Cloud State University. O' Connell played on their football team and studied Mass Communications to pursue a future in broadcasting, but he quickly lost interest and transferred out of St. Cloud. He has a family history of almost two generations of UWL alumni.
O'Connell was the Student Association President during the 2018-2019 school year and is currently the Vice President of a new organization called Students for Ethical Leadership in Government. He's covered sports for The Racquet Press, hosted a radio show through RAQ Radio, served as the treasurer for College Democrats, and participated as a member for PSPAA and Communications Club.
"When I first came here I got involved with organizations right away to meet people," said O'Connell. He's gotten to know many transfer students at UWL through word of mouth and common interaction, but never from any organized meetings or any other formal events for transfer students.
During his search for housing when he transferred his sophomore year, he chose to live on campus, finding a spot in Eagle Hall with other sophomores and some transfer students. "There was not much that was done specifically for transfer students back then, so I sought out as many opportunities as I could individually to get involved at UWL and meet people," said.
Arney will be holding a listening session in the approaching weeks geared towards UWL transfer students in order to manage their needs and make the transition easier. O'Connell has noticed a difference in the past few years in how UWL handles transfer students. "I think the biggest improvement is just increasing the networking opportunities for transfer students and making sure it is a worthwhile experience," said O'Connell. "I think that having older transfer students talk to younger ones is something else that needs to happen when transfer students arrive at UWL."
For more information about the process of transferring to UWL, please visit the Admissions Office Website.