Graphic design exhibition features UWL students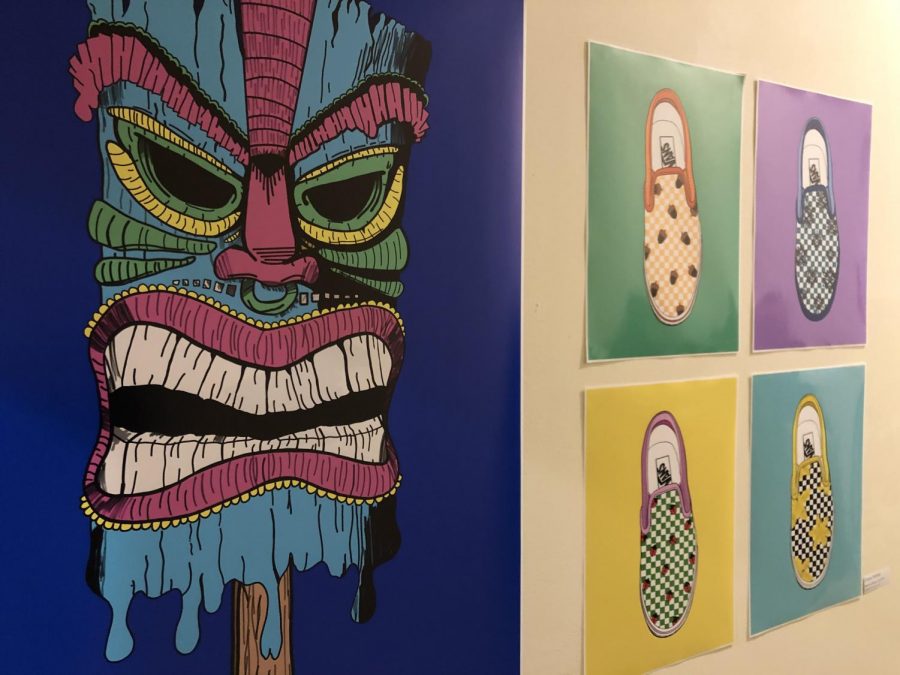 On Friday, Nov. 15, the University of Wisconsin-La Crosse held an exhibit for advanced or independent art students to display the graphic design projects they had been working on throughout the semester.  
"I think it's a really good opportunity to be able to get all of our artwork out there aside from UWL," said Senior and art student, Natalie Reams. "This is who we are when we are not in school." 
Reams had displayed her pieces, Feeling Fruity and Foam Art.
"Our assignment was to pen tool something, and I wasn't going to do that with something that doesn't make me happy, or something I wouldn't want to see every day," said Reams about Feeling Fruity. "So, I found this image and thought, 'Yeah, this makes me super happy, I'm going to recreate it.'" 
"For this one [Foam Art] I started out with one, and made if for my friend because she is traveling everywhere," said Reams. "Then Dewayne [Wrencher], our professor, said I should do three more and make it a series." 
Another artist, Junior Grace Hintze, commented on the inspiration for her pieces, Tiki Popsicle Stick and her Seasons series. 
"I've had a sketchbook that I have been trying to fill with all original ideas, and I wanted to do something with a Tiki but I didn't know exactly what," said Hintze. "So then I just thought, 'Make it dripping and put it on a popsicle stick' and that is exactly what I did." 
"For the series, I was assigned to do a seasons piece, and I was allowed to use any medium I wanted, so I decided on graphics," said Hintze. "There are each one of the seasons and I liked the shoe idea." 
Hintze stated her pieces include bright, vibrant colors because they relate to her personality. 
"I really enjoy pop art and enjoy how vibrant the colors are," said Hintze. "I am a really bubbly person and it shows through my art." 
Exhibits like these not only allow students to present their art to the public but allow them to make connections with people in the community.  
"Basically what they offer is the ability to get your artwork out there and start creating connections. For instance, I am able to have people see this, enjoy it and ask me questions about it," said Hintze. "It is also for the people who own the building. They basically say, 'Hey if you want to put your stuff out there we can do that for you.' It is really all about the connections." 
The 2019 exhibit was the first for many artists, but they agreed it was a great experience and recommend it for other artists.  
"This was my first one and I was really nervous about it," said Reams. "But, I think it is a really great experience for students to step outside of their comfort zones and really put themselves out there." 
"It is a really good experience, even if you are not trying to get anything out of it. If you are not really sure if you should try it, just do it," said Hintze. "You just get to show people what you've been working so hard on and you may be worried no one will enjoy your piece but, there's always going to be somebody who thinks, 'Wow, I love that.'"  
The Graphic Design Exhibition was hosted by Fannin Counseling and Art Therapy and will remain open through Friday, Dec. 13. It is open Saturdays 10 a.m. until 12 p.m., or by request.  
To learn more visit https://www.facebook.com/events/401834867428656/.