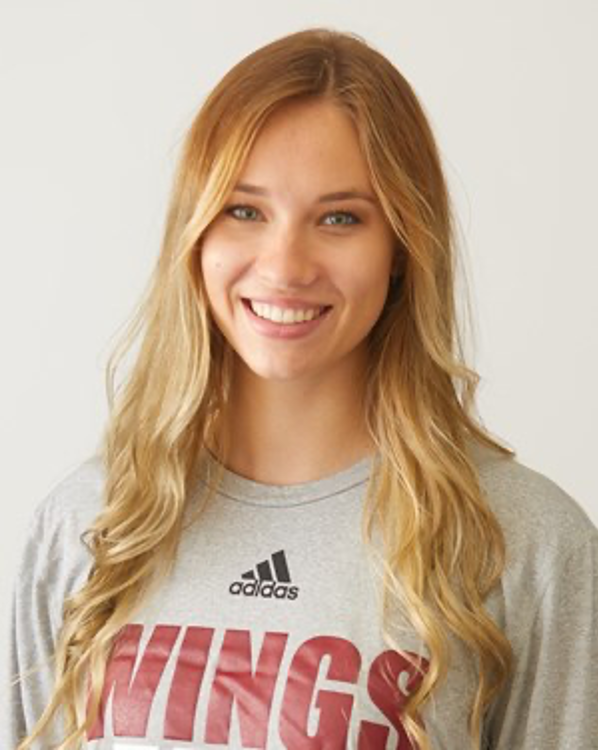 When the news dropped on July 27th, 2020 that all athletic competition would be canceled per a Wisconsin Intercollegiate Athletic Conference (WIAC), senior volleyball player at the University of Wisconsin La Crosse [UWL], Elyse Weber was in a state of shock and disbelief. 
"I was confused at first, and definitely had a feeling of sadness about the loss of my final season," said Weber. "Being around my friends and family definitely helped me navigate that tough time."
Weber, a Tucson, Arizona native, joined the UWL women's volleyball team in the fall of 2018. Weber had previously played at Pima College, a junior college near her hometown. 
Weber decided to play for La Crosse because of her roots here.
"My dad grew up in Wisconsin, and it has always been a place close to my heart," said Weber. "I have a lot of family here and I was given the opportunity to come and compete, so I chose UWL." 
Head Coach Amber Dunn says she has enjoyed working with Weber for the past few years and credits Weber for helping develop the program.
"Elyse's value to our Eagle Volleyball Program has been instrumental. Her leadership and level of work ethic are unmatched," said Dunn.  
Weber has taken on a key leadership role in the women's volleyball team since her arrival. According to volunteer assistant coach, Nicky Rose, Weber's leadership has been an integral piece of the team's chemistry and success.
"There is no doubt about it, with Elyse on the team, it only makes us stronger and pushes her teammates to live up to a higher standard," said Rose.
Rose also called Weber the "definition of leadership" and said that her vocal presence and work ethic on the court is above and beyond the expectations. Other members of the coaching staff feel similarly about Weber's large role on the team.
Assistant coach Dipen Patel, who is entering his second year at UWL, said that Weber seamlessly embodies what constitutes a great athlete for the "UWL volleyball family".
"She [Weber] understands our program's goals and philosophy and not only looks to fulfill them but strives to help others to do the same," said Patel. 
While competition was suspended for the fall, athletes are able to still be involved in the team through various activities. Being a senior can pose a difficult decision of continuing involvement or moving on. Weber personally made the choice to continue with the team to help her with closure.
"No matter what this year looks like this is my senior year," said Weber. "I would rather walk away at the end of the year knowing I gave it my all." 
Weber does feel that there is a sense of relief if there are any activities, because it allows her to play without as much pressure to perform. 
"I just want to play and have fun. There is nothing for me to play for or strive for, but I see this as a chance for me to enjoy the sport I have played my entire life," said Weber. 
While accepting that she will not be able to formally compete, Weber has been able to express all of the gratitude that she has.
"Life without volleyball sucks, but I have been able to focus on all the positives in my life," she said. 
Patel said that Eagle volleyball will always support Weber, well beyond her graduation date.
"UWL Athletics prides themselves in 'building champions in school, sport, and life', and we are beyond excited to support her [Weber] and follow her in her next stages of life," said Patel. 
Upon graduation in May 2021, Weber hopes to attain a graduate assistant position for a university while obtaining her Master's in athletic training.