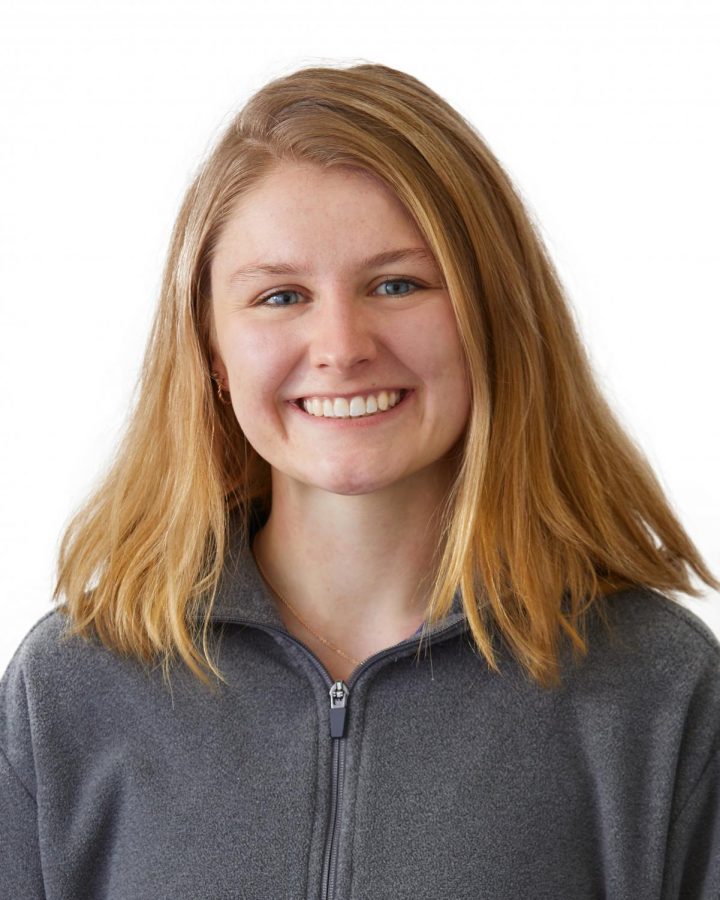 Photo taken from The Racquet Press website.
Entering the fall 2019 season, junior libero for the University of Wisconsin-La Crosse women's volleyball team Julia Van Fleet had tallied 572 digs, finishing fourth in the Wisconsin Intercollegiate Athletic Conference and sixth in UWL school history in a single season. In addition to this, Van Fleet broke the school record of the number of digs in a singular match on Sept. 7, 2018, with 43 digs against the University of St. Thomas, Minnesota. Van Fleet was also named one of two head captains on the team, after just one year competing with the Eagles.
However, Van Fleet would not compete in the 2019 season. Days before the team was scheduled to leave for the opening tournament in Ithaca, New York, Van Fleet made the decision to step away from competition due to mental health complications dealing with depression and anxiety.
According to Van Fleet, the pressure to perform was not the issue; rather, she felt that her own personal issues were starting to impact her on the court and in many aspects of her life. The National Collegiate Athletic Association (NCAA) has acknowledged the mental health crisis in collegiate athletes. According to the NCAA, "Mental health exists on a continuum, with resilience and thriving on one end of the spectrum and mental health disorders that disrupt a college athlete's functioning and performance at the other. We strive to improve access to quality mental healthcare with the goal of creating a culture where care seeking for mental health issues is as normative as care-seeking for physical injuries."
Van Fleet said, "Those few weeks before and after I walked away were some of the most difficult and vulnerable times in my life."
Van Fleet had always attributed her struggles to be a part of the "grind" of athletics, and she had never felt the need to get any form of medication or counseling.
"Volleyball had been the only thing that mattered to me as a part of my identity," Van Fleet said. "For the first time in my life, I had to face myself in the mirror for who I was without it."
According to a study posted on Sage Journals, "Up to 20% of college student-athletes may suffer from depression."
While this statistic may show that there are many student-athletes who face similar struggles to that of Van Fleet, she said that she does not feel like it is normalized in athletes, despite the university and NCAA's efforts to try and bring light to the topic. "No one wants to talk about the tough stuff. No one is willing to be vulnerable with their team, coaches, or themselves. This is the issue with mental health stigmas," she said..
While fall 2019 was difficult for Van Fleet, she attributes her ability to return to the sport to her support system. "Without my family and friends, I am sure I would have dropped out of school," said Van Fleet. "But here I am, entering my senior year and ready to play as much as we are able to."
Van Fleet said that she hopes other students and student-athletes are able to hear about her struggles and realize they are not alone. "You are not supposed to feel depressed or anxious constantly. It does not mean you are weird or moody. It means that you should try and use your resources to seek the help you need," she said.