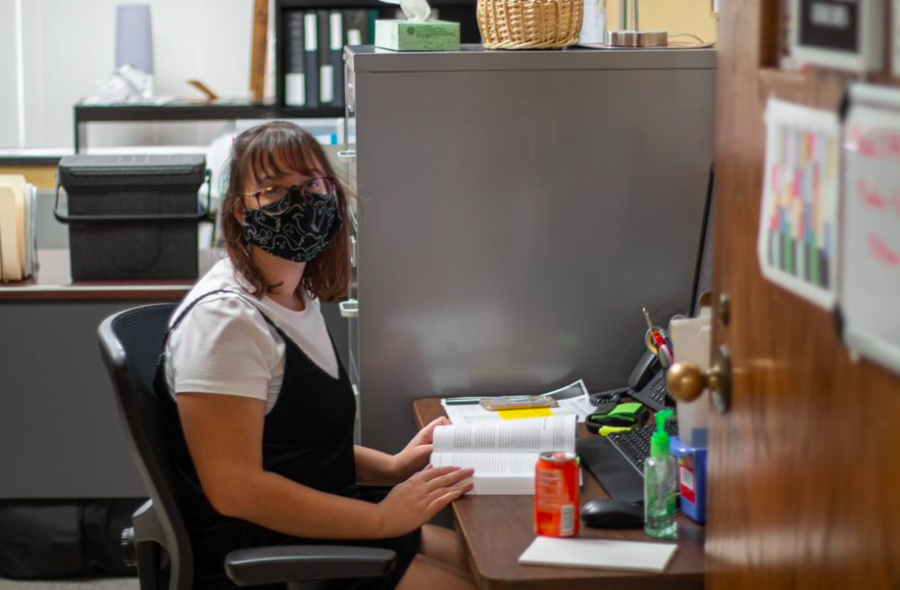 (Image obtained by Sara Hafften).
Madison Arndt is a sophomore majoring in microbiology at The University of Wisconsin-La Crosse.  
Arndt is employed as a prep-room assistant for microbiology labs. She has worked this job since the beginning of the fall semester, for about eight hours a week. One of her responsibilities includes getting labs ready for microbiology students. "We get everything ready for people to make cultures of their own with bacteria so they can grow them and put them in an incubator. We set everything up and clean labs too," said Arndt.  
When UWL was under the shelter-in-place order for two weeks, Arndt was not able to work. Currently, prep-room assistants only are allowed to work every other week. 
When asked how she is able to balance both work and school, Arndt said that she has encountered some difficulties. "It's tough to schedule ahead of time for deadlines and get everything done before work and not have to worry about it after," said Arndt. One thing that she finds helpful is completing the majority of her homework at the beginning of the week.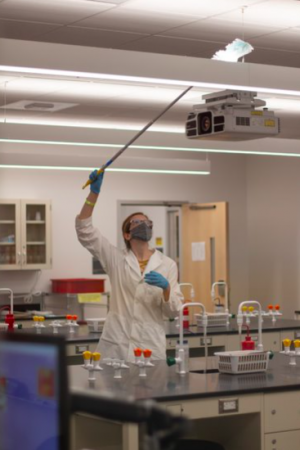 Overall, Arndt likes her job in the microbiology labs because it is within the field she is studying, and it is good experience for her. "It does take time [to adjust], I'm still getting used to training on the job. There's much more I still have to learn. I just have to have patience and not get overwhelmed," said Arndt. 
Emma Rosolek is a sophomore majoring in therapeutic recreation at UWL. 
Rosolek is an office assistant for the music department at the Center for the Arts (CFA) on campus. She started in February of 2020 and had to pause her job in March because of COVID-19. She started working again in September for the fall semester.  
Rosolek completes various tasks for her supervisor and professors within the CFA. Some tasks include distributing mail, copying documents, faxing, and grading papers. One responsibility that has been added to Rosolek's job due to the pandemic is cleaning the seats and workspaces of students after they leave the music listening lab. She had a positive response when asked about her job environment. "I like it there. It's an easy, relaxed job," she said. 
This fall semester, Rosolek found it simple to find a balance between life and work. "Since I have a work-study job, it's been pretty easy for me to do my homework while I'm at work. So, for me it's been helpful to even have a job because it's a time that I sit down and do my work and when people need help I can help them," said Rosolek. 
"With COVID I feel more comfortable working more hours because all of my classes are online. Last year I only wanted to work four hours a week and this year I'm like give me as many hours I can because all of my homework is already online," said Rosolek. She now works 12 hours a week and is happy with her placement working within the music department.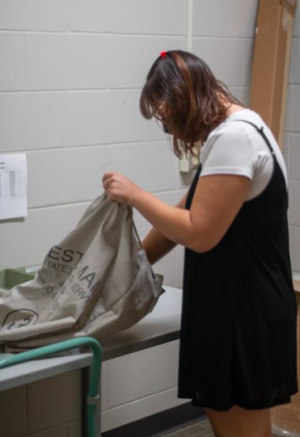 Alexia Walz is a junior at UWL majoring in communication studies with an emphasis in media studies. She also has a double minor in creative writing and digital media studies & design, and is the Managing Editor for The Racquet Press.
Walz worked at Culver's in Onalaska for four years, since she was 16 years old. Recently, she quit her job due to multiple factors. Walz averaged working 25 to 40 hours at most. She mostly worked in the front register area, preparing and serving custard, bagging orders, and cooking in the kitchen.  
Walz emphasized that the urge to quit her job was not recent. "Me quitting now doesn't reflect that I'm stressed out now. I was stressed out for a good year and a half there," said Walz. 
"My responsibilities outside of work were changing really rapidly and I realized that I had focused my efforts in Culvers way too much. I was trying to get promotions and increase my wage. I was working really hard there and I realized I wasn't working as hard in school or on my friendships." She said that what caused her to be so stressed for so long was trying to find balance in her life. She also "didn't want to feel like a quitter."
"I definitely have a tendency of overworking myself, so I think that trait, that facet of me, made me stay longer than I needed to," said Walz. 
When Walz entered college, the added stressors of paying rent the first time and putting together a budget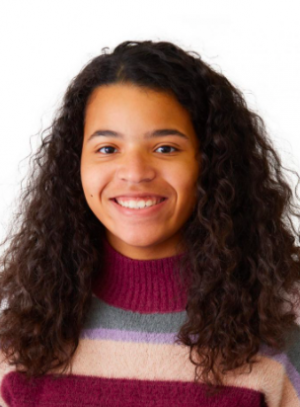 pressured her to work every week. She also used this time at her job as an escape. However, this mindset quickly started to wear her down. "I would go to work, and I'd just think about how I could spend five hours studying instead of making burgers and scooping custard," said Walz.  
During the pandemic, it was also challenging for Walz to constantly keep a positive attitude. "I felt like I wasn't able to give [my coworkers] my best effort and personality. I always tried to be the positive one at work and make everyone upbeat. It was becoming really difficult," said Walz.
In the midst of a pandemic, the stress of college is already taxing. Walz expressed that she needs to take a break for a few months to work on herself. "I personally need to take way more attention to my mental health and self-care and making sure that I'm grounded and not distracted with work," said Walz.