UWL vocal performers adjust to semester safety measures
Choirs at the University of Wisconsin-La Crosse have changed due to COVID-19. Students and faculty have adjusted to masked and distanced rehearsals to maintain group safety while still participating in ensembles and individual vocal studies.
In early May, a study from the Center for Disease and Control (CDC) investigated a choir rehearsal in Skagit County, Washington that may have infected up to 52 people with COVID-19. Since the event, choirs and music groups around the country have followed guidelines to reduce the possibility of infection during music rehearsals and performances.
In an interview with The Racquet Press, UWL Treble Chorus member Emily Schroeder said that students remain nine feet apart and masked during choir rehearsals. She said her group uses singers masks designed to allow singers more comfort while still protecting one another. "It is kind of a duck shape. They stick out a lot. But we can breathe better and stay protected," said Schroeder.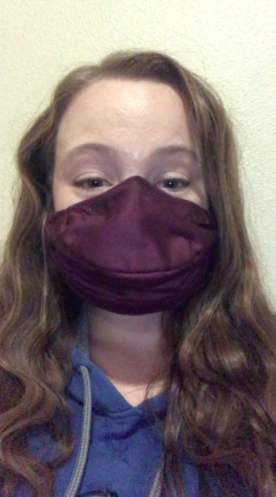 Schroeder said being distanced has been challenging to adjust to. "I would love to just be closer to other people so I could hear them better. I feel like to make a really cohesive sound, being [nine] feet apart – it makes you feel like you are singing all by yourself because people are so far away. Like, you feel like awkward because you can't hear other people," she said.
Some choir rehearsals have been held outside to help maintain safety, said Schroeder. "For my jazz/contemporary ensemble it was really nice because usually we would have been given a classroom but because of COVID-19 we got the gazebo to sing in outside. And it was fall, so it was really fun to be singing outside in the beautiful weather," she said.
Senior music minor Faith Wheat said her senior voice recital looks different this year due to COVID-19. "I had the option to either record it beforehand and have it live-streamed, or do it live, and I think I'm going to do it live. Usually anyone can come in [the recital hall], but I have a cap of 10," said Wheat.
Wheat said her performance may also be streamed through Facebook to her allow older family members and those living far away to attend virtually.
Technology has been a key element to staying connected, but has a few downsides, said Wheat. Zoom rehearsals can introduce lag to the sound, which made it challenging to work with an accompanist on this platform, she said.
Like many other courses at UWL, Wheat said vocal performance courses have been incorporating online elements. "We're using a lot more discussion boards and stuff. We're actually going to post some videos of ourselves singing so that we can comment on each other that way, which takes off the pressure of doing that in person."
Associate instructional specialist Liz Pearse is new to UWL this semester and is working with the new Contemporary/Jazz Vocal Ensemble. She said she spent time over the summer designing elements of the course to work well online and in-person. "We started off this semester online listening to different types of vocal chamber music and kind of talking about what they hear and what they notice in how these professionals are working," said Pearse.
Some aspects of sound development and improvisation are more challenging to do online, said Pearse. "In terms of introducing improvisation to the group, we did some as a group together–we try to do that when we do meet in person," she said. When they are unable to meet as a group, Pearse said some assignments involve improvisation and composition over a pre-made track.
Pearse said other activities have involved discussions of music notation variation, musical decision making, chamber ensemble skills, and using the voice as a broader tool than a single sound. She also said there have been changes to professional vocal ensembles during COVID-19. "One of my main sources of work is as a freelance musician mostly with a vocal quartet. So, my life is in chamber music in singing and it shifted so radically so quickly. It's been really hard because my music-making is with three other women in close proximity, generally where we can see each other," she said.
Pearse said she is grateful for the flexibility of students and the attitude of faculty members during this time. "The department here seems really loving and has been really supportive so far. I know I'm coming in–I'm brand new, kind of a weirdo, and everyone's been very kind and encouraging," she said.
During this time, Wheat said the best thing community members can do is find ways to support the arts in whatever way they can. Information about upcoming virtual performances can be found at the UWL Music webpage and Facebook page.