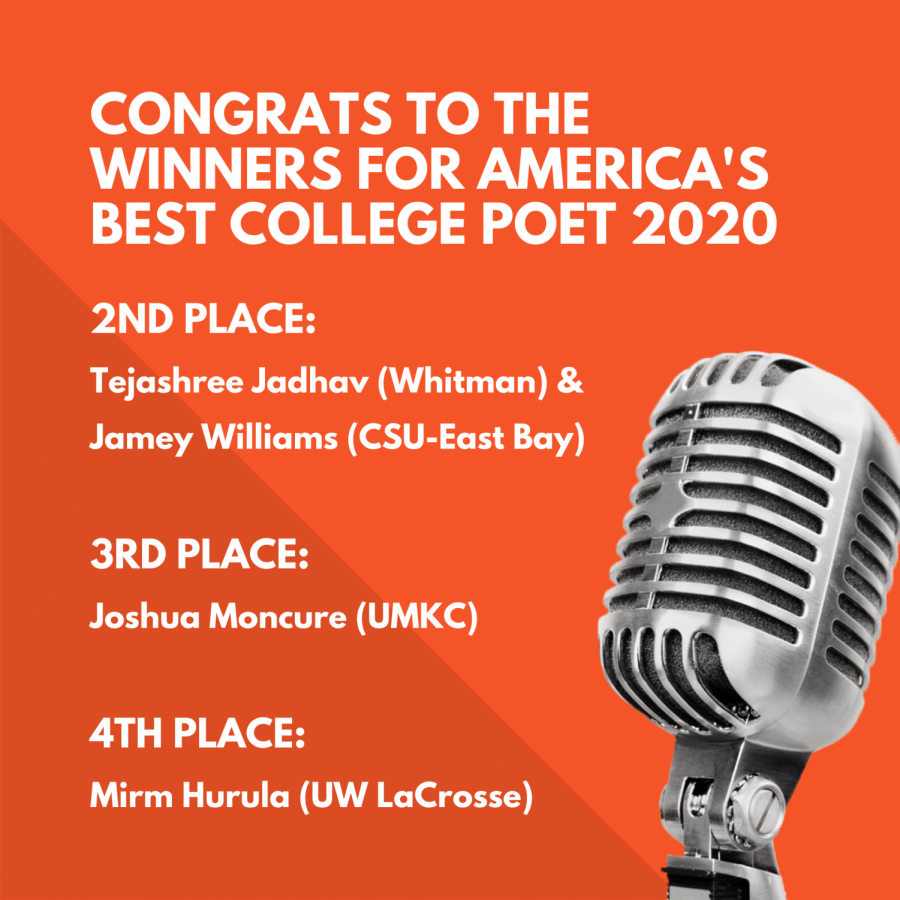 The University of Wisconsin-La Crosse was represented in a national spoken word poetry competition last week, with UWL students Mirm Hurula and Kab Vue finishing in the final seven to compete for the title of America's Best College Poet (ABCP).  
Bass/Schuler entertainment is a full-service talent agency out of Chicago, Illinois, according to agency representative and lead agent of the America's Best College Poet competition, Sue Boxrud. "We hope to give students across the country a platform to speak their truth and be heard in a time where there is so much fighting for social justice and change. We want to be a part of the solution, not the problem," Boxrud said. "Being able to show young people how to use their voice is really important, and we hope we can be a piece of that journey for them."  
ABCP is new this year, with 12 schools across the nation participating. The competition was split into three rounds: preliminary qualifying rounds—which were held by participating colleges, semifinals—which were broken into two separate bouts, and finally three stages of finals, according to Boxrud. "Within the finals we had three rounds that went from ten participants to seven, seven to five, and then from that top five we announced our winners." The competition was held via Zoom and streamed to Bass/Schuler Entertainment's YouTube channel.  
Mirm Hurula 
Hurula is a fifth year student at UWL, and is majoring in early childhood education with double minors in Chinese and TESOL. "I've been writing short stories since I was in elementary school, but I didn't get into poetry and slam poetry specifically until I got into college," Hurula said.  
Hurula said that they focus much of their poetry on activism and social justice. Hurula also works as the campus SEED (Students Educating & Embracing Diversity) intern and is on the executive team of the Native American Student Association. Hurula is also of Pacific Islander descent; a lot of their poetry derives from their Samoan heritage.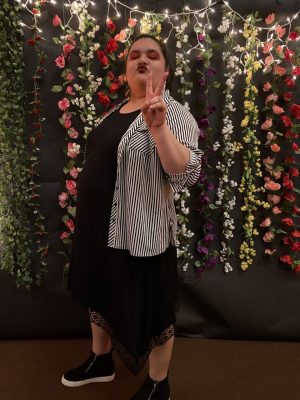 As for how Hurula got into ABCP, they said they needed some prompting. "I typically only perform for open mics and other audiences like that," Hurula said. "Before all of this I never thought that my poetry was good enough to be in competitions with others." Hurula said that Campus Climate Program Coordinator AJ Clauss encouraged Hurula to enter the competition. "AJ is probably the biggest reason why I'm one of the top five collegiate poets in the nation right now."  
Hurula used a combination of new and past pieces in competition. "Fired From a Support Group" is a poem about Hurula's experience being terminated from their position as an RA. Hurula said that they were at their off-campus job, a daycare, when they received word of their termination. "I went into the breakroom and sobbed, because I didn't know if I was going to have enough money to live off campus, I didn't know if I was going to have enough money to go to school anymore." 
Hurula declined to go into detail about their termination, but cited problematic practices within UWL Residence Life as factors. "UWL as a whole, and also residence life, takes credit for things that marginalized students do," Hurula said. "I felt very tokenized in that space, being a queer person and a person of color. They [UWL] try to say, 'oh look, we have the diversity within our staff teams,' but what that really looks like is each staff team generally has one person of color and that's it." 
Hurula said ABCP was a very inclusive and accessible space. "I had a phenomenal group of people that I worked with and that I had the opportunity to meet, but I don't think that's what the entire poetry world is like," Hurula said. "I think there are places where elitism, racism, homophobia, etc. are very present."  
"It's difficult for me as a Samoan to talk about my identity, because there is no space for me around here," Hurula said of UWL. "I'm a part of NASA, and I love them. They're doing amazing things. And they're going to continue to do amazing things for indigenous and native students, but there's not a space that's specifically for my identity as a Samoan and as a Pacific Islander. There's no space for us to talk about the issues we're facing."  
Hurula said of their poetry going forward, "I hope to give voice and space to people like me, with similar identities, and give them a platform to talk about how they're feeling and how they experience the world." 
In the future Hurula hopes to enter more spoken word competitions and is looking to publish a manuscript of poems. Hurula can be found on Instagram @mirmicorn.  
Kab Vue  
Kab Vue (pronounced Kah), is a second-year graduate student in the student affairs administration program and finished in the top seven finalists of ABCP. She works as a graduate assistant in the UWL Campus Climate office, mentoring peer educators and conducting social justice and diversity training. Vue has been performing spoken word poetry for around six years now, beginning during her undergrad at UW-Eau Claire. "At first it was just kind of like, 'I'm going to do this for fun!' and then eventually, after reading other people's pieces, I was inspired to write my own."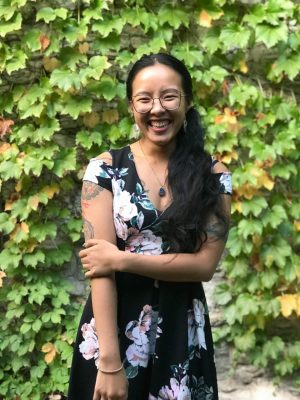 Vue draws on her Hmong heritage and other marginalized identities in her poetry. "Mostly, the type of poetry that I write is based on my own experiences of being a Hmong, queer woman, a first-generation student, a daughter of a refugees," Vue said. "Those are mostly the concepts and ideas that I incorporate into my spoken word because that's who I am, and I think it's really powerful to have my story shared." 
Vue said that ABCP was refreshing. "There's a type of culture around spoken word where you have to perform a certain way. Your intonations of your voice have to be a certain way, the way you carry yourself has to be a certain way, and that's the way that the most successful people succeed."  
Vue said she is trying to break away from this culture, and she felt that ABCP was a good step in that direction. "You do get judged during this competition, but they really stressed that, 'the points are not the point, the point is poetry,' and I think I really appreciated that validation." 
Vue said that one aspect of the competition she enjoyed was called "Champ Camp," during which she had the opportunity to be coached by the judges and also hear them perform. "It was a really cool week where they basically just coached us through our nerves when it came to poetry competitions," Vue said. "The judges talked us through how to tell your story, which stories were worth telling, and what traumas you need to heal before you actually perform spoken word [about them]." 
Vue said that she appreciated connecting with other competitors and hearing their passion. She said that to her the competition was not about winning. "I think that all artists have their own story and deserve to have that story told. Trying to weigh whose story is worth more or better just doesn't sit well with me as a person." 
"I don't write to compete. I write for myself," Vue said. "It was just really nice to be able to share a part of me with the world and share my story." Readers can find Vue's work on her Instagram @vwj.kab and was previously speaking at open mic nights at The Root Note, and may again do so after COVID-19.
America's Best College Poet will return in its virtual format in spring 2021. "We never would have thought about how to do this before, and now we have that framework in place," Boxrud said. "I think that programs like these, and the creative energies that are being put out into the universe right now, are one of the COVID-19 silver linings."