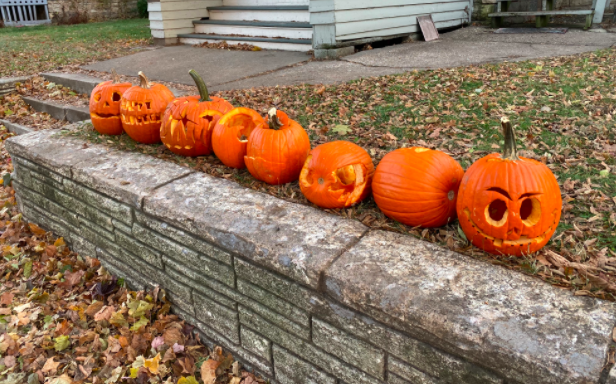 Jack-o-lanterns are a prevalent Halloween decoration on many American doorsteps, however, they contribute negatively and significantly to the environment when thrown away. According to Waste Dive, a publication that provides insight into news and trends shaping waste & recycling, pumpkins contribute to "1.3 billion pounds waste to landfills across the nation." Community outreach coordinator for Students for Sustainability, Sarah Fleegal, noticed this issue occurring on porches throughout La Crosse and proposed a pumpkin composting event to the organization.   
On Sunday, Nov. 1, from 12 p.m. to 5 p.m. at 1324 State Street in La Crosse, Students for Sustainability (SFS) held a pumpkin drop-off event for students living off-campus. After the event, members of the organization visited the city of La Crosse composting site to dispose of them. This event helped to clean up the community and gave students a way to sustainably dispose of their pumpkins. 
Co-chair of SFS, Kelly Flynn, is a junior at The University of Wisconsin-La Crosse majoring in public administration and minoring in both Spanish and environmental studies. Flynn said, "Food waste is a huge environmental problem [in the United States] when you consider our entire food system." 
Flynn explained the basics of composting and why it is important, especially within the United States. "A compost pile has what's called green and brown material. Dead leaves and material like that is put in there along with other compost scraps. You turn it, and it will heat up and decompose and create this compost which is a healthy material that you can reuse by putting on a garden," said Flynn. 
Another aspect of composting that creates a positive impact on the environment is it does not create waste. "It's a zero-waste process. Otherwise, your food scraps would go to a landfill where they would be compressed and sit. When that food breaks down, it produces methane, which is a potent greenhouse gas. And so, that is the whole purpose of composting and it is definitely a great way to work on reducing food waste in the U.S.," said Flynn. 
In order to counter the disposal of perishable foods that end up in landfills across the country, Flynn uses a compost bucket at home. "We have a little ice cream pale that we reused for our compost container. If you have any eggshells, coffee grounds, food and vegetable scraps, or scraps that are not meat and dairy, you can collect it in there. Once it fills up, we usually take it to Kane Street Gardens, which is on the north side of La Crosse. They have compost piles that are open where you can just dump your bucket. That's a super easy location for college students to go to," said Flynn. 
Flynn explained that The Kane Street Community Garden is an accessible resource for the La Crosse area beyond composting. "The Kane Street Community Garden is really awesome. They have a bunch of food handouts, grow a ton of produce, provide a space for composting, and they're volunteer-based. They are a great resource for the community. I highly recommend checking it out," said Flynn.  
If UWL students are currently living in dorms, Flynn recommends putting a small compost container in the freezer.  
Flynn hopes that SFS will consider making the pumpkin composting event an annual activity. 
This winter, Students for Sustainability is partnering with the La Crosse winter farmer's market, which is held every Saturday. If students are looking for volunteer opportunities with the farmer's market or are interested in learning about sustainability on campus, contact [email protected].