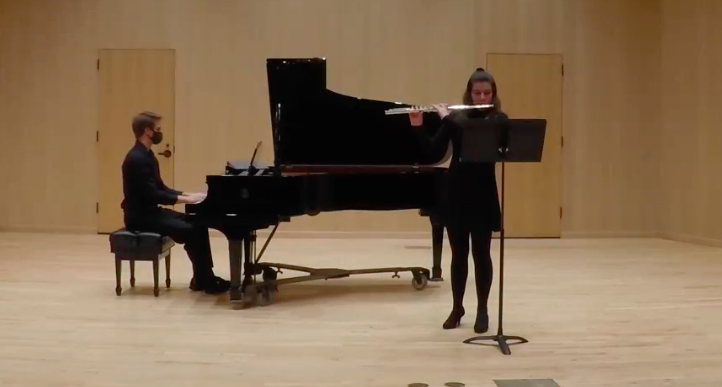 The National Association of Schools of Music (NASM) is the primary accreditor for music schools in the United States. The University of Wisconsin-La Crosse has been accredited and is up for re-accreditation this year.  Accreditation is reviewed and renewed every ten years by NASM. 
In an interview with The Racquet Press, associate professor of music Justin Davis said the reaccreditation process has several steps for the department, including producing a 300–page report, a performance by students, and a visit from NASM officials.  
The visit included conversations with faculty, students, and administrators, said Davis.  
The student performance is typically done in–person but due to the COVID-19 pandemic, a recording was created and submitted instead. "One of the NASM charges is that that we provide a concert that has a thin slice of the whole department as far as majors, areas of study, and years in school," said Davis.  
Davis said that the work is worth it because of how important accreditation is. "It's kind of a stamp of approval that what we're doing at UWL is what we should be doing based on the recommendations of the schools of music across the country. Accreditation is very important because it helps to solidify all of our programs in the music major as well as music minors," he said.  
Davis said that the recordings are also beneficial for students. Whenever recordings of performances are made, students get a unique opportunity to critically listen and evaluate their own playing. The NASM performances were also presented in two departmental recitals and are available for viewing on the UWL Music Facebook page.  
Professor of music Jonathan Borja said he was a big advocate for having the performance be recorded. "I really didn't want to have the students sitting backstage or sitting in the recital hall even if they were wearing masks. It's just too many people. So I pushed for it to be done in a recorded setting," he said.   
The department borrowed a camera to get high-quality footage. Recordings happened over the course of about five days and performances were edited together into a single video. 
Borja said the most challenging part of the experience was working with such a large video file. "I had to download what ended up being 80 minutes worth of footage to my computer and create this 80-minute video," he said.  
According to Borja, the recording process also had other benefits, such as to act as archival footage to include in projects like promotional videos.    
Freshman jazz performance major Leo Chavolla was one of the performers featured in the video performance for NASM. He performed "Sonata for Unaccompanied Euphonium" by Fred L. Clinard.  Chavolla said that before this year, he did not know the full scope of NASM and what accreditation required, though he did know that UWL was a certified NASM school.  
Chavolla said that as a student, recording the piece was the most challenging part of the process. "There was a lot of work on my part just getting ready. I knew there was no editing, no splicing of any kind. I had an hour to record it and I think I got it on the first take," he said.  Chavolla said that as a representative of the Freshman class and of Dr. Forbes' studio, the recording felt high stakes. 
The recording was his first official solo performance at UWL said Chavolla. "It was really weird for me because I walked in Annett [recital hall] all dressed up and started getting ready to play and – there's no one in there. There's a big room and no one is in there. You know they're watching you, but they're not watching you," he said.  
Results of the NASM visit and news of reaccreditation will not be available until late spring or early summer. The results may also be received with recommendations for the department on how to keep improving their program, said Davis. 
"One of the things we discussed was how to get more people connected into making in ways that aren't the typical band, choir, orchestra performance teaching," Davis said. He said aspects of music in movies, video games, and the music business industry could be beneficial for students moving forward.  
Davis said the discussions with the NASM officials and the process of recording helped inspire him to see the broader community that music can create. "It reminds us that music is for everyone and it doesn't matter what you do at UWL," said Davis. "You have a place and can be part of an ensemble and part of the community."