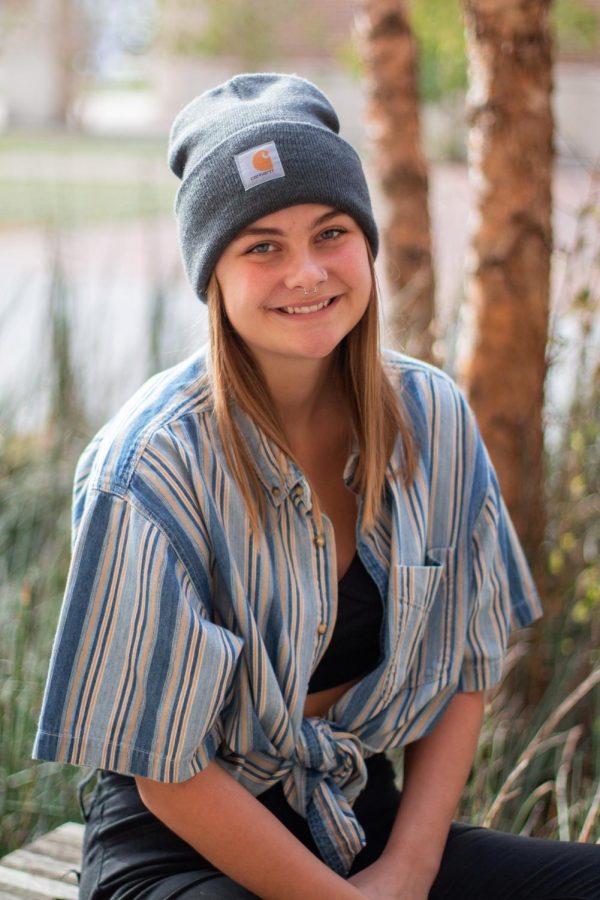 Photo taken by Sara Hafften..
University of Wisconsin-La Crosse sophomore Liv Swanson has been an integral part of The Racquet Press for the past three semesters, however, this semester will be her last as Swanson is taking off the spring semester to spend time with her family in Montana. 
Swanson grew up in the small town of Seneca, WI, with a high school graduating class of twenty. For her, it was a sheltered life. "Going to La Crosse has been a really good thing for me. It broadened my horizons and gave me experiences I normally wouldn't have had," said Swanson. During the summer, her favorite place to hang out was at Riverside Park, hammocking with friends.  
Swanson loves studying English and is passionate about courses in Women's, Gender, and Sexuality Studies. To Kill A Mockingbird was the first book that fueled her interest in reading. Another one of Swanson's interests, writing, is a creative outlet for her. "I love writing because it's the easiest way for me to express everything going on in my head. I don't have any set goals for my writing in the future really, I'm just taking it day by day and seeing what I can create."  
Thinking back, Swanson said that she is "beyond thankful for The Racquet." When she arrived at UWL in the fall of 2019, The Racquet Press caught her attention at Involvement Fest. When asked about her time with the publication, Swanson said, "[Working at The Racquet Press] really made me aware of everything happening at UWL and how much we turn a blind eye to the important things happening on campus. I am inspired by my fellow staff at The Racquet to bring UWL trustworthy news and holding UWL accountable." 
To read Swanson's articles, view her staff profile.