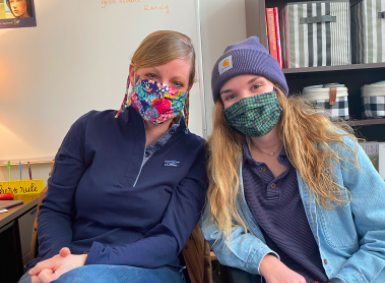 University of Wisconsin-La Crosse senior Gracie Quinn knew that something needed to be done to help the local homeless community. Quinn, who is majoring in middle childhood-early adolescence education, started volunteering early on in her college career. "My sophomore year I was volunteering at the salvation army, and I saw there were a lot of people who needed to have their voice shared."  So one day she sat down with Charlotte Roberts, a second-year professor in the department of educational studies. The two of them tossed around some ideas and decided to interview the homeless community to see what resources were needed.
Roberts said "She (Quinn) had so many brilliant ideas and the two of us were sitting there thinking, 'what do we do with this.'" After lots of brainstorming, they decided to create the blog, People Seeing People. Starting in September, the pair interviewed individuals facing homelessness and gave them a platform to tell their stories.
Each story on the blog is accompanied by an art piece drawn by Quinn, based on the individual's story. Roberts and Quinn print out copies of the art and frame them so the individuals can hang them in their apartments once they find housing. They also laminate the story so it can withstand the elements, and give each person a little gift, such as art supplies or a harmonica.
When it came to planning out the interviews, there were a lot of challenges at first. Roberts explained, "We didn't know what questions to ask. We wrote the questions out and then would go 'I guess that question means we are making assumptions.'"  Eventually, the two of them started serving meals in the park, which helped develop connections within the community and they soon formed personal relationships with a lot of individuals, which, they said, made the interviewing process easier. 
Roberts and Quinn quickly realized the challenges that the homeless community faced were more complex than they had thought. Quinn said, "Some of the bandaid work or temporary fixes like food, temporary housing, or blankets are just as important as long-term solutions. Because without those temporary fixes you won't be able to get to the longer term. So we are looking at more of the long-term systemic issues at this point." They are also looking for people who can make changes in legislation. While the pair are bringing awareness to the issue, the real change needs to come from people, "with deep pockets and legislative power." 
Another challenge stems from the community's perception of homelessness. There are several empty buildings downtown but the community has pushed back against using them as daytime shelters. The Catholic Charities purchased a building to expand, but the community shot it down. As Quinn explained, "you hate the things you don't understand. You see someone unlike yourself and it scares you." 
Most of the funding for the project comes out of pocket. They received an undergraduate research and creativity grant and most of that money went to Quinn for her time and energy, as well as art supplies. The rest of the costs, such as gifts, lamination, and the fee for the web domain, came directly from Roberts and Quinn. They have also put together donation drives for supplies and funds to help individuals struggling with homelessness. 
Their goals for continuing the project involve a cross-state road trip this summer. They plan on going to different cities and interviewing the homeless communities there and seeing what resources are available in other areas. For the blog, they plan on incorporating local news, teachable topics, and more interviews. The duo has gotten a lot of attention locally and nationally which is helping to build their platform.
"It's just been crazy. It was kind of slow and now it's just exponential growth," said Quinn.  She graduates next December and plans on staying in the area for a few years to expand the project. "With this project, I just feel like I have a sense of belonging and I feel more connected to the people that I've met down at the park. They are just so honest and raw I guess."  Over the past few months, the pair have created some unforgettable memories simply spending time in the park talking to people. "Sometimes we go to the park at 10 am for an interview and then all of a sudden it's 3 p.m. and we've gotten coffee for everyone, some guy has a new pair of boots, we've done two interviews and we've had a conversation about spray paint like 12 times. It fills your day and makes it worth it."
If you want to get involved they have set up a tab on peopleseeingpeople.com that lists local resources where people can volunteer, or make donations.