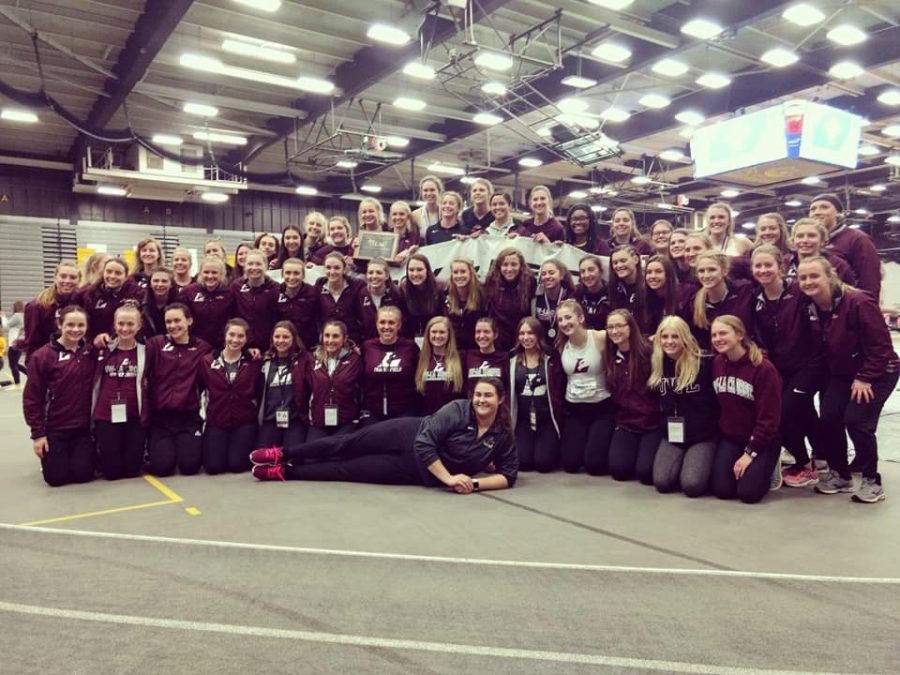 The University of Wisconsin-La Crosse Women's Track and Field team has a tradition of celebrating Black History Month. For the last two years, athletes on the team, including Eagle Advocates, present a Black female track and field athlete at their weekly team meeting. This tradition started last year, and the idea was sparked by UWL senior and track and field athlete Kemmesha Thomas and head coach of the UWL Women's Track and Field team, Nickolas Davis.   
Davis said, "It's something our team should be aware of, and we should honor because it's an important month. They not only highlight what they did as athletes but what they did in their lives."   
UWL senior, Eagle Advocate, and track and field athlete Lucy Fashingbauer said, "We pick a female Black athlete to research and present to our team about. We do it every Friday [of Black History Month] during our pre-meet meetings." 
Fashingbauer said, "As an Eagle Advocate, I feel like it's my job to bring topics like racial inequality and race in athletics to my team. It's important to have a way to discuss it and to celebrate women of color in our sport." 
Fashingbauer said the presentations are important to their team. "Mainly these presentations are important to recognize women of color that have come before us and have paved the way, for not only women of color, but for all athletes in general to have the opportunities we do in athletics today." 
When Fashingbauer was asked about the importance of Black History Month for the UWL Women's Track and Field team she said, "To show to our teammates that we care about diversity and it's something that our team honors. I think it's important to recruits that are coming to our team and it's important to the girls that are already on our team that this is a safe environment and that we celebrate diversity in all ways." 
UWL sophomore, Eagle Advocate, and track and field athlete Maddie Hannan spoke about what the celebration means to the Track & Field team. She said, "At La Crosse, there is not apparent diversity. We can't change that the way we would want to; quickly. We can do the best we can to learn and appreciate and listen."  
Hannan talked about the beneficial aspects of their celebration. "I think there is value in opening conversation. You can't say you stand for something and then be silent about it. Your silence is your complacency." 
Hannan said, "I've found a lot more purpose just from hearing about these athletes. I've related it to my purpose on the team." 
UWL junior, Eagle Advocate, and track and field athlete Nicole Lord presented with teammate Kemmesha Thomas on professional track athlete Brittney Reese. On Feb 19, Davis surprised the team with a guest appearance of Brittney Reese herself. "When she came on, I thought it was going to be one of my old teammates. Then, here is this Olympic gold-medal long-jumper on our zoom call," Lord said. 
When asked about what Reese talked about to the team Lord said, "Her big thing was finding our why on the team. Basically, what we're competing for." 
Lord said Black History Month is important for educational purposes. "Personally for me, I think it's important to educate others and more importantly myself." 
Davis spoke about the importance of Black History Month celebrations. "I think it's important to open our minds as people of non-minority groups. Open our minds to the impact that people of color, student-athletes of color, or professional athletes of color have made on our lives," Davis said. "Open our minds to understanding what privilege is and what it isn't."  
Davis said celebrating Black History Month is beneficial to the track and field organization. "My biggest goal as a coach here is not to just help somebody run fast, jump far or high, or throw far. It's to help them to be a better version of themselves," He said. 
"I want people to go out into the quote-unquote real world after they graduate from here and feel they have the tools to connect with other people, to build relationships, to work together, and to make an impact on other people's lives. To do that it's about connection, understanding, and perspective. Providing that in some small way is very valuable," said Davis. 
Davis talked about why the UWL Women's Track and Field team celebrates Black History Month. "Knowing the stories and knowing that history. Taking that history and making sure it doesn't repeat itself. Doing our best to make sure that those people who had to break down those barriers don't ever have to break them down again because they shouldn't have been there in the first place."