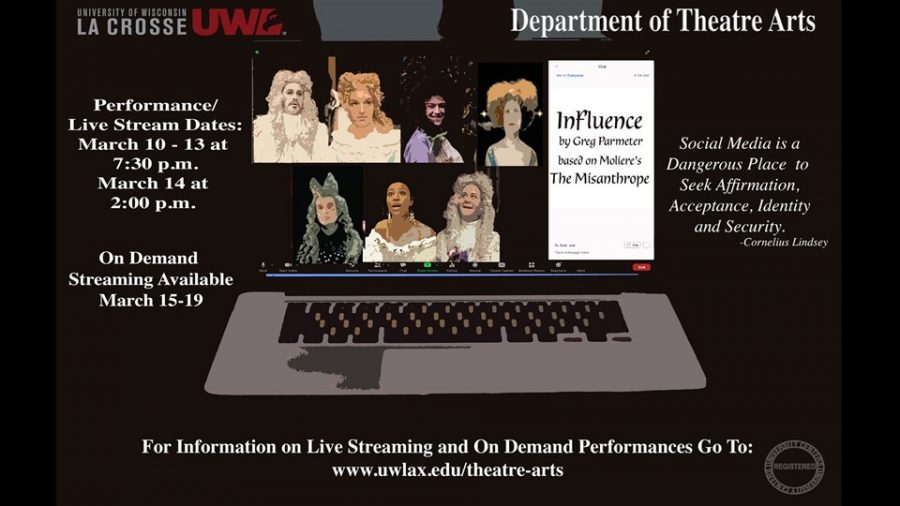 The University of Wisconsin-La Crosse theater department is continuing production while respecting COVID-19 regulations and social distancing. Assistant professor in the Theater Arts Department Greg Parmeter is the writer and director of the department's newest production "Influence."
The show is based on the classic play "The Misanthrope" by Molière and is performed entirely online. The show is unique in the sense that it was written under modern circumstances and created with the idea of being performed online. "We wanted to find a play that we were able to do completely in quarantine. But one of my biggest pet peeves with a lot of plays that are being done this way, is that their scripts that are being sort of made to work for this online zoom world as opposed to being a play that's intended to be performed on zoom, and so we got the idea, that we wanted to do an original piece," said Parmeter. 
Instead of typical COVID-19 style theater, where the show is performed live and then recorded and played online, this show takes place live on a live stream. Viewers get to watch each actor perform from home, through a multi-screen conversion.
Cast members Anna Kral and Lauren Dochnahl explained that even the rehearsals have been through Zoom. "I actually haven't seen most cast members in person in over a year," Kral said.
Kral said that performing online can be a challenge. "I've definitely felt a bigger challenge with not being able to get laughter feedback…my character is supposed to say a lot of funny things, but since everyone turns their camera off who's not in the scene you can't really see that and get that feedback."
While there is a full production team for the show, the cast has had a lot of fun playing around with costumes and lighting from their homes. The costumes come from their own personal wardrobe, and the backgrounds are whatever they have hanging on their walls. Props are minimal but Dochnal said there are a few things they can incorporate. "I mean during actual zoom calls we check our phones and we take sips of water and whatever, so we have things like that, but nothing actually concrete."
Parmeter said it's been interesting to have a production team working from home trying to work with whatever the actors have lying around. "What's really interesting about it is we're all having to do things that we've never had to do before in a way we've never had to do them," he said.
All the cast have ethernet cables and strong wifi, but there is always a chance the connection gets lost or an actor cuts out. Cast member and UWL junior Nick Holland-Hayes said, "There are a lot of unknowns but that is the intriguing part. I'm definitely telling my roommates to stay off the wifi though."
Holland-Hayes plays the character Alexander in the show. He said that one of the greatest things about performing an original piece is the way the script has grown and changed over the rehearsal period. "We would do a run of the show and he [Parmeter] would go back and be like wait I don't like this line. Our script was only finalized a few days ago."
Holland-Hayes also wants people to give online shows a shot. He said while it's not the same as an in-person show, it's something new and exciting that hasn't really been done before. "We all want to be doing live theater but this is the best we can do right now. We are figuring it out together."
Influence is playing March 10-13 at 7:30 p.m. and Sunday, March 14 at 2 p.m. There will also be a recording available on-demand March 15th-19th. Tickets are available at www.uwlax.edu/theatre-arts