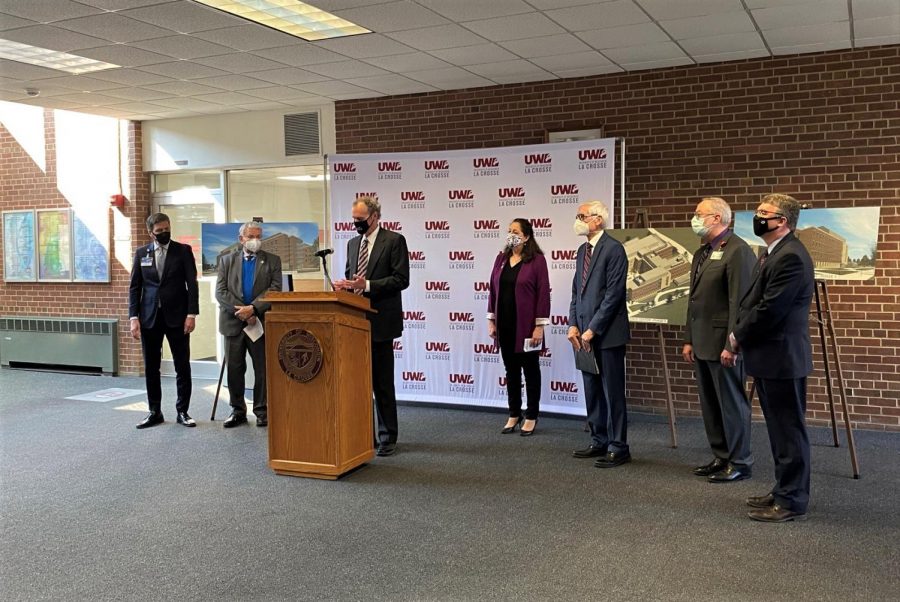 On March 9 University of Wisconsin-La Crosse Chancellor Joe Gow held a press conference in Cowley Hall to explain the second phase of the Prairie Springs building project. In attendance was Gov. Tony Evers, University of Wisconsin system president and former Gov. Tommy Thompson,  Rep. Jill Billings, Sen. Brad Pfaff,  as well as representatives from Gundersen Health System and Mayo Clinic.
The press conference was given to explain the proposed demolition of Cowley Hall and the building of the second Prairie Springs Science Center. The first phase of this project was completed in the summer of 2018 and involved the building of the first Prairie Springs Center which consists of many laboratories.
The new project sets out to demolish Cowley Hall and create a new facility that includes modern classrooms, more labs, office spaces for faculty, and specialized spaces for research projects and other learning opportunities. The budget for this project is currently $83 million, while the first Prairie Springs building had a budget of $82 million.
The building is an important step in modernizing the facilities for science and health majors. Out of the 10,500 students that attend UWL, 50% are majors in the College of Science and Health, and 20% of those students are in the healthcare profession. Thompson explained that the new Prairie Springs buildings are crucial for providing students with the modern knowledge to have successful careers. "We must educate the leaders for Mayo, Gunderson, for La Crosse, and for the rest of the state," said Thompson.
Thompson went on to explain that it is up to the Wisconsin legislature to approve Gov. Evers' budget and then the project can start moving forward. Chancellor Gow said that getting the proposal into the Governor's budget was a big step forward "This is the best budget that we have had for higher education in twenty years," he said. Rep. Billings said, "We have great bipartisan leadership behind this project…. Now it's up to the Building Communion and the legislature to do what is right for our community, for our campus, and for our students."
Despite the project making it into the Governor's budget, there are still a lot of challenges being faced. Right now the budget is delayed after a 4-4 split vote from the State Building Commission, which means it gets sent to the budget committee for their approval.  "This won't be easy, we know that politics can be a little rough and tumble. Fortunately, we have some great representatives in the assembly and the senate," said Gow.
Cowley Hall was built in 1965 and has many structural issues, as well as dated equipment and classrooms. According to Rep. Billings, the building would be difficult to renovate, so they plan on demolishing Cowley Hall and building something completely new. "Science buildings are different," Billings said. "It's very difficult to renovate what is here. What we need to do is complete our project by building the second building." Gov. Evers said that he had "better facilities in 1969 in Plymouth high school than I see on your University of Wisconsin campuses."
Thompson noted that the updated facilities are important for our community since La Crosse has two major health systems that employ many graduates from UWL. Mayo Clinic also has a research partnership with the university which allows students to work on research projects alongside Mayo Clinic faculty. "Who better than La Crosse to develop the leaders for Gunderson and Mayo," Thompson said. "It's important not only for our campus but for our community and for continuing to educate the healthcare workers of tomorrow."