Trump Rally in La Crosse brings worry to many UWL students
"He has promoted and perpetuated hatred of Mexican Americans, African Americans, Muslim Americans, refugees, and women. I don't want a president that stands for a small portion of the population." -Whitney Storvick, UWL junior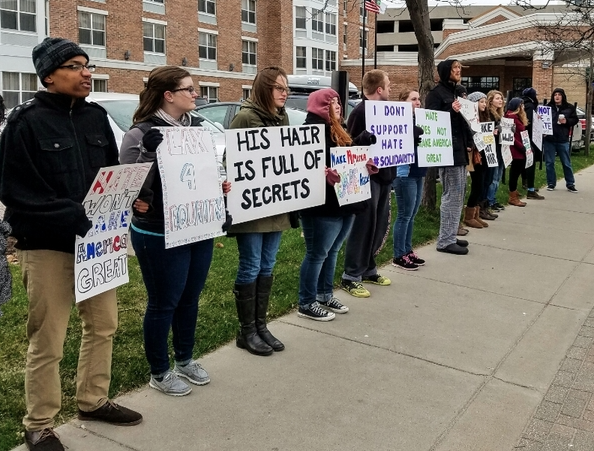 The La Crosse Center was packed to the brim of Donald Trump supporters and opponents on the morning of Monday, April 4. Trump was the last of many political rallies held in the La Crosse area in preparation for the Wisconsin Primary held today, Tuesday, April 5.
The GOP is down to the final three candidates. With Trump's 737 delegates he currently leads the GOP race, followed by Cruz with 475 and Kasich bringing up the rear with 143.
With Trump in the lead, many students are finding themselves somewhat worried, "Donald Trump terrifies me as a presidential candidate," says UWL sophomore John Divney. "Trump supporters have whole hearted beliefs that he knows how to 'make America great again.' However, Trump has neglected to give any solid evidence as to how he will make the country better."
This comment was representative of the La Crosse Trump rally. Throughout the speech he spent a large majority of time throwing personal attacks at GOP candidate Ted Cruz and talking of his own intelligence, but spent very little time with explanations of his presidential plans.
"I can be the most Presidential person," says Trump, "I am very smart, and I have very good genes." Trump spent most of the rally talking of personal topics such as that and calling Ted Cruz names all while staying very vague when talking about actual issues of this nation.
Issues covered by Trump consisted of his plans to reduce NATO, Veteran's benefits, and immigration policy, saying "We will build a wall, and they will pay for it.'
UWL students find this plan in particular to be rather off-putting, "He has promoted and perpetuated hatred of Mexican Americans, African Americans, Muslim Americans, refugees, and women," says UWL junior Whitney Storvick. "I don't want a president that stands for a small portion of the population."
Students at UWL are not only worried about his plans as president, but what his presidency will mean for our nation, "I would be very nervous with him as a potential president," says UWL student Colin Malliet. "The US President is the face of our country and the leader of the free world, I just simply can't stand behind someone who is openly against minorities, women and the disabled."
Voting in Wisconsin has now closed, after polls remained open today from 7:00 a.m. to 8:00 p.m. Stay tuned for the Primary results from today's election.