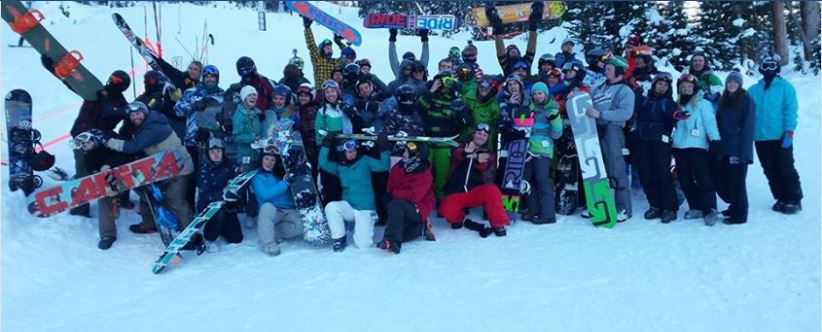 Noah Finco
Living in Wisconsin, snow is to be expected. Sometimes, it is even here in September and does not leave until spring break. There are some students who would run away from the powdery white stuff in a heartbeat, but for 74 University of Wisconsin- La Crosse students, they eagerly await the single digit temperatures and feet of snow. 
These students are all part of UWL's largest club on campus; The Ski and Snowboard Club. Ski and Snowboard Club has been UWL's largest club for seven straight years according to Ski and Snowboard Club President and UWL Senior Brigham Weyrauch.  
Weyrauch said, "We are a noncompetitive club and accept all skill levels to join. We focus on the community aspect of snowboarding and skiing. Finding a great group to shred the mountain with or a group of people to hit Mt. La Crosse is what we are all about." 
This club meets every first Thursday of each month at 6:30 p.m. in Centennial Hall room 1309. The fee to join this club is 40 dollars which goes towards discount life tickets, weekend trips and cookouts.  
"This is a great investment and it can pay off because if you head to a hill with other members you can even get reimbursed for the gas used," said Weyrauch.  
Unfortunately for Ski and Snowboard Club, Wisconsin is not always a freezer with snow everywhere.  When out of season this club is still very active, they hold activities for other students to join in on.  
"We hold some movie premiers throughout the year that are open to any students to join. We also have some fundraising event that we tend to involve the community with as well…We still have meetings every month even without any snow," said Weyrauch, "We also host an annual camping trip for our members in the spring along with at least one cookout. This year we will be doing an awesome tie-dying event as well" 
For anyone attending UWL that wants to find a great group of fellow students to learn how to ski or snowboard, or if experienced to shred the local hills or even travel out of the state to some of the most renowned mountains in the United States, the Ski and Snowboard team may be a place to start.