UWL Intramurals back in action for 2019-2020 school year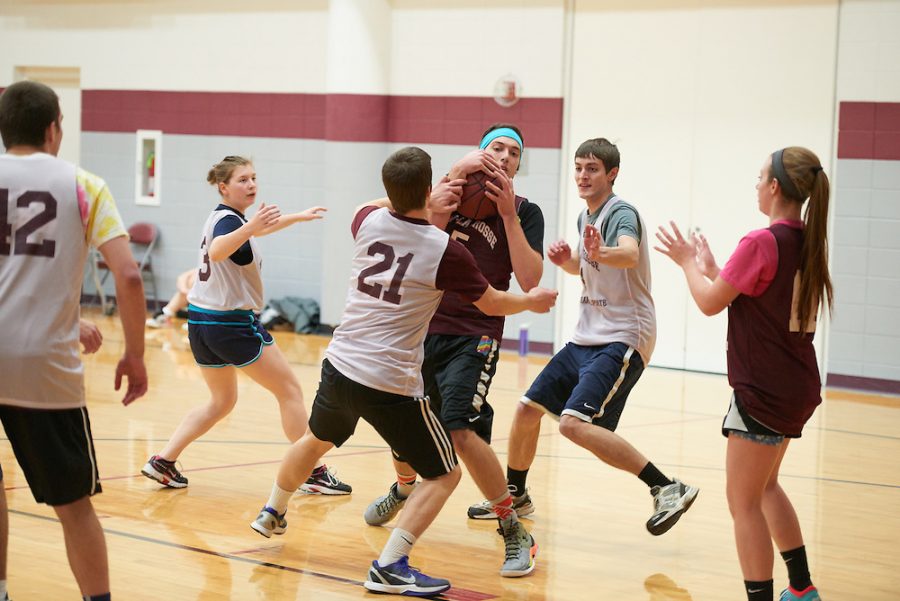 Trevor Kliebenstein, Sports Reporter
September 10, 2019
The University of Wisconsin-La Crosse Intramural Sports season is back underway this week. A new sport that has been added this year is spikeball. Competitive sports coordinator Ali Tackett, who works with both Intramural sports and sports clubs at UWL, said spikeball's popularity was the main reason it got added to the Intramural agenda.  
"It's offered on Thursday afternoons. We thought it would be super popular. I got a couple requests to offer that sport in either league or tournament forms. We are offering the league first but might do a couple one-day tournaments in the spring semester," said Tackett. 
UWL sophomore Chad Spaeth, who competed in Intramural volleyball, basketball and bag toss last year, is excited about the new addition of spikeball to UWL Intramurals. "It is always great that they are adding new sports to the list. Personally, I think spikeball was the greatest addition due to its popularity, but I feel the entry fee is high compared to another doubles sport, badminton, that is only $10 to join," said Speath. 
Since Spaeth commented on his position of the new addition of spikeball, the entry fee has lowered from $25 to $15 per team. Now, spikeball enthusiasts on campus can play spikeball competitively at a rate lower than it initially was placed at.   
Along with spikeball, other Intramural sports such as sixes volleyball and five–on–five basketball will be back this year. "For five on five basketball and sixes volleyball we have over 100 teams each semester competing," said Tackett. 
As of this year, bag toss is now one of the most popular intramural sports after its high participation rate last year, according to Tackett.. "Bag Toss is popular because it's just something different and it's a way to win a shirt. I know people want to win those Intramural t-shirts," said Tackett. 
While sixes volleyball is offered this quarter, September 15 until October 17, bag toss competitors and five–on–five basketball players will have to wait until October 18 until it's back on the UWL Intramural schedule. Other sports offered this quarter include sand volleyball, flag football, three–on–three basketball, badminton, kickball, indoor soccer and even fantasy football.  
UWL Intramurals offer students a mix of competitiveness while also getting exercise and having fun with their friends. "I participate in intramurals to have something to do besides homework on school days. Intramurals allows me to continue playing sports I have played before, or even try new sports that I haven't experienced as much. I can play these fun sports with a great group of people and can also meet many new people," said Spaeth. 
Intramural sports aim to appeal to all students no matter what athletic abilities they have. "When I was in college I played intramurals a lot and I won three intramural championships, but I also made some really good friends and it was just a good way to destress after class and go keep on playing the sports I love playing," said Tackett. 
There are competitive leagues, intermediate leagues, and lower level leagues. For those who are really competitive and want to play against top level talent, they can join what's called the "A" league. For those who consider themselves decent at the sport and have a good understanding of how to play the sport, they can place themselves in the "B" league. For those who are just wanting to have fun and don't consider themselves that good at a particular sport, they can join the "C" league. No matter what league participants are in, they can still win the coveted Intramural champion t-shirt. 
The regular season is five weeks long and to make the playoffs, participants must win at least one regular season game and maintain a sportsmanship rating of 4.0 out of 5.0. For team sports, team captains can choose when they want their first-round playoff game played at. For individual sports, the brackets are pre-made based on the regular season standings. It's not guaranteed a team will play on the same nights they played during the regular season. 
To join an Intramural team, go to https://www.uwlax.edu/recsports/, click on "Intramurals sign up" and use your UWL net ID and password to login. After successfully logged in, browse all the sports offered and see the different time slots offered for each sport. There's also an app called IMLeagues that's user friendly and easily accessible so UWL students can sign up and track their Intramural team status.  
For more information on UWL Intramurals, contact the UWL Intramural staff at [email protected] or go to https://www.uwlax.edu/recsports/intramurals/im-sports-home/.