Club Close-Up: Cru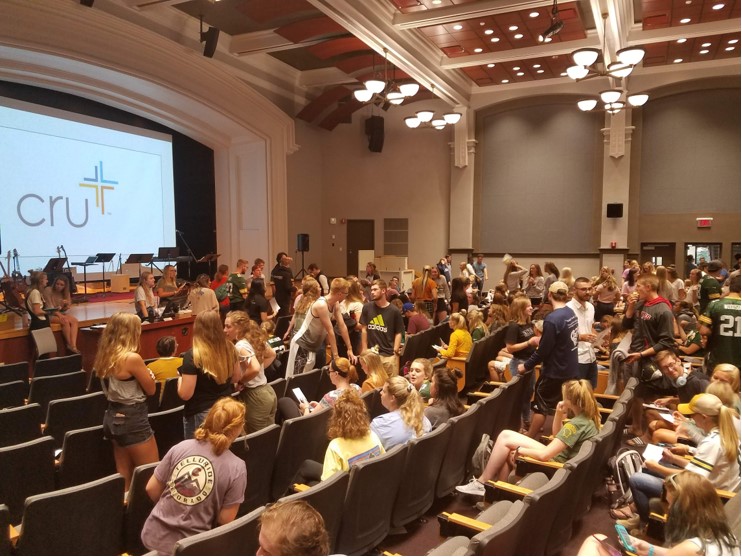 Liv Swanson, General Assignment Reporter
February 12, 2020
"We have a slogan here, 'Cru is a place where students can connect with each other, explore what matters, and grow in their faith,'" said Natasha Stubbe, President of Cru at the University of Wisconsin-La Crosse. "That can mean a lot of things for a lot of different people so we welcome all of that. We are just a campus ministry that wants people to grow in community with each other, learn about who Jesus is and see where life takes them from there and we want to walk alongside them every step of the way." 
Stubbe has been a member of Cru, a Christian campus ministry, throughout her collegiate career, recently taking the role of President.  
"I first got involved through meeting other people on campus during my freshman year," said Stubbe. "My roommate and I definitely wanted to get involved in some sort of campus ministry and so we heard about Cru."  
"I got involved with Cru through a Bible study in my dorm. Some of the leaders were hanging out during the welcome week and I ran into them and they invited me in," said Joel Haas, Cru member and sophomore at UWL. "I was interested, so I went in and have been going ever since." 
"I started by going to weekly meetings but wouldn't do much besides that until I started going to my dorm Bible Study in Wentz Hall," said Andrea Zalac, leader of the Cru worship team and junior at UWL. "That is where I made deeper connections with people and learned a lot. After that, I went on a Trip called Big Break and decided I wanted to lead the following year."  
Cru can be found on different campuses throughout La Crosse and spreads throughout the country.  
"It [Cru] is the biggest student organization on campus which is something we are really excited about and we continue to get new students every year. Cru is a larger entity than what is in La Crosse, it is actually nationwide, even international," said Stubbe. "We actually have a presence on UWL's campus, on Viterbo, and Western Technical College's as well. We cover about 20 campuses in a 75 mile radius." 
Cru hosts several opportunities to meet each week including large-group weekly meetings every Thursday at 8 p.m. in 260 Graff Main Hall. They also host Bible study in every dorm hall on campus, as well as off-campus opportunities as well.  
"Thursday's are where all of our big group stuff happens, so it is structured out and we have MC's that run the night. We also have some more topical Bible studies, one being a branch called "Bridges" that is really focused on getting international students connected," said Stubbe. "We really want to be a presence to international students that are coming to study for however long, whether it is a semester, two years, or all four years." 
"We usually come together for an hour or so in the big sessions, and we will have icebreaker games, have someone share their testimony, which is someway God has impacted their life, or how Cru has personally impacted them," said Haas, who helps lead Bible studies in Coate Hall. "After that, there is normally the main speaker, whether that be a Cru staff member, an area passer, or an area business person speaking about various topics. At the end, we will have some worship time." 
Cru has many opportunities for students to get involved in the local community, as well as travel options through mission trips.  
"We have a community involvement team that works to find volunteer opportunities for people," said Stubbe. "We have opportunities for mission trips all the time. spring break, summer, and winter break are all popular ones because school isn't in session. We go all over the place. We've gone to Jersey Shore, Florida, we've had some to Texas recently, and people can go overseas. These trips look like all sorts of different things, they can be community-based, evangelism based, or disaster relief. So basically, whatever members are looking to do or try, Cru has." 
"Last Spring break I went on a trip to Panama City Beach to help with hurricane clean-up, and that was really awesome. We got to go out into the community and meet with people and see how they were doing and help where we could," said Haas. "This spring break I will be going down to Orlando and I'll be able to work with a lot of the homeless people there. I am really looking forward to that and being able to use all the ways I've been blessed and very fortunate to help those who aren't as fortunate." 
Members of Cru said the organization has allowed them to build different friendships and meet many people.  
"Cru has affected me as a person pretty greatly, it's where I have met most, if not all, of my friends. I've been able to build a lot of deep and meaningful relationships through Cru. It has been a great organization and great in helping to nurture my relationship with God," said Haas.  
"I think a big way Cru has influenced my life is just through the community that it brings. It's influenced the relationships I've been able to build and has overall been a really great experience," said Stubbe. "I definitely credit a lot of the stuff I've been able to get involved in, be a part of, trips I've taken, and my feeling of connectedness on campus, to Cru." 
"It is important to have an organization like this on campus because it allows students to explore who God is. It is a space that welcomes questions and encourages deep thought and connections," said Zalac. "The authenticity is essential to making through hard times in college. The community is more than just people who you go out with or eat food with, they know you really deeply."  
The organization encourages anyone to join or attend a meeting, even if they feel hesitant. 
"If someone wants to come just check it out, I would recommend coming on a Thursday night to Graff and they will really get the whole spiel about what Cru is about and how excited we are to have them there," said Stubbe. "Don't be afraid of Cru, we are just a caring community that wants to walk alongside you in your journey throughout your years at UWL and maybe even after that."  
"The biggest thing I would say is even if you grew up going to church, you've never stepped foot in a church, or you're somewhere in between, Cru does a great job of adding hearing to Biblical truth, but still portraying it in a captivating and applicable way for college students," said Haas, "College is a unique experience where you can go and explore and try things you never have before." 
"It is totally okay to feel nervous about entering a new community or exploring faith but when you push through the fear that's when something really special can happen," said Zalac, "Stick around after Cru and talk to someone, go to a smaller event like a Bible study to connect in a smaller setting, set up a one on one meeting for discipleship. Cru has a setting that works for everyone." 
To learn more about Cru, visit, https://uwlmyorgs.campuslabs.com/engage/organization/cru or https://sites.cru.org/laxcrucom/. To contact Cru, email, [email protected]. 

About the Contributor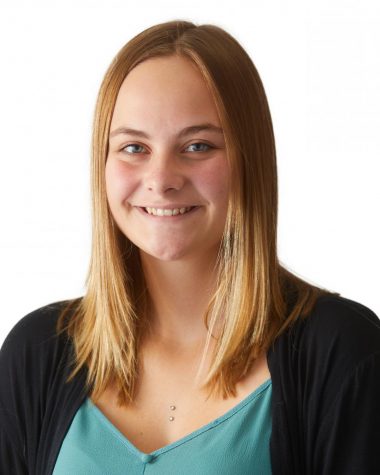 Liv Swanson, Assistant Editor

Year: Sophomore
PGPs: She/Her/Hers
Hometown: Seneca, WI
Major: Undeclared
Minor: Undeclared
Other Campus Involvement: Intramural...