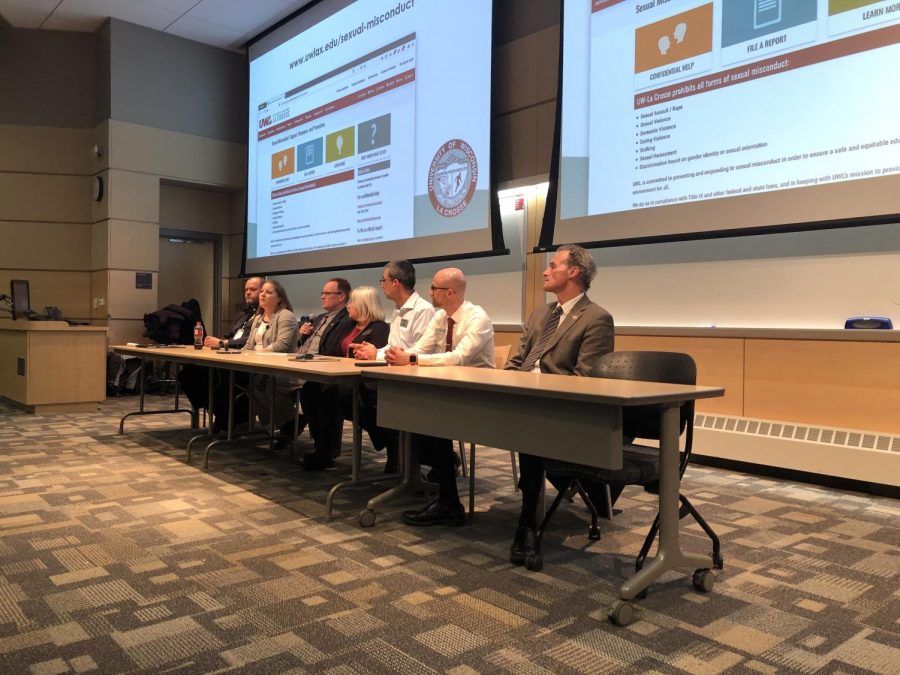 On Feb. 12, Chancellor Joe Gow and the University of Wisconsin-La Crosse's Title IX team held an open forum to discuss Title IX and Clery Act. The panel was comprised of members of the Title IX team including Title IX coordinator Nizam Arain, deputy Title IX coordinator John Accardo, deputy Title IX coordinator Kara Ostlund, violence prevention specialist Ingrid Peterson, dean of students Greg Phlegar, UWL police chief Allen Hill, and Chancellor Gow. The UW system Title IX and Clery administrator, Sarah Harebo was also present.  
The moderator for the forum, director of the institute for social justice and English professor, Dr. Kate Parker began with an opening welcome and the Indigenous Land Recognition Statement. 
The statement was followed by a description from Parker, of the usage of the blank notecards passed out at the doors of the forum for anonymous questions that would be asked upon the panel, as well as a reminder to, "respect the space, respect the forum, and to keep the questions constructive."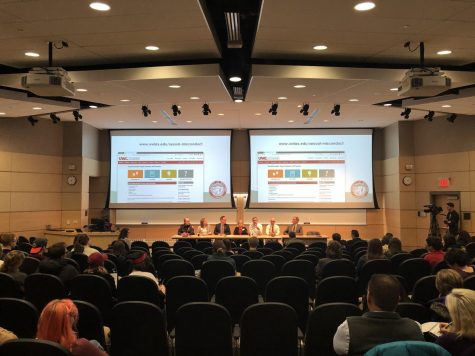 After Parker's introduction, Gow said, "I am glad that we are here. I know there was a call to do this last semester and I hope you can understand why, at that point, I was not able to participate. I am glad to be able to do that here today and look forward to hearing your questions."  
The Title IX team and Gow then followed with 30 minutes of information covering the process that takes place after an incident report is submitted. This began with Arain and Peterson using the Title IX Investigation Process Flowchart as an aid in walking-through the key points of the Title IX complaint, intake and investigation process.  
Ostlund then discussed Clery compliance, how it is handled, the difference between Title IX and Clery reportable crimes as well as UWL's Clery geography. Ostlund also covered the difference between emergency notifications and timely warnings.   
"These two terms, emergency notification and timely warnings I believe can be used mistakingly interchangeably," said Ostlund. "Timely warnings are used to alert the community to an immediate threat, using specific information that could help alert a community about an ongoing threat. Emergency notification is utilized if you think of more weather-related type things, is how I would classify most of the emergency notifications. We don't necessarily always send a timely warning whenever we receive a report. Again, it has to go back to the continuing threat to the community."   
The floor was then opened to Q&A that began with several anonymous notecard questions which lead to dialogue between the panel members and Parker. 
One notecard read, "Who reviews the report to move forward or not in an investigation?"  
Arain replied to the question saying, "That is me, in consultation with Greg [Phlegar], and the dean of students office in cases where it is a student who is being accused, and in consultation with John [Accardo] at the HR function in cases where it is an employee being accused." 
A member of the audience asked in response, "We just wanted to clarify, when there is an investigative report the people deciding if it goes forward or not, is three men, right?"  
Arain said in response to the audience question, "The consultation is across the team, the ultimate responsibility for that decision is mine as the Title IX coordinator, and it is my responsibility to ensure I am making that decision based on the appropriate consultation. So, depending on who our individuals are were that had been involved in receiving or working with the reporting party, and there exists a great deal of gender diversity across that pool of people, including our confidential resources who may have worked with that person and had been granted permission to speak with us about what those conversations contained. It also may include other colleagues within the HR department. There are people who play a supportive role in the intake process, our employee relations specialist and our HR partners and so it is a gender diverse circle of people." 
Arain continued, "I am one person and I am a man and that is not something that I have the ability to change, but I do my best to make sure there is an unbiased perspective and the way I will put it is, part of my job is to ensure that my own privileges are not adversely affecting the right people on this campus to a fair and inclusive process" 
Questions continued from both audience members and notecards, allowing members of the panel to respond. Caycee Bean came forth with a question asking, "I was wondering the timeline of when you do finalize the report, the report is complete, and you come to your conclusion, how long then does the student have to wait to be notified?"  
Ostlund replied saying, "That typically happens relatively quickly, we look at our reports to make sure someone could follow our train of thought in our analysis and why we came to a certain conclusion. We typically have a shorter turn around when it comes to that. I can't say whether that is 24 hours, 48, it just depends." 
"Not a couple of months?" Bean asked in response.
"No, not a couple of months, not typically," said Ostlund.  
Parker then asked another anonymous question, "The report about Elgin, released in the fall, did not look much different than the original complaint. Can you explain what happened?" 
Gow said, "I would not agree with that. The initial complaint and then what we saw in the report, there was a lot more and that was very important."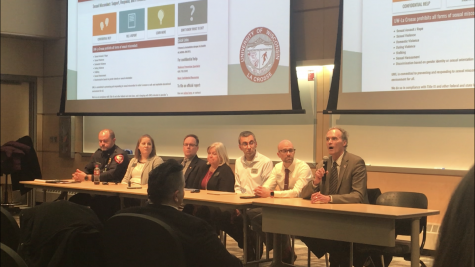 "So that is a disagreement on the premise of the question, the person asking I think, sees the report differently," replied Parker. "So maybe addressing how we can show our students that we care about their safety and that we are not just interested in representing the institution well. I think that is a fair question." 
"Well then there too," replied Gow, "I don't think that has anything to do with representing the institution well. Nobody said, 'Don't do anything about this because it won't represent us well.' The fact of the matter is, the original allegation was investigated, it couldn't be corroborated. That is important because the burden of proof is you have to have something there, and so then when it was publicized that brought many more people forward that our investigators had no way to know who they were. So that was very helpful."
Gow continued, "The question has been raised to me and other places, 'Can we have a mechanism like that,' and that's a challenging legal issue because in our society, and our university as well, you are innocent until proven guilty. So I'm not sure we have the legal ability to say 'An allegation has been made, does anyone have any information about that?' "  
Gow then passed the microphone to Harebo to answer some questions. Harebo said, "I just want to make a general statement by saying, I've been doing this work for a while now and I was doing it out east in the public institution system, in a private institution system and I've been apart of all the changes that had been made across the country and one of the things I want to mention and commend Wisconsin for as a whole is that, Wisconsin is forward-looking in that they even hired somebody like me. They are one of the very few systems in this movement of putting in offices compliance at a system type level, that have hired someone to be a resource to all of their universities within their system on these very issues."   
Harebo continued, "I would just say that in steps thinking about moving forward from where you're at, and even the fact that they invited me up here and I get to talk to them about how they've been handling Title IX issues and how they are trying to handle new and different ways to address some of the concerns, new communication strategies, things that the system itself is doing is commendable." 
Harebo then spoke on the legalities of having a situation with multiple people experiencing similar behavior with one complaint against an individual. "That is an extraordinarily difficult situation to handle as a University, as a practitioner, I would tell you that is the challenge, especially when we talk about people in positions, or perceived positions of power, which normally means a faculty member, a staff member or another student unless that student was in residential life or something like that where there would be an identified power dynamic."
Harebo said, "We want to make sure, not that I'm saying there are false reports, we know that the number of false reports are very low when it comes to sexual assault, but we also want to make sure that we are providing both parties the ability to operate within our system." 
Harebo then concluded by adding, "It is hard to reach out and say, 'Has anyone experienced this type of issue?' So what usually happens is it comes in through word of mouth. Not always in a public sphere such as social media, which was the case here. But it tends to be watching for those kinds of repeated patterns whether it be, you see individuals consistently withdrawing from someone's class if you see a particular constituency that is repeatedly seeing a lot of drops from a particular class. There are different types of kinds we can look at and monitor as a whole as an institution that isn't necessarily specific to that individual person." 
An audience member asked Harebo, "Social media and the newspaper at our institution played a large role in the narrative regarding this recent case, could you speak to best practices regarding reporting and communicating with regards to any case while it is an ongoing investigation?"
"Usually when things are ongoing and you have an ongoing case we try not to, in best practice, communicate with social media and newspapers. We want to make sure that we are separating ourselves from kind of that news cycle and allowing the investigators to do their work and not commenting on ongoing investigations. So I would say that best practice is not to comment, that being said, it doesn't mean we may not be able to give timeline generic information, not about case outcomes," Harebo said, "I'm not saying we shouldn't update the community if it becomes public and there are requests but as far as the content and exactly what is happening, that would not be communicated."   
The final question asked in the Q&A portion of the form was by UWL senior Kendra Whelan regarding an addition to the violence prevention specialist position. Whelan asked, "What kind of prevention expansion are you looking at on campus because I know when it comes to violence prevention workshops and class presentations we talk a lot about dating violence, particularly linked between students, but what prevention expansion are you looking at in terms of letting students know what is and isn't professional conduct from a professor, faculty member or staff member?"  
Peterson said, "That is actually a great idea that I hadn't thought of before that I think we need to look at."  
Arain then concluded by detailing UWL's consensual relationship policy saying, "In recent years we have a much stronger consensual relationship policy and what that policy basically says is any employee who is an instructional role, which includes classroom instructor, advising, coaching, supervision research, anything of that nature is forbidden from initiating any sort of dating, sexual or romantic relationship with a student who is under their instruction or supervision."  
The Racquet Press reached out to members of the audience before the forum to get their comments.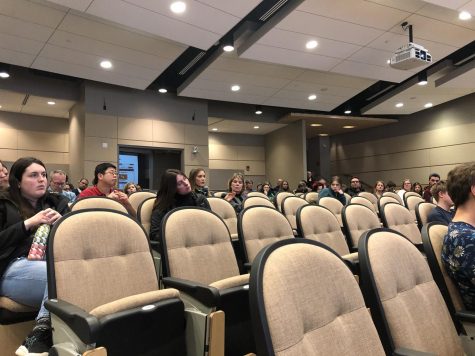 "I went to the first open forum and I like to come to these things to see how people communicate and how people get their questions and concerns addressed to somebody who has more power in the situation," said UWL senior and co-president of the college feminists Hannah Robb, "Also being one of the co-presidents of College Feminists I kind of like to know what is going on and how other people feel." 
"I know a lot of people, and myself, care about the situation so I am just looking forward to people expressing the same care that everyone shares and hopefully things can be addressed, and if they can't I guess that's the way it is," said Robb.   
"I witnessed all of this unfold on social media and on The Racquet Press," said UWL student Hana Church, who attended the forum to get more information on Title IX and the Clery Act, as well as the recent investigation, "I really just came to listen and learn more."   
"I also came to listen," said another student, Megan Runkel, "I feel like as a female student it is important to be here."