Photo Series: La Crosse community at candlelight vigil in honor of George Floyd, Breonna Taylor, Ahmaud Aubrey and others
On Monday, May 25, a video went viral showing the fatal arrest of a man whose friends referred to as a "gentle giant." George Floyd is seen in the video handcuffed as former police officer Derek Chauvin uses his knee on Floyd's neck to detain him. Friday, May 29, the Minnesota Department of Public Safety tweeted, "At 11:44 a.m., agents with the Minnesota Bureau of Criminal Apprehension arrested former Minneapolis police officer Derek Chauvin on probable cause related to the May 25 death of George Floyd".  
On May 29 La Crosse area community members gathered at Riverside Park for a candlelight vigil to remember and pay tribute to George Floyd, Breonna Taylor, Ahmaud Aubrey, Trayvon Martin, Michael Brown, and black lives that have been taken due to police brutality and acts of violence. The event was hosted by, Jessica Hembd, Katie Pierre, Macy Hembd, and Bailee Wood. "We are protesting in solidarity with our friends in Minneapolis and with others in communities where people continue to suffer these injustices daily. We want to assure People of Color in our communities that we are here to listen to you, we hear you, we see you and we stand with you now and always," said the posting on FaceBook.
Bailee Wood said of organizing the event, "We were tired of just sitting there and reposting things to social media, and we're looking for a way to do something in the La Crosse area where systematic oppression and racial injustices are very much real. We quickly came to the conclusion to put something together to spread over social media, and honestly just wished for the best. It's our way of being able to give a voice to those who don't have one, and to start the conversation. Granted it may not be the most organized candlelight vigil, but we believe it is needed in the LaCrosse area," said Wood. "But we don't want the focus on us is all.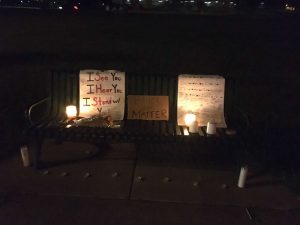 Macy Hembd, recent UWL graduate and one of the co-organizers of the event said, "This was put together extremely last minute, and we just felt something needed to happen in the community to get the conversation going and Minneapolis is our sister city, so we felt we needed to show up in solidarity with them." Over 100 people participated in the vigil. "It is way bigger than I was expecting," said Hembd. "We were saying we would be happy if 15 people showed up. So I am thrilled so far." 
University of Wisconsin-La Crosse senior Roger Mustache Jr. who was in attendance said they came to the event as an observer and to show their respect as a person of color. "As an Indigenous person, I haven't personally dealt with overt racism face to face, however, racism still affects me because of the fact I am a person of color."
They added that candlelight vigils are important because, "at the foundation of it, they're meant to promote peace and unity among community members. Candlelight vigils are held in remembrance of loved ones we have lost, and a means of collectively mourning together."
Mustache Jr. said, "My thoughts on racial injustices in the U.S., is that honestly, we should be past all this. I never watched the video, but I don't need to in order to understand the travesty that occurred again. Within the long-standing history of the U.S., police brutality has become an epidemic plaguing communities and people of color, which can be seen, not only in the many murders of Black/African American people but also within the peaceful actions of the Indigenous Water Protector's and communities."
They continued by discussing police brutality towards Indigenous communities, "The peaceful protests against the installment of the Dakota Access pipeline at Standing Rock were shattered by hired private security guards who utilized non-lethal ammunition: the methods that have been used in all 'riots' throughout history." said Mustache Jr. "I am saddened by the loss of a life taken unjustifiably but I personally don't condone the level of violence happening in Minnesota which is just being aggravated more by Trump's tweets insinuating that they're going to start shooting 'looters.'"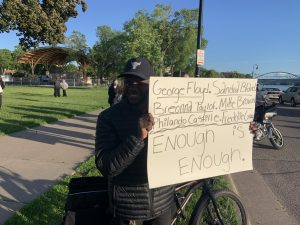 Abdul Cole, an international student from Africa who attends Western Technical College said, "Seeing what happened to George Floyd, I think what happened to him is inhuman and nobody should ever undergo anything like that. It doesn't matter what color you are. I think we all deserve to be treated right."
Cole said he feels no one should be mistreated like George Floyd was. "I heard good things about America, but this is not one of them," Cole said. "It makes me sick inside, so I am out here today to hopefully show people and tell people that it is not okay to treat anyone differently just because of their color, gender, or whatever. Hate will not drive out hate."
Lynette Prieur Lo, UWL academic advisor in Student Support Services, said she showed up because of the terrible injustice of black men being murdered in the streets by cops. Lo said, "The police department is to protect and serve and they're killing people. It's just wrong. When asked about the riots, Lo said," I think that it's a natural reaction to the kind of injustice that's out there and I as a white woman have never had to be afraid of police officers killing me, and I can't imagine living in that kind of fear, and so the reaction is just a normal reaction to the kinds of injustice that's happening."  
La Crosse County Administrator Steve O'Malley said while holding back tears, "I don't know where to start, but this is all very personal. My family lives very close, within a couple miles of where this all happened in Minneapolis. Social justice is so strong in my background and I just felt like I just had to come out." 
When asked about the riots he said, "I am so beyond disappointed for this to happen in other parts of the country. It's horrible, who would have expected something like this, in what we expect to be a more progressive part of the country?" 
After the candlelight vigil, some marched to the La Crosse City Hall with signs to protest.
Pastor Park Hunter of Onalaska United Methodist Church said, "I came out here for the same thing that brings many other people out here. We are tired of seeing injustice and want to show support."
Hunter wants people to know that others care. "I am pretty peripheral to this, I stand back here praying, but I think it is important for everybody to know there are white people who care, there are pastors who care, and there are churches who care, justice is a strong part of the Christian mission and if we can't stand up for each other, I don't know what we're doing." 
Hunter adds that protests historically causes the most change, especially with social injustice. "I can understand the protests [happening nationwide] when people don't feel like they're seeing justice or can achieve it through the normal channels, they get frustrated and angry and that's why protests happen," said Hunter.