Protests continue in La Crosse community against police brutality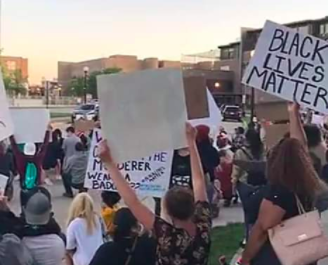 On June 3 at 7 p.m. hundreds of La Crosse community members gathered for a peaceful protest that began at Riverside Park. The event was hosted by Becca Saddler and Lauren Lanzel on Facebook, and the protest was led by Kat Sletten.
The main objective of the protest was to, "educate citizens and police on Campaign Zero and use their research-based policies on police reform to create a safer city."
Police officers were present to monitor the event and block roads off for demonstrators to walk safely. Capt. Jason Melby of the La Crosse Police said it could be 'problematic' if too many officers are assigned to duty at the event, or if it appears they're going out of their way to maintain order.  
The protest began at Riverside Park with speakers and then protestors marched through State Street, 2 Street, La Crosse Street to City Hall. At City Hall, protestors had a moment of silence for nine minutes for George Floyd, who's life was taken when former police officer Derek Chauvin kneeled on Floyd's neck to detain him.
The protest then continued on to 7 Street, Winnebago Street, 4 Street, Main Street, and then back to 2 Street, State Street, and back to Riverside Park for a candlelight vigil for people who have lost their lives due to police injustices.
Mayor Tim Kabat attended the demonstration and said he was there to listen, watch, and support the protest. "I do want to thank you for making this peaceful, and for doing it the right way, and honoring George Floyd," said Kabat.
A protestor asked Kabat, "What are you going to do for the black community?"
Kabat responded that they are working on increasing jobs, housing, and investing in La Crosse parks.
Protestors suggested that there needs to be more diversity training for police officers and asked to know more information about the person who drove into the crowd during the protest on May 30 and ran over a protestor's foot, as well as pepper-sprayed Kabat's wife, Christy Kabat.
Kabat said that the police were investigating, and he is relying on the community to report and provide information to the police department. A protestor responded that it is not the community's job, "the police should be on that, not us."
"We do, believe it or not, work with our police department every day to try and build relationships with our communities with all of you, with all of the people in our neighborhoods," said Kabat.
"I think the point that these people are trying to say is that that's not working anymore. There has to be something more specific, what you're saying is very general and vague. What I want is a diplomatic process and I want to know what your diplomatic plan is to change the laws so that cops can't use the existing laws to defend their rights in the heat of a situation to murder somebody on the job," said a protestor.
Kabat responded that he is willing to have those conversations to see what needs to be done. "If there is something that is not right in how we do policing in our community that's all on us to try to work and make those changes. I'm happy to listen and to try to make those changes," said Kabat. He then continued by saying that the police department and police chief are open and working to build relationships.
A protestor said, "I would like to hear a commitment towards regular training for our law enforcement officers."
Kabat said, "We are committed to regular training." He said law enforcement officers receive cultural bias training and that he will share the officers training regimen. Multiple protesters attending said that bias training isn't enough and there should be anti-racist training.
"Anti-racist training is the next thing. I want us to have regular conversations. People of color getting together with you [Mayor Tim Kabat], getting together with the chief of police," said another protestor.
Kabat offered to open the Human Rights Commission that takes place once a month, the second Wednesday of the month, to include a larger population and invited everyone to attend.
Another protestor then asked how the Human Rights Commission can be made safe for people of color. "How are you going to do the proactive outreach, as a leader, to reach the people that are currently being silenced and not listened to," said the protestor.
"As mayor, I do know a few folks and I am happy to reach out to them and have them reach out to people they know, so we can start building the audience," said Kabat. Kabat said he is available to set a community meeting for La Crosse people to be able to attend.
The city of La Crosse paid $83,000 to a former police officer who alleged in a federal lawsuit that he was racially discriminated against and forced to resign. At the time officer Nathan Poke left the La Crosse Police Department, the department employed two African-American officers, including Poke, and both filed discrimination complaints against the city. "Can you speak to what has been done in the department, if anything, to keep that from happening again," said the protestor who mentioned the case.
Kabat responded that the police department is working to have conversations between police leadership and the everyday police officers. "We are working to have that relationship between our own police officers so that what you're talking about does not happen again," said Kabat.
The mayor said he will be participating in future protests and encourage the police chief to join the protests as well. He said that he will have a response for protestors commands sometime later this week.
For any more questions or information contact Mayor Tim Kabat by phone at (608) 385-0318 or by email at [email protected]