UWL summer and spring commencement scheduled for Aug. 22 canceled
Prior to the University of Wisconsin-La Crosse "couch commencement" that took place in May, an in-person commencement ceremony for 2020 spring and summer graduates was scheduled to be on Aug. 22 at 11 a.m. and 2 p.m.
On July 1 at 9:34 a.m. UWL graduates were sent an email from the UWL Provost Office stating that graduation had been canceled due to, "health risks associated with COVID-19."
June has been La Crosse County's most infectious month, accounting for more than 85 percent of the area's overall cases. From June 10 to July 1 there have been 367 lab-confirmed COVID-19 cases in La Crosse County, with 465 identified COVID-19 cases total. As of July 1, there are currently 233 active COVID-19 cases that have been identified in La Crosse County.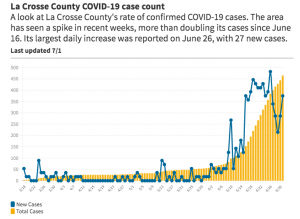 La Crosse County is under a severe spread category on the COVID-19 compass snapshot, which analyzes the risk of COVID-19 spread in the La Crosse area and how residents and businesses can limit spread.
Summer and spring 2020 graduates are able to attend UWL's next in-person commencement ceremony on Dec. 20, 2020. However, the event still "will require health and safety clearance," as stated in the email.
UWL summer and spring 2020 graduates will be sent a Qualtrics survey to their student email in October about whether or not the individual will be attending the in-person commencement on Dec. 20.
UWL is in the process of verifying degrees and mailing diplomas. If a student who graduated in spring 2020 has not received a diploma by Sept. 1, contact Records & Registration at [email protected] or (608) 785-8576. If a student graduated in summer 2020, the student should receive a diploma in September.
If a UWL spring or summer 2020 graduate would like to receive a diploma cover and/or printed copy of the program, please use this link to make a request by Sept. 1. Diploma covers and programs will be mailed to at no cost no later than September.
If a UWL spring or summer 2020 graduate ordered a cap and gown and did not wear it, return information is available here.
The email sent out by the UWL Provost Office concluded, "We realize the challenges of the past few months may have produced an unusual end to your college career. This has not been the spring and summer any of us envisioned. However, the lack of a commencement ceremony does not detract from your hard work and dedication. Congratulations again."
For any additional COVID-19 questions related to UWL, fill out this form on the UWL website or call (608) 785-8559.