La Crosse community face fraudulent IRS and off-campus housing scams
While attempting to find off-campus housing many University of Wisconsin-La Crosse students and surrounding area members have faced attempted fraudulent Internal Revenue Service (IRS) and housing scams. Many of the attempts made have been directed at an individual's financial information.  
"The UWL Police Department has received reports of fraudulent attempts to obtain personal and financial information from our campus community," stated the UWL Police Department (UWLPD) Community Bulletin 2020-02. "These fraudulent cases have ranged from housing scams to criminals posing as members of the [IRS]."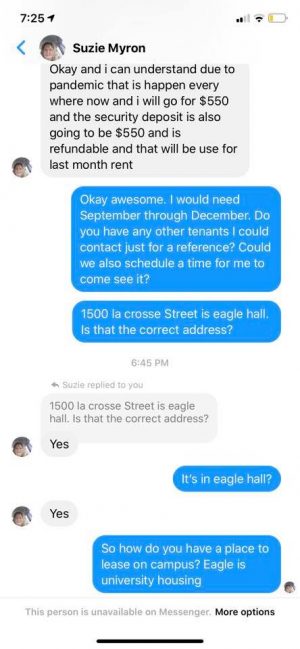 UWL sophomore Kenzie McCoy was searching for off-campus housing for the fall 2020 semester when she faced an attempted scam. McCoy posted to the UWL Off-Campus Housing FaceBook group warning students about the scam.
"The dorms were already full, and on such short notice I was desperate, and only wanting one semester made things even more difficult," said McCoy. "I reached out to a lady advertising a one-bedroom that was very gorgeous but it was way out of my price range. I sent her a low ball offer that I was expecting to get rejected but she accepted."  
McCoy said she was skeptical of the housing offer and was confused as to why the apartment was available at such a low price. McCoy proceeded to question the fraudulent landlord on the location of the apartment, as the landlord had it listed at Eagle Hall on the UWL campus.   
"When I asked if this was the right address she said yes and I clarified, asking if the apartment was in Eagle Hall," said McCoy. "She still said yes and that's when I knew for sure."  
Jeanne Post faced a similar housing scam after searching for an apartment for her son in the La Crosse area. After finding an apartment listing online, Post reached out to the landlord and quickly saw suspicious signs, doubting the validity of the situation.  
Post also posted to the UWL Off-Campus Housing FaceBook group to make students aware of a scam. "The application for the rental was [four] questions: name, age, do you drink, and SSN/bank account number," she said. "At that point, [I knew it was not legit]."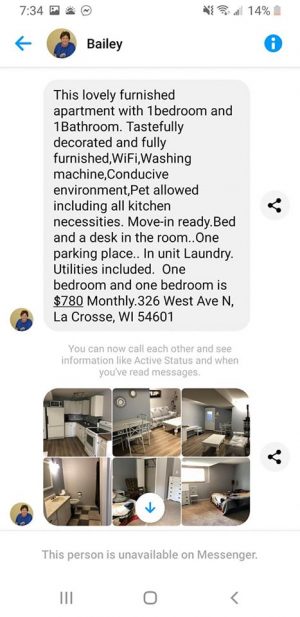 Post stated she became wary after the perceived landlord had very broken English and refused a viewing of the apartment. Post stated she had never had a situation like that happen to her before and had never had a problem looking for housing in other cities.   
The UWLPD released a list of common tactics criminals use to scam including, vulgar language, advisements not to contact others, and threats used to scare individuals.  
"We have seen cases where scammers can be very cunning, but also cases where they are very pushy in an attempt to gain compliance from victims."   
McCoy said for students to be cautious while looking for off-campus housing online. "My advice to other students is that if it seems too good to be true, it probably is," she said. She suggests doing research, asking for other tenants' information, and requesting to see the place in person before investing.   
"If it is a scam they will usually not even reply once you ask these questions," said McCoy. "Never give money before verifying that it is real."  
For more information or questions about scams and how to prevent them contact the UWL Police Department at 608-789-9000.