UWL announces all classes online until Sept. 28, immediate shelter in place for all residence halls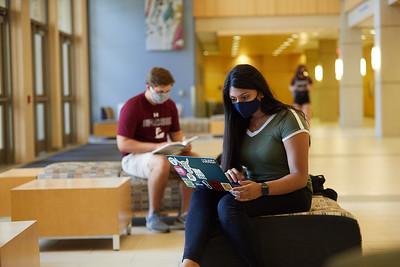 On Sept. 13 at noon, the University of Wisconsin-La Crosse Chancellor Joe Gow sent out an email to all UWL students and staff stating new safety measures going into effect immediately due to the COVID-19 pandemic.
"In particular, we partnered with public health experts to develop a method of testing, isolating and managing COVID-19. Unfortunately, cases of infection continue to increase and that must be addressed," said Gow in the email.
Face coverings are now required to be worn by everyone whether indoors or outdoors in campus property. "Individuals must assume they may be in contact with others in any location and at any time," stated the email.
Coate Hall was placed into a shelter-in-place on Sept. 10, now the shelter-in-place restrictions have been applied to all residence halls at UWL, with the restrictions going into place at 5 p.m. with restrictions lifting on Sept. 27 at 5 p.m.
From Sept. 8 to Sept. 12 there have been 891 COVID-19 tests administered to students through the Student Health Center, with 224 of the COVID-19 tests coming back positive.
Ninty-eight of the 130 quarantine and isolation spots on campus are filled. "The University may not have enough isolation space available and residents remaining in the halls must weigh their own risks. Residence Life will continue to honor requests for housing contract cancellations," stated the email.
For those who would like to cancel their housing contract, click here.
As for courses at UWL, all in-person undergraduate instruction will be suspended on Sept. 14 and Sept. 15 and will resume remotely on Sept. 16, with a presumed in-person resumption on Sept. 28.
The email stated, "UWL's contact tracing has not revealed any evidence of transmission from in-person instruction; however, this decision comes out of an abundance of caution for our students and employees."
The Student Union, Murphy Library, and all academic buildings will be closed until further notice. The Recreational Eagle Center will be closed until further notice, switching to virtual programming. All dining services will transition to carry-out meals only.
The Student Health Center will now only be open for urgent care needs and by appointment only. Telehealth and telemedicine appointments are available for students.
The Provost and each vice chancellor will be releasing more information at a later time.
The Racquet Press will be updating the UWL community as this story continues.