UWL Department of Theatre Arts prepares "War of the Worlds: The Panic Broadcast" for virtual performance
Theater performances at the University of Wisconsin-La Crosse have moved to a new format for the 2020-2021 season due to COVID-19. Live radio shows will be streamed this fall replacing the typical live stage productions, starting with "War of the Worlds: The Panic Broadcast" taking place this October.
Instead of being in-person this year, audience members will have the opportunity to see a streamed version of the show through Broadway on Demand/Show Share. Tentative streaming dates are set for Oct. 23 through Oct. 30. The production will be recorded and edited with assistance from UWL Information Technology Services and tickets will be available for purchase through the UWL Theatre Arts website two weeks before the streaming dates.
The genre of the live radio show will be a new experience for the UWL Department of Theatre Arts. In an interview for The Racquet Press chair of the UWL Department of Theatre Arts Joe Anderson explained that a live radio show was preferable to adapting a typical script. "War of the Worlds: The Panic Broadcast" was an accessible option that coordinated with a streaming date at the end of October, he said.
As the COVID-19 situation changes at UWL, the production may need to utilize alternative solutions that are still in development. All plans are tentative, and updates including those regarding streaming and ticketing will be posted to the UWL Theatre Arts website.
The production will be closely following CDC and UWL guidelines during rehearsals and filming. "The scenery has been designed like a 1930s radio station but a bit bigger with an art deco feel to it," said Anderson. "So the actors are placed on stage in much greater than the six feet–probably 15 feet between all of them."
In addition to distancing, actors will also be using microphones to amplify their voices and reduce vocal spray. As per COVID-19 guidelines, masks will be worn at all rehearsals up until the point of filming. Actors will remain mostly stationary during the show.
Anderson said the experience will be challenging, but the show will offer a valuable experience for the students involved. "We're hoping that this gives them another dimension to their skill set," he said. "I think that all of us are convinced that once we emerge out of this pandemic, that theater is going to be changed. So, the skills that they're getting, the opportunity that they are getting to do this, will be something that they'll have in their toolkit."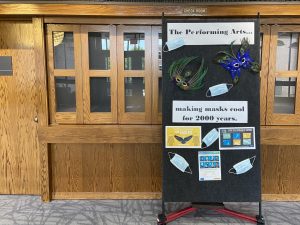 Already the department has worked to overcome production challenges. "We completely did our auditions a different way," said Sydney Smith, the student stage manager for the show. "Once we did it, we were like, 'you know what, this might be something we keep doing,' because it was kind of better."
Smith said the social aspect of theater has been the hardest challenge to overcome this semester. Without social events, connections between new students, upperclassmen, and professors have been difficult to make. She explained that typical events like the "welcome back BBQ" have been canceled for the semester.
The actors' experience will be different in "War of the Worlds: The Panic Broadcast" as well. Two foley artists and five actors, each playing multiple roles, will share a socially distanced stage.
Even though the physical movements of the show will be minimal, voice acting will be emphasized in this type of performance. "Since it's a radio show, it's mostly overacting. You've really got to be articulate," said UWL junior and cast member Ronny Mickle. "We're going to have to work extra hard to pull them [the audience] in and keep them there."
Mickle said one big challenge for actors will be the loss of a live audience. "The feedback you get from the audience, like hearing them gasp and laugh really fuels you. I think that parts of 'War of the Worlds' are going to be really funny. But we're just going to have to keep hoping that we're making people laugh without hearing the laughter all around us," he said.
Despite the challenges, members of the UWL Department of Theatre Arts expressed their excitement for the upcoming performances. "We've always prided ourselves, I think, in theater, as being flexible and nimble and adaptable to circumstances," said Anderson. "We are moving forward. We are progressing. We're doing it with the safety of our students in mind. We are creative people and we are going to create," he said.