La Crosse County has high rate of COVID-19 spread, UWL students comment on effectiveness of COVID-19 plan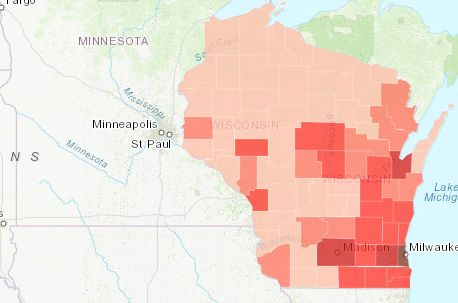 "And indeed, metropolitan areas where the virus has been increasing the fastest included places with significant college outbreaks: La Crosse, Wis., home of the University of Wisconsin-La Crosse, Viterbo University and Western Technical College; State College, Pa., home of Pennsylvania State University's main campus; and Gainesville, Fla., home to the University of Florida. Other college towns also reported staggering rises, including Provo, Utah, and Manhattan, Kan," said New York Times reporters Simon Romero, Manny Fernandez, and Marc Santora. 
In recent weeks, the La Crosse area has received national recognition for its high rate of COVID-19 spread. The New York Times, in an article about the consequences of the pandemic's unpredictable nature, mentioned La Crosse County as an example of an overactive COVID-19 community. 
The La Crosse area has become a COVID-19 saturated county. It is currently at the second most dangerous case categorization level and has seen over 2,000 cases per 100,000 people. As of 3:30 pm on Sept. 20, the total number of positive cases rose to 2,568.
Romero and colleagues say that although students as a generalized demographic might expect to see little health effects, those they come into contact with may have more problematic symptoms. "Transmission on campuses would be expected to be less lethal among students, but experts fear that those cases could lead to wider, more dangerous outbreaks as young people interact with professors, family members, and neighbors," said Romero et al. 
President of Madison Edgewood College Edward P. Manion said that the spike will strain the college's infrastructure to the point that he will be forced to send students home if the trend continues. Other than the continued option for students to suspend their housing contracts, no information about a capacity plan at the University of Wisconsin-La Crosse has been mentioned. 
On Sept. 16, the UWL Student Association hosted a meeting to discuss the ongoing COVID-19 situation on campus. The possibility to suspend the spring semester 2021 return date was discussed, but no plans were made. 
During the meeting, alumni Kevin Hundt spoke and mentioned his fears about student's lack of knowledge of a plan from administration. "The administrators do not care if you live or die. That's not their job. Just listen to the way Jenni Brundage just tried to deflect the blame for her and the rest of the administration's failures onto student behavior." 
According to experts at the Centers for Disease Control and Prevention (CDC), there are four employable actions to slow the spread of COVID-19 on college campuses. Of which, one can be designated as the responsibility of students. 
"Testing to diagnose COVID-19 is one component of a comprehensive strategy and should be used in conjunction with promoting behaviors that reduce spread, maintaining healthy environments, maintaining healthy operations, and preparing for when someone gets sick," stated the Centers of Disease and Control database.  
The university dedicated two buildings on campus to COVID-19 testing; the antigen testing at the Cartwright Center, and the by-appointment testing at the Student Health Center. However, the Cartwright Center is only accepting on-campus students, and the Student Health Center doesn't accept students who aren't experiencing symptoms. These campus resources are unavailable for those who live off-campus who have been exposed to COVID-19 and are looking for answers to prevent exposing others.
The residence halls, all of which have been placed under shelter-in-place, are having difficulty maintaining isolated environments due to their compact architectural nature, according to White Hall resident assistant Amber Fuerbringer. 
"Most of the dorm rooms have two people in them. In normal circumstances, it is hard for two people to share such a small space. Every year when flu season hits it's not just one or two people who end up getting sick, but most of the floor. It starts with those sharing rooms and makes its way to the others on the floor. That is because you have so many people living in these small rooms and sharing one bathroom," said Fuerbringer. "I've heard from friends at other colleges that the dorms are at half capacity, only 1 person per room. Even still they have had cases, but only have half the number of cases UWL has if that many. That alone shows that the dorms are at least a part of the issue in spreading COVID-19."
The University elected to put Coate Hall on shelter-in-place to avoid overwhelming Wentz Hall, which has been designated quarantine space, on the third day of classes. 
The operations integral to keeping students alive while in quarantine have also proven to have a lack of planning, according to Fuerbringer. "I do not believe that this is an effective way of delivering food to freshmen. It's not effective for anyone living on campus. Even just making food options take out was not the best. If someone lives in a dorm fairly far from the tent, the food ends up cold by the time they get back to their dorm." 
"It is also confusing. I went to the tent that was very close to my dorm the other day, during one of the specified times. There was no one there," she said. "No signs about where to actually go either. If they are going to have the tent idea succeed they need to be more clear on which tent to go to when."
UWL junior Avery Wellens, in a statement with The Racquet Press, also shared fears about the rate at which the spread is happening. "I am worried about the rising levels of COVID. I think the University's response isn't the correct way to go about it or is such a late response, I don't see how it will be effective," said Wellens. "The spread of COVID is because of immature college students, students aren't going to change and the spread will only increase."
Fuerbringer says she would have liked to see slightly more communication from the university. "I personally wish they would have handled getting information to people better. Especially with the mask policy on campus and in the dorms. I knew the policies, but it was clear others did not. As an RA [resident assistant] it's hard to help others in the dorm if they don't follow policies."

About the Contributor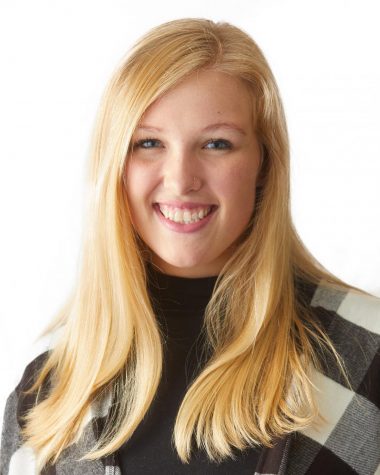 Maija Sikora, Managing Editor

Year at UWL: Junior
PGPs: She/Her/Hers
Hometown: Franklin, Wisconsin
Major: Communications with a Media Studies emphasis
Minor: International...