UWL students react to "Trump 2020" and discriminatory sidewalk chalking
On Sept. 15 the University of Wisconsin-La Crosse received multiple hate/bias incident reports over discriminatory phrases written in chalk around the university. The Racquet Press spoke with three UWL students, who all are choosing to remain anonymous due to concerns with their on-campus job positions.
"This incident felt like an attack on my identity and presence on campus," said the first anonymous student. The attack they referenced were messages written in chalk throughout parts of the UWL campus. Some of the messages written stated, "UWL college republicans" "UWL backs the blue" and "If she breathes, she's a thot ratatatatot" which one student suggested could be a slight towards the Black Lives Matter movement signs that say, "I can't breathe." The chalk messages were still seen days later.
The Racquet Press reached out to UWL college republicans for comment, and have not received a reply.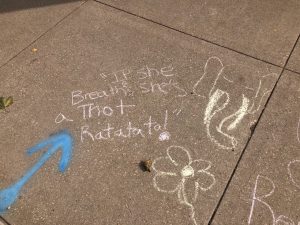 "I originally heard about the incident from friends, and then witnessed one of the chalking's outside of my dorm as I was walking down the stairwell to go to work," said the second anonymous student. "The chalking that I saw read 'Trump 2020' but from what I was told there were more chalking's near the [Hoeschler Tower] and racist statements such as 'China did this' and statements against the Black Lives Matter movement like 'UWL Backs the Blue.'"
The third anonymous student said they were scared after seeing the chalk drawings. "When I saw the 'Trump 2020' and 'UWL backs the blue' chalking on the sidewalk, I immediately felt fear. As a person who holds multiple marginalized identities, I understand how important it is to know that there are people out there who will support and stand in solidarity with me," they said. "The Trump 2020, UWL backs the blue, etc. messages definitely did not make me feel safe. Quite the opposite, actually."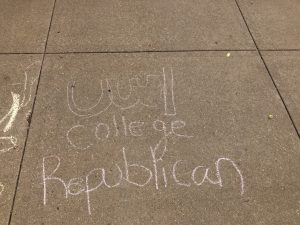 The first anonymous student said, "Since all the dorms are in a shelter-in-place order and classes are online for the time being, not a lot of students knew this happened. But, if campus had continued 'as normal', either this would've been a larger issue, or it would've never occurred."
Data from The New York Times has shown that La Crosse County is one of the top COVID-19 hotspots, nationwide. UWL has had to move to online formats due to the large increase of positive cases among its student body.
The anonymous sources believe that the UWL student code of conduct was violated by the chalk drawing around campus. The UWL student code of conduct states, "The student code of conduct is designed to help ensure a positive learning environment for all students at UWL. Students are held accountable for their academic and non-academic misconduct utilizing Wisconsin State Statue (UWS 14, 17, & 18), Office of Residence Life policy, University Police, and in coordination with other campus policies. At UWL, the misconduct process is rooted in Fairness, Accountability, and Compassion for Everyone (FACE). Through education, we believe the Student Code of Conduct can help students thrive at UWL."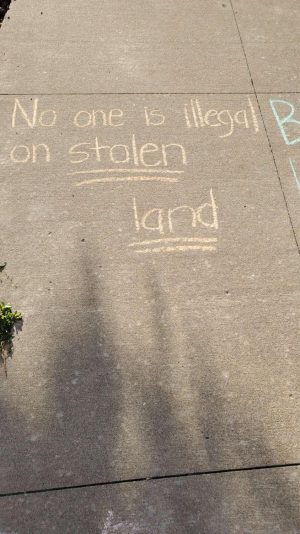 In an attempt to change the rhetoric, other UWL students wrote social justice affirmations such as, "you are on indigenous lands" and "Black Lives Matter" in an act of counter-protest.
The Racquet Press reached out to two members of the Hate/Bias Response team for a comment on this occurrence and have not received a reply.