UWL's waste impact with to-go meals and how students can be more sustainable
On Sept. 13, University of Wisconsin-La Crosse Chancellor Joe Gow enacted a campus-wide shelter in place order for the duration of two weeks, ending on Sept. 27. This order immediately decreased dining options available for students living in residence halls and increased the amount of packaging waste created from to-go meals. 
Currently, there are three tents on campus for students to pick up food to go. One tent is located outside of Coate Hall, another is in-between Reuter Hall and Laux Hall, and a third is on the outdoor patio of the Student Union.  
To package meals that align with COVID-19 safety guidelines, dining services are using compostable to-go boxes, single-use utensils, and plastic bags. While these to-go meals are convenient and safe for students, they create a large amount of waste. To-go boxes began to overflow trash cans and dumpsters outside residence halls throughout the first week of the campus-wide shelter in place. Although the boxes are compostable, there is not yet a place on campus for them to be composted. 
In order to combat this problem, UWL installed a reusable meal container "vending machine" system from the Green Fund grant, called the Ozzi, in the Student Union before the start of the fall 2020 semester. Students are able to purchase a $4 token, receive a reusable container to use at any of the dining locations, deposit the container back into the Ozzi when finished, and receive a token to use the system again. 
However, the Ozzi system is not currently available as the Student Union is closed until Sept. 27.  
The Racquet Press reached out to Amy Webster, one of two waste coordinators for Students for Sustainability, to ask about her opinion on waste created from to-go meals and what students can do to live sustainably while in quarantine.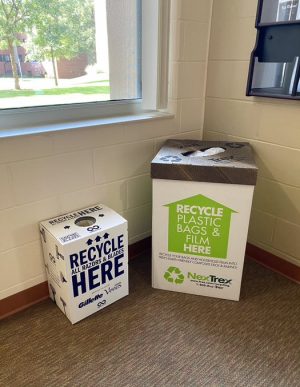 Webster said, "[As waste coordinators] our goal is to implement one project a semester to reduce waste on campus. As an organization, our goal is to inform students about how to make sustainable choices while also making sure that the University is keeping the students' wishes in mind when making decisions related to sustainability." 
However, these goals were complicated this summer in light of the COVID-19 pandemic. "I was sending a lot of emails over the summer trying to reach out to dining services and they didn't have much of a plan. They were pretty much running on the fly like everyone else, so it was kind of hard for us to work together because there wasn't anything set in stone," said Webster. She emphasized that the organization's goal is to create as little waste as possible, but the safety of students and staff is more important.  
Webster shared a few tips for students to eat sustainably while in quarantine. First, instead of grabbing a plastic water bottle at the meal tents, carry a reusable one that can be filled within the dorms. Avoid taking single-use silverware and instead invest in reusable silverware. For students living off-campus, when grocery shopping, consider buying dry goods such as flour, pasta, rice, beans, and spices in bulk to reduce plastic waste. If possible, also try to shop organic and locally.  
If UWL students are interested in creating a more sustainable campus, Students for Sustainability is always accepting ideas for new projects. Their meetings are on Tuesdays at 7 p.m. online. For more information, click this link: https://www.uwlax.edu/sustainability/get-involved/student-organizations/ .