Explained: the impact of Ruth Bader Ginsburg's death on the supreme court
With the recent passing of United States Supreme Court Associate Justice Ruth Bader Ginsburg leaving a vacancy on the Supreme Court, many across the nation are left wondering: what happens next?  
Under typical circumstances, the process for appointing a new associate justice is straightforward. The president will appoint a nominee – typically someone with a background in law and the judiciary system – and that nominee may then be confirmed by the Senate. The process to confirm a nominee involves the nominee and witnesses going through an initial hearing with the Senate Judiciary Committee, after which the nomination may be sent to the full Unites States Senate in order to be spoken and voted on. A simple majority is required to pass the vote, and if it does, then the nominee is confirmed and may be officially appointed to the Supreme Court by the president.
This procedure has been in place since the founding of the supreme court and helps to maintain a system of checks and balances. In recent years, the process to confirm nominees has become quite lengthy, typically lasting up to two months. This is also limited by whether the Senate is in session. Once a Justice is appointed, their term can only end in one of two ways: with retirement, or with death.
What makes Justice Ruth Bader Ginsburg's passing a point of public concern is its timing. In February of 2016, the final year of President Barack Obama's presidency and a presidential election year, Associate Justice Antonin Scalia died.
Republicans in the Senate refused to vote on President Obama's nominee, Merrick Garland, asserting that President Obama's term was too close to its close to allow him to appoint a new Justice. The Republicans successfully blocked Obama's nomination, and come November, the duty to nominate a new justice then went to President Donald Trump. Associate Justice Neil Gorsuch was appointed in April 2017.  
When news broke of Justice Ginsburg's passing, political analysts were quick to realize the implications. If February is too near to an election for a judge to be appointed, then what about September? There are currently less than 40 days until the culmination of the presidential election in November. 
As of Sept. 26, just eight days after Justice Ginsburg's passing, President Trump has announced his nominee for the court, Judge Amy Coney Barret, who is conservatively affiliated. According to New York Times reporters Peter Baker and Nicholas Fandos, Barret's age demographic puts her in a position of power longevity. "Judge Barrett, 48, would be the youngest member of the current court and could serve for decades, underscoring the stakes."  
The democratic party and its affiliates have been quick to denounce President Trump's nomination, saying that it's disrespectful to the memory of Justice Ginsburg to move forward with plans to appoint a new judge. Given the similarity of this situation to 2016, the democratic party also said that it should not be in President Trump's right to appoint a new judge, since the Republicans on the Senate blocked President Obama's nomination.
Additionally, it was Justice Ginsburg's specific wish that President Trump would not be given the duty of appointing her replacement, which was reportedly her reasoning for not retiring.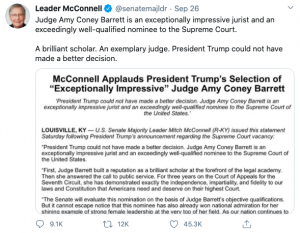 Those affiliated with the Republican party, however, point to past instances of Justices being appointed in election years as a cause for President Trump to appoint Judge Barrett. In a tweet on Saturday, Senate Majority Leader Mitch McConnell praised President Trump's nomination of Judge Barrett.
McConnell was one of the Republicans who led the charge to block President Obama's nomination of Garland back in 2016. Political analysts have speculated that the Republican majority in the Senate intends to act swiftly in voting to confirm Judge Barrett.  McConnell said in a statement that the reason this year's vacancy is different than 2016's, is that there is no longer an oppositional party to the senate majority holding presidential office. 
Though the outcome of this battle for the Supreme Court is yet to be known, one thing is for certain: it will be a highly publicized race against time that is sure to make history.  
About the Contributor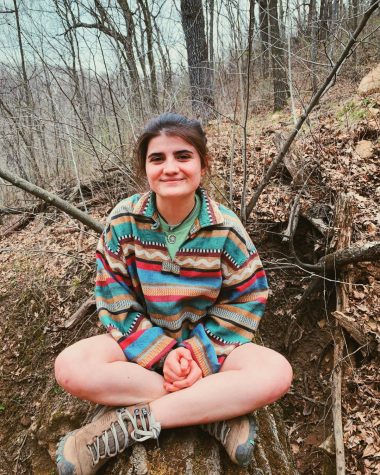 Sophie Byrne, Social Justice Reporter

Year at UWL: Sophomore
PGPs: She/Her/Hers
Hometown: Mazomanie, Wisconsin
Major: Political Science
Minor: Environmental Studies, Professional...