Explained: UWL Green Fund
The University of Wisconsin–La Crosse Green Fund is financed by segregated fees that every student pays in their semesterly tuition. UWL junior and Green Fund Coordinator Andrew Ericson is trying to make the Green Fund more known by UWL students. He interviewed with The Racquet Press to talk about what exactly the Green Fund is, what its purpose is, and why he thinks that more students should care about the Green Fund.  
"The Green Fund is this pool of money that's meant to be used to start and maintain sustainable initiatives on campus. The money comes from student segregated fees. $10.83 from each student's [yearly] tuition goes into this fund, which ends up being around $50,000 to $60,000 each semester," Ericson said. "That money is then able to be used for solar panels, reusable cups, and a whole bunch of other things. If you check out our website, we have a list of summarized past projects."  
Ericson said that there are two distinct types of grant applications that may be filled out and submitted for review. "One is for mini-grants, and the other is for large grants. The difference is that mini is for less than $5,000 projects, and large is for [grants] greater than $5,000." Large grants need to be submitted by a certain deadline during the semester so that there is enough time to review and revise them. This semester's deadline for large grants is Nov. 6.  
Ericson said the process for making an idea into reality via the Green Fund is straightforward. "Let's say that you want to put solar panels on Murphy Library. The first thing that you should do is email me and be like 'here's my idea.' You just need to give me a rough idea and then I can make sure that it's feasible. Something like solar panels would definitely be feasible. Then the next step would be getting approval from the staff member that oversees Murphy Library, just to make sure that they're on board because we would likely be working with them along the way. You don't have to worry about having contacts on campus or knowing administrative staff, because that's where I come in. Once you have that go-ahead from me and the relevant staff member, you can write the grant. The grant itself just asks some basic questions, as an overview of your project. These include cost, why green fund money is appropriate, why is it environmentally sustainable, etc. The questions are all there; all you have to do is answer them. You don't have to spend hours and hours and hours on it." 
Once a student has written and submitted the Green Fund Grant, Ericson said the level of further involvement they want to have with the project is up to them. "You can be very uninvolved, or super involved if you want." 
The next step for a grant application is the review process by relevant committees, such as the Joint Committee for Environmental Sustainability (JCES). Ericson sat on the board of JCES last year as the student organization senator for Students for Sustainability and is now a co-chair of the committee. "The primary job of JCES is to look over green fund grant applications. For mini-grants, JCES has total say on whether to approve, deny, or send back to the author for changes. For large grants, JCES is the first of three stops that those grants make on the way to approval and implementation. The Segregated University Fee Allocation Committee (SUFAC) is the next stop, and then it goes to Student Senate." 
Ericson said that when a grant is approved, the project is primarily taken care of and implemented by administrators. "When a grant receives approval, it'll go back to you in the form of an email with a pdf that will say something like, 'your grant has been approved for this much money.' You'll then be sent to Senior Student Services Coordinator Drea Higgins, who is my advisor for the Green Fund, and she will help you get the funds in order and purchase whatever materials or resources are necessary for the implementation of your grant." 
Ericson said that he himself didn't know the Green Fund existed in his freshman year. "To be honest, I had no idea what the Green Fund was. Like many people at UWL, it was not something I knew of or even cared about because I didn't know it existed."  
Ericson said the only reason he was able to find out about the Green Fund was through his involvement in SFS and Student Association. "I'm trying my best to get the word out, but it's been kind of difficult with COVID-19 because you can't go into people's classrooms. I think there's potential for it to be included in introductory materials in the first week of classes for freshmen when you're exploring campus and going to the [welcome week] activities that are set up. I think a section about sustainability would be super cool, where it could talk about SFS, the Green Fund, and more," Ericson said. "I would love for UWL to promote its sustainable features." 
Ericson says that he thinks the Green Fund is something more students should seek to take advantage of, and not just for the sake of the planet. "To write a green fund grant, you don't really need to care about the environment, although I really hope that you guys do, because we need to take care of our planet. After all, there is no planet B. But beyond having the university be eco-friendly, writing a grant looks really good on your resume. There's a lot of jobs out there where grant writing is going to help you. So, get a head start and write a green fund grant. It looks good on your resume and makes you feel good too. If you get it passed it's something to be really proud of. It's great. You leave your stamp," said Ericson.
For more information about the Green Fund, follow the organization's Instagram page @uwlgreenfund, which Ericson owns and operates. "The graphics are fantastic. Whoever is running the page has really good skills in that field."  
About the Contributor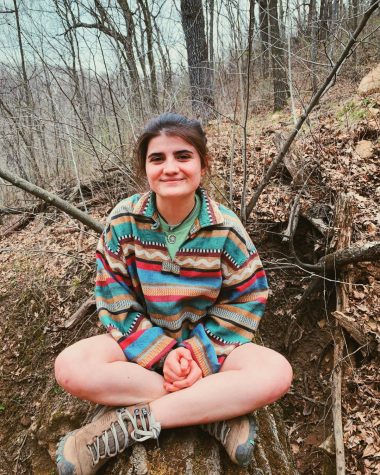 Sophie Byrne, Social Justice Reporter

Year at UWL: Sophomore
PGPs: She/Her/Hers
Hometown: Mazomanie, Wisconsin
Major: Political Science
Minor: Environmental Studies, Professional...