Student Association welcomes Brad Pfaff as a guest speaker to discuss sustainability, student debt, and the importance of voting
Morgan Hose, Student Government Reporter
October 22, 2020
On Wednesday, Oct. 21, the University of Wisconsin-La Crosse Student Association (SA) met virtually with Brad Pfaff, a Wisconsin Senator candidate, to discuss topics on sustainability and the student loan debt crisis.
College of Science and Health senator Andrew Ericson asked Pfaff to speak on how he intends to address sustainability in his potential senate role. Ericson asked Pfaff to address an acknowledgment of people's interest in climate change in the La Crosse Community. Pfaff said, "Number one, we need to listen to science. Number two, we can step forward and we can lead. Number three, we need to stop being afraid." He said that we can do more when it comes to putting renewable energy on dairy barns and on silos and grain bins.
Pfaff previously served as an executive director for the U.S. Department of Agriculture Wisconsin Farm Service Agency and USDA Deputy Administrator for Farm Programs and serving during the Obama Administration. "We are an engineering and manufacturing state, we know how to do this. We should not allow the fear factor to get in our way. We can come together to do this."
Another senator in the College of Science and Health, Jared Zwettler, asked Pfaff to elaborate on his education platform surrounding tackling the student debt crisis. "Many students struggle to pay bills, especially during the school year when they may not be holding their full-time job as they would be in the summer months," said Zwettler.
"The federal government needs to give the flexibility for students to refinance student loans," said Pfaff. He plans to work on driving down the overall cost of higher education. "I will say this, it's too expensive right now. We need to do better than what we're doing," said Pfaff.
Sydney Navoichick, a senator within the College of Arts, Social Science, and Humanities, asked, "If you are elected, how do you plan to work across the aisles to get things done?" Pfaff is running under the Democratic party and his opponent, Dan Kapanke, is running under the Republican party.
"When you get elected to the state senate, you are working for all your constituents, whether or not they voted for you. You need to recognize the fact that there are things that supersede ideology parties" said Pfaff.
Pfaff's final message of the night was, "Please go out and vote. For whichever political candidate and whichever political party, just get out and vote. It's your right."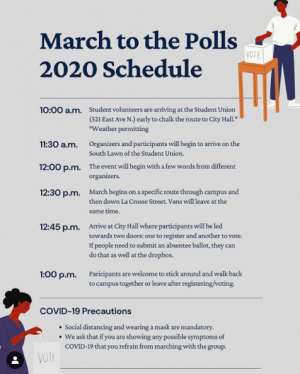 Other topics discussed were going and getting your flu shot at the Student Health Center. It is $20.00 and the Student Health Center does not accept insurance. However, Walgreens, CVS, or your local health provider do work with insurance programs for an alternative option.
This Friday, Oct. 23, is March to the Polls 2020 to celebrate National Vote Early Day. A community march will be held beginning at the Student Union and end at City Hall. There will also be cars and drivers available to transport you if you cannot make the walk. This march is for anyone that has yet to register to vote, drop off your absentee ballot, and even vote early in person if you wish to do that. Voting on campus has since been moved from the Student Union to Mitchell Hall and you will be able to vote there from 7:00 a.m. until 8:00 p.m.
More information can be found @uwl_votes on Instagram.