UWL students on volunteering for organizations and working polls for the 2020 presidential election
The 2020 presidential election was held on Nov. 3, bringing an end to one of the most vigorous campaign cycles that La Crosse and the nation has seen in recent years. The Racquet Press spoke to four the University of Wisconsin-La Crosse students who volunteered time and effort in order to get out the vote on Election Day.  
Jake Myers – Poll Worker 
UWL junior and Student Senate Sustainability Director Jake Myers volunteered as a poll worker at the UWL Mitchell Hall polling location. Myers is majoring in political science with minors in biology and Spanish.  
Myers heard about the opportunity to be a poll worker when he registered to vote earlier this semester, and then again through Director of University Centers Dr. Larry Ringgenberg in a Student Senate meeting. He decided to apply in part because he knew that poll workers are typically older people, who are now at increased risk due to COVID-19. "Because of COVID-19, many people who would have worked the polls didn't this year, so they really needed young people." 
Myers said that he received an email the day prior to his position assignment. "I was assigned to the registration team and stayed there all day with a team of six or seven people," he said. Myers said that he felt well prepared prior to polls opening. "I was pretty confident and ready to go by the time the polls officially opened. There were also a ton of different sheets and forms that we could look at to help verify and figure out what we were doing." 
Myers said that he was surprised by the turnout. "When things started, I was actually surprised at how many people were coming out, since Ward 8 is on campus and Ward 11 is just surrounding campus." He said that he felt proud of UWL freshman especially, "I was really impressed with the turnout and really proud of the freshmen. It was really fun to see students excited to be a part of it, and to get out there and make a difference."   
The days following the election, with vote counts being contested state and nationwide, were frustrating for Myers. "It was frustrating to see the president try and delegitimize the process, knowing how many volunteers gave their time and effort."   
Myers would encourage more students to apply to be poll workers. "As a student, you can actually choose to be compensated for your time, which I chose to do." Myers valued the experience of being a poll worker and said he hopes to do it again in the future. "I'm kind of grateful that I chose to do it, and it's really cool to understand the process and how people actually do go through and vote." 
Morgan Hose – Poll Worker   
UWL sophomore and The Racquet Press Student Government Reporter Morgan Hose volunteered as a poll worker at Mitchell Hall. Hose learned about the opportunity while sitting in on a Student Senate meeting and applied along with her roommate. Hose said of the training, "I think they went way more in-depth than I had expected, and they made sure to cover all of their bases whether it be COVID-19 related or the poll-working process. We [Hose and her roommate] felt really prepared to go into it." 
Hose said that her day at the polls began at 6 a.m. and ended around 8:30 p.m. Hose was on the supplemental poll books station. "Whenever someone registered the same day, they brought their registration form over to us and we filled out their exact form into a kind of attendance sheet to verify they were there."   
Hose said that it was busier than she expected, "Everything ran super smoothly, and they prepared well. Everyone was wearing masks, everyone was social distancing, we had a good setup, so everything flowed smoothly. Overall, I think it went really well and they couldn't have planned better for it."  
Hose said that her biggest takeaway from the experience was on voter intimidation. "If you're a first-time voter, you're stressed about having the right documents with you, or not being registered, or just trying to register, and that's such an intimidating thing. One of the reasons I wanted to be a poll worker was to be a familiar face. I saw so many people come through my station that I knew, and it was really comforting for me to see that people I knew were voting, and it was also really comforting for them to see a familiar face working the polls who could be like, 'hey, it's not that scary, I'll help you, we are all in this together.'" 
Alex Jeske – Tabling with Planned Parenthood   
UWL senior and Spanish education major Alex Jeske volunteered with Planned Parenthood on Election Day. She said that first got involved with Planned Parenthood last year, when she was a part of a new student organization on campus, [email protected]. "[Period@UWL] was working really closely with Planned Parenthood, and I created a connection with Marie Lindberg. I signed up for emails and followed her on social media." Marie Lindberg is a regional campaign organizer for Planned Parenthood Advocates of Wisconsin (PPAWI). Jeske said that she saw Lindberg promoting an election day tabling event through Facebook and signed up with several coworkers of hers.  
Jeske works as part of a liberally affiliated Get Out the Vote (GOTV) organization called VoteMob. Together with Milwaukee-based organization Leaders Igniting Transformation (LIT), VoteMob is working to promote the Dare To Divest campaign.   
Jeske said PPAWI had a booth set up near a polling place where they were talking to voters and encouraging passersby to vote. "We had a table set up near the [Main Street] Library [polling place], and we had promotional items at the table along with volunteers chalking, talking about their reasons for voting, and people talking to voters and encouraging them to talk to their friends and family too." 
Jeske said that she saw voter suppression occur firsthand while volunteering. "A big conversation this year has been voter fraud, and the counter to that is voter suppression. That was something that I saw very clearly when I was doing my volunteering. There was someone who had walked out of the polling place, and another volunteer wished them a happy Election Day. They [initially] didn't say anything and kept walking, but after a little bit they turned around and came back and they told us, 'I guess homeless voices don't matter,' and they said, 'I had my ID but they won't let me vote because I don't have a place of residence.'"
Jeske had posted about this incident on Facebook and said that an acquaintance had commented on that post saying that polling locations are required to work alongside certain organizations for people who lack a permanent place of residency. "That wasn't the case, obviously," Jeske said. "So that person was not able to vote, which was frustrating for them, obviously, and for me to see that. I'm sure they felt very powerless at that moment and I did too. I'm there trying to promote people voting and then, people are being neglected and turned away [from the polls]." 
Ultimately, Jeske said that she hopes more people consider volunteering and being politically active. "Be the change that you want to see. That's a goal that I strive for and one that I hope others do too."  
Ryan Sperling – Phone banking with the Wisconsin Democratic Party 
UWL junior and College Democrats treasurer Ryan Sperling has been volunteering with The Wisconsin Democratic Party since this summer and made calls to voters on election day. 
He said that the College Democrats have been hosting volunteer opportunities throughout the semester. "This semester most of it has been phone banking. With COVID-19 we haven't really had the chance to do anything in person, although we did do some tabling on campus. We gave away free t-shirts, literature, and just talked to people." 
Sperling said that the phone banking process is fairly straightforward. "You grab your phone, get your computer, connect your phone to your computer, and then the computer automatically dials the numbers for you. Usually, we'd try and make 40 calls per session, or an hour's worth, whichever came first."   
Sperling said of phone banking, "Out of those 40 calls, normally you only talk to a few people, honestly. A lot of people hang up on you, a lot of people hear 'Democrats' and tell you to f*** off." 
Sperling said that there are conversations that make the time and effort worth it. "One girl that I talked to, a week before the election, was a Ukrainian immigrant who came to La Crosse a year ago. She just told me her story, and I was able to help her get her absentee ballot and I showed her the process and she requested it. It's kind of cool to make a connection like that." 
Sperling said that he encourages fellow students to volunteer for the same reason that he has done it: to make a difference. "There are a lot of people that like to post on social media about [their political ideologies], which is great, and I think that it's helpful to make your opinions known; but I also think that if more people put the same energy that goes into reading infographics and posting on social media—I think that if those people put the same energy into volunteering and getting out the vote and taking concrete action, I think that would make much more of a difference." 
Sperling said that he doesn't let being a college student discourage him from making change. "This is the most consequential election of our lifetime, and I'm just a college student, but if I didn't do anything and didn't at least try to make a difference, I would be really mad at myself."
---
For information about volunteering as a UWL student visit https://www.uwlax.edu/volunteer/ 
About the Contributor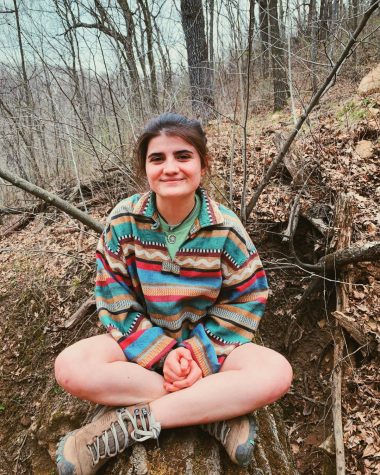 Sophie Byrne, Social Justice Reporter

Year at UWL: Sophomore
PGPs: She/Her/Hers
Hometown: Mazomanie, Wisconsin
Major: Political Science
Minor: Environmental Studies, Professional...