Senior spotlight: UWL capstone performers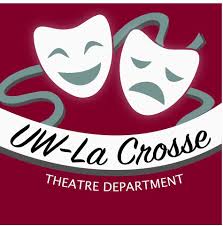 Senior capstone performances at the University of Wisconsin-La Crosse look different this year because of COVID-19, but the performers remain excited to share their skills.
Music performance and theater performance majors at UWL typically complete a capstone performance as a requirement for their majors. Students choose monologues and songs, invite fellow student performers to participate in the show, and promote the event as a final demonstration of the skills they have acquired during their time at UWL.
To remain safe during the COVID-19 pandemic, these performances have now moved to virtual and limited attendance events that will be available for streaming.
Wade Behrens (he/him/his)
Senior music education major Wade Behrens will be holding his senior trombone recital on Nov. 21 at 4 p.m. His performance was originally scheduled for March 2019 but was rescheduled due to the COVID-19 pandemic.
In an interview with The Racquet Press, Behrens said that his show will be limited to 10 people in the live audience but will be streamed through various internet channels. Streaming information can be found on the UWL Music webpage or Facebook page.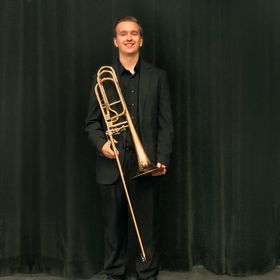 Behrens said that he carefully considered who to invite to the live performance, focusing on those who have made the biggest impact on his journey as a musician. Along with family members and supportive friends, Behrens said he invited his middle school band director. "We're so close and he got me into this teaching thing. He believes in me. I just had a phone call with him last Thursday and he told me, 'you know, you're an incredible kid and you're going to go far and do amazing things wherever you end up,'" he said.
Similar to how his band director inspired him, Behrens said he wants to go into music education to teach the universal language of music and inspire students to be good people in the future.
Behrens said he is both nervous and excited to share the piece "Meditation" with his audience. "When I think of that piece I think of – you're kind of in this weird state of mind where you're there and you're present, but your mind is wandering all over the place and you have these intruding thoughts that come in. If you listen to the piece there are little intervals like 16th notes come in, then I'll suddenly go back to a sense of peace and arrival," he said.
Behrens said he is grateful for the support he has had during his time at UWL. "I want to give a shoutout to all my professors and friends that I've gained through the years to get me to this point where I'm ready to perform for the last time as an undergrad, and really thank them for all their love and support," he said.
Dane Wiskow (he/him/his)
Senior general music education major Dane Wiskow will be giving his senior vocal performance on Dec. 6 at 4 p.m. The live performance has limited attendance and will be available for streaming through Facebook Live.
Wiskow said his interest in music started because he grew up in a musical family. He said his father was a guitarist in a band, his grandmother is still in a band performing for retirement homes, and his uncle is a guitarist in a rock band. "It's just something that I've lived around for most of my life and I wanted to share that with people who weren't just my family but friends and strangers from the community," he said.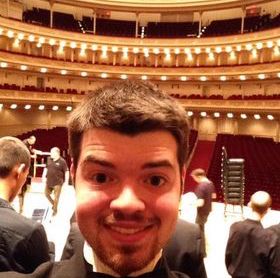 The COVID-19 pandemic has posed challenges for both student teaching and for his senior recital, said Wiskow. The original program for the performance would have spanned the typical one hour window, but complying with aerosol recommendations from the CDC, the program has been cut by 30 minutes.
Wiskow said he has about seven pieces selected to perform and that he is most excited to share is "It is Enough" from the opera "Elijah" composed by Felix Mendelssohn. "It's such a powerful piece to sing about. Very emotional, and it's mostly a range of like sadness, then rage, and then back to sadness again. That one I'm really excited to share with everyone," he said.
Wiskow said his favorite memory from his time at UWL was when his choir performed at Carnegie Hall in New York, NY. The stage was a special place to perform and the free time exploring the city was exciting, he said.
Coming to the end of his undergraduate career at UWL, Wiskow said he wanted to thank those friends and professors who have supported him. "Even a few times where I had doubts about whether I wanted to continue music, they didn't give up on me and for that, I didn't give up on myself," he said.
Lauren Hanson (she/her/hers)
Senior musical theatre major Lauren Hanson will be featured in the UWL theater capstone performance which will be available to watch in mid-December. The performances for all graduating seniors will be recorded and combined into a video that will be available through a service such as Vimeo.
Hanson said that her interest in performing started when she was young, but it wasn't until her first performance in the musical "Grease" that she fell in love with theater performance. "When I tried to figure out what I wanted to do for the rest of my life it was the first thing that I thought could keep me happy for years and years and years," she said.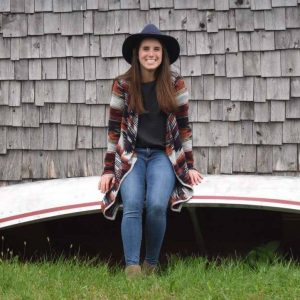 Because the COVID-19 pandemic has shut down many performance opportunities, Hanson said she is a bit worried about finding a job after graduation. She said that in a perfect situation, she would love to begin her performing experience as a character performer for Disney, interacting with guests as a Disney princess, before moving onto larger musicals and other performance opportunities.
The spaces typically used for classrooms and performance spaces have been unusable this semester because of safety concerns, said Hanson. "It's been really odd to do my singing in my bathroom in my apartment, or in the garage of the house I lived in last semester. It's been very weird transferring over, kind of, to a less legit studio space and working with the locations that I do have," she said.
For her senior show, Hanson said that she tried to create a list of songs and monologues that highlight her range of skills and remain upbeat during an otherwise somber semester. "My personal favorite that I have so far is a song called 'Dear Professor Thompson' from the musical 'Ordinary Days.' That one's just a fun little upbeat number about this girl who loses her thesis and has an internal panic," she said.
Hanson said her favorite memory from UWL was performing in the musical "Little Women" last semester. She said as the last live performance before the pandemic shutdowns, and because of the close bond she formed with her fellow actors, it is a show that she will remember the most. "As cheesy as it is, the UWL Theatre Department is a family, from the students to the faculty, and even like the rooms that we spend our classes and our show in, it really becomes home," she said.