UWL custodial staff discuss essential work amidst the COVID-19 pandemic
Nov. 18 marks eight months since La Crosse county saw its first confirmed case of COVID-19. As of Nov. 18, La Crosse county reported a daily average of 145 new cases per day. Concurrently, the University of Wisconsin-La Crosse is preparing for another full semester of hybrid and online learning, meaning that most UWL faculty and administrative staff will be conducting their work remotely. Most, that is, but maintenance, groundskeeper, custodial, and other essential employees. The Racquet Press interviewed two UWL custodial staff about what it's like to work through a pandemic, COVID-19 related job complications, and hazard pay.  
Cara Senn — Lead Student Custodial Assistant  
Cara Senn is a junior majoring in Biology with a concentration in environmental science and has been working as a student custodian since her first semester. "I started off as a custodial assistant working in Whitney, and then they had me go over to the Union," Senn said. "I work every single week depending on my class schedule, but when I can be there between classes I am."  
Her duties include taking out the trash, restocking hand sanitizer, cleaning entry points, watching for spills, moving furniture, and, as a lead, assisting with bathroom cleanings and larger messes. Senn said that she enjoys the job, despite some challenges. "It does get challenging, sometimes, when students are just not respectful—sometimes they will deliberately leave messes—or stare at us or throw things down for us to pick up, but aside from that I like the job." 
On top of the obvious risk to personal health, COVID-19 has resulted in additional job expectations for Senn. "Aside from the daily bodily secretions that we deal with, we now have COVID-19 on top of that." 
Senn said that the job has become more dangerous and more complex. "We're disinfecting the tables they're [students] eating at; we're taking out the trash that their food is in," Senn said. "And on top of that, the administration has expected us to be policing kids for not wearing masks, eating where they're not supposed to, gathering in groups—that's something that's not really defined as anyone's job, so it falls to us." 
Senn said that she personally feels safe enough in terms of COVID-19, but that she doesn't believe that to be the case with all custodial staff. "A lot of them [full-time custodial staff] are over 50 years old, and some up to 80 years old, which is a concern when you're dealing with kids who may have COVID-19. Many of them have health issues as well, which—ironically—is why they're here: because the pay isn't great, but the benefits are, and the medical insurance is." 
Senn believes that custodial staff is underpaid, given the hazards that COVID-19 has brought to the job. "The people doing the grunt work, not administration, deserve better pay." Senn has received a quarter raise for every semester she has worked but has not broken $10.00 dollars an hour. Being a part-time employee, Senn does not receive any benefits. "Not even just student custodial staff, for all student workers. We get paid j******* and limited to twenty hours a week, and that's not really helping us that much."  
According to Senn, the regular full-time custodial staff is paid a maximum of $14.31 an hour, while leads make $15.70. She says that, for some employees, this is not a livable wage. "The thing that really gets me in the heart is that we have a lot of custodians who get here at 6 a.m., work their shift until 2:30 p.m., and then get in their car, and go to a second job," Senn said. "They work another four or eight hours because we're not paying them enough here. That should never have to happen."  
Wanda Nemeth — Second Shift Custodial Lead 
Wanda Nemeth has been working as a custodian at UWL for nearly four years, and switches between the Student Union on weekdays and Whitney Dining Center on weekends. "As a custodial lead, I oversee a staff of five full-time employees at night, and then I also oversee the majority of the students that we employ as custodial assistants. If a new staff member comes on, full-time or student, I also train them." 
Nemeth has over 23 years of prior experience in custodial and janitorial operations, some of it in the surgical ward of a hospital. She compared custodial work amid a pandemic to her experiences in a surgical ward. "It's essentially the same expectations, the only difference is that I was receiving more compensation then than now. And that was eight years ago."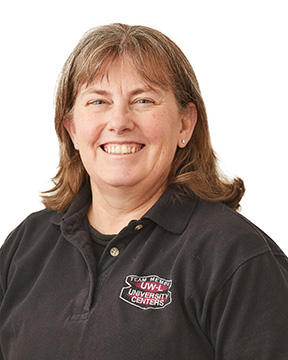 Nemeth said that she feels custodial staff should be receiving hazard pay in light of COVID-19. "When you're an essential worker and you have to be here, you don't have a choice. You either go home and don't have a job, or you work through a pandemic in order to feed your family." Nemeth feels that the university has done its best to support and supply essential workers with the proper personal protective equipment, but says that only goes so far. "You can say thank you, and we take that and we appreciate that, but at the end of the day some of these people go home and they're in vulnerable situations, and the university needs to realize that." 
Nemeth said that she takes pride in the efforts of the custodial staff team that works in the Student Union. "So far our goal has been achieved: nobody on our [full-time and student] staff has gotten sick in this building. That is what we pride ourselves on."   
"We have to protect our staff so that we are able to do our job and stay open for everybody else," Nemeth said. According to Nemeth, measures have been taken to ensure that custodians can practice social distancing while on the job with coworkers, and certain staff is assigned to certain rooms and areas in order to minimize bacteria spread. Nemeth also said that extensive measures have been taken to ensure that contamination risk between first and second shift staff is minimized.  
Nemeth hopes to increase awareness for the vital work that custodial and janitorial staff do, especially in the middle of a global pandemic. "Being a custodian is not just wiping things down and taking care...you can't just go around spraying chemical anywhere, and just expect it to work...being a custodian is a science."  
Nemeth is appreciative of what the custodial department has accomplished, and of the student workers who are a part of it. "We appreciate everyone that's helped us, including our students. We cannot do our job without our students. If we don't have student employees, we're not going to be able to keep up. They are a big, big part of keeping us going and keeping everybody safe. We appreciate them." 
Ultimately, Nemeth believes that there is more the university could be doing to support its custodial staff. "Everything that we have asked for from the university, they have been great about getting to us. I think that some other aspects they could do for us include [further] compensation and letting us onto the [COVID-19] task force...including a group of people, of custodians, who understand the science of it would [provide] benefits."