Explained: Donald Trump and his refusal to concede to Joe Biden
Morgan Hose , Student Government Reporter
November 23, 2020
This election has posed a variety of challenges that America has never seen before. From concerns over COVID-19, fear of voter fraud, and delayed ballot counting, The 2020 election was expected to be unprecedented. With the most absentee ballot votes ever coming in at 99 million by November 2nd, COVID-19 had big implications on the Presidential election. Due to the large amounts of absentee ballots coming in, election workers were unable to count all the ballots by election night. 
Key states such as Wisconsin, Nevada, Pennsylvania, etc. didn't have their results in until days after the polls had closed. It has now been officially reported that Joe Biden has won the election with 306 electoral votes and Donald Trump at 232 electoral votes. A Presidential candidate needs 270 electoral votes to win. Biden took the lead over Trump in the battleground states of Pennsylvania and Nevada on Nov 7, winning the white house. 
Prior to absentee ballots being counted, Trump falsely declared victory on the night of the election and vowed to go to the Supreme Court to stop vote counting. This led to the fears some American's had over Trump undermining the democratic process. 
Despite election results, President Donald Trump refuses to concede. A concession is the act of a losing candidate publicly yielding to a winning candidate after an election. Trump has not made a concession speech, nor has he called Biden. The main goal of a concession speech is to unite the electorate and the country.  
Trump has filed lawsuits challenging votes in multiple states. It is within his rights to go to court and present evidence. Trump has conjured ideas of widespread voter fraud which he could take to court as evidence, provided that he can find evidence of voter fraud.  
"From a moral and from an ethical perspective it's obviously profoundly troubling and in many respects, we haven't seen anything like this in the modern era – a sitting president, trying to basically subvert the election," said deputy director of the Brennan Center's Election Reform program Daniel Weiner.  
Biden's team has sought to proceed as normally as possible. Biden has been making policy speeches, staffing task forces, standing up a transition website, and holding planning meetings via Zoom. Trump has requested a partial recount in Milwaukee and Dane County in Wisconsin and a full recount in Georgia. 
"This was a rigged election. No Republican Poll Watchers allowed, voting machine "glitches" all over the place (meaning they got caught cheating!), voting after election ended, and so much more!"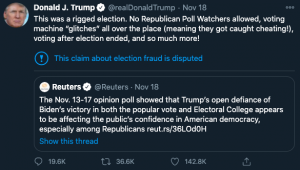 said Trump via Twitter on Nov, 18.
The Trump administration initially armed itself with lawyers in preparation for anticiapted voter fraud resulting from the unprecedented amount of mail-in ballots. However, as the election progressed America saw no evidence of this. On Nov, 8. Trump's personal lawyer Rudy Giuliani held a press conference in which he made claims about the validity of the voting process.
"The former mayor followed it up with a 90-minute event at a location with more gravitas, and more cause for concern: the headquarters of the Republican National Committee in Washington, D.C. Giuliani put forward baseless and vague claims about a shadowy plot involving a voting machine company and the Venezuelan and Cuban governments, as what appeared to be hair dye ran down his face in rivulets of sweat," according to National Public Radio reporters Franco Ordoñez, Mara Liasson, Tamara Keith, Claudia Grisales, and Roberta Rampton. 
There is nothing in the Constitution that defines what happens if a president refuses to concede power. According to the Washington Post, the lack of guidelines originates from the founding fathers inability to concieve such an event. "No, the framers did not envisage a president refusing to step down or discuss what should be done in such a situation," said Princeton historian Sean Wilentz in an interview with The Washington Post. Despite their warnings on the topic, none of the contributors to the consitution included a clause on power manipulation.
Founding Director of the Center for Presidential History at Southern Methodist University Jeffery A. Engel collected a team of historians and legal professors to investigate the legal processions of such an event, the search ended as it started. "Recently, Engel asked the post-doctoral fellows and undergraduates affiliated with the center — whose areas of study range from George Washington to Trump — to drop everything they were doing and search for any historical clues or parallels. 'They all say they got nothing,' Engel said," this, from Washington Post reporter Gillian Brockwell.
Trump's refusal to concede has the potential to harm the United States democracy of a free and fair election. His campaign's legal team continues to challenge the results. As of Nov, 20. Georgia has finished its recount and certified that Biden had won all 16 electoral votes. 
Trump is still trying to exhaust all of his legal alternatives to override the election results. He is expected to meet with Michigan's top state lawmakers to request a recount of ballots. The United States constitution does not state how a president should be removed if they refuse to concede. Trump retains the powers of the presidency until noon on Jan, 20.