UWL students celebrate National Native American Heritage Month
November is National Native American Heritage Month. The Racquet Press reached out to two native students to talk about how the University of Wisconsin-La Crosse and its community can best celebrate and honor Indigenous peoples, both in November and year-round.  
Matilda Sprain, Junior 
"It's nice to have a specific month dedicated to this group of people because we don't have a lot of acknowledgment," said UWL Native American Student Association (NASA) co-chair Matilda Sprain. Sprain is majoring in political science and minoring in ethnic and racial studies. Sprain said, "at the same time, it's not anything different than what a normal month would be. I embrace my diversity and my Native American side every day." 
Sprain is a member of the Ho-Chunk Nation, and also identifies as part of the Sioux tribe. NASA works to give Indigenous students a space to express themselves and meet other native students, as well as to educate the UWL community about indigenous issues and history. Sprain is from the La Crosse area and attended NASA events as a high schooler. "I continued to be a part of NASA because I thought it was a really good environment to be in." 
In a typical year, NASA hosts educational programming in October for Indigenous People's Day, as well as an event called "Rethinking Thanksgiving" in November. One of NASA's primary goals has been for UWL to officially adopt their land recognition statement. According to the Campus Climate website, "The Native American Student Association (NASA) at the University of Wisconsin-La Crosse created the Indigenous Land Recognition statement with the sole purpose to recognize, honor, and celebrate the traditional land that the university resides on."  
The land recognition statement was adopted by the four shared governance bodies of UWL, but Chancellor Joe Gow has yet to officially endorse the statement as UWL policy. La Crosse is situated on ancestral Ho-Chunk land.  
Sprain encourages students to read the land recognition statement and learn more about it. "Look more into the land recognition statement, if you don't know what it is," Sprain said. "It's not harming anybody, it's two sentences, other universities have it as a policy, so what is stopping us?" 
Sprain said that she feels Chancellor Gow has failed to tell NASA what they need to do for the statement to be officially adopted. "We've worked so hard and done all of the things that Joe Gow has asked us. It just feels like he's invalidating us by not passing it as a policy." 
Sprain said that she is considering starting a petition to show support for UWL officially adopting the land recognition statement. 
As for how UWL students can honor and respect Indigenous history, especially over Thanksgiving break, Sprain said that education and mindfulness are important. "I wouldn't say, 'oh, don't celebrate Thanksgiving,' because it's a tradition, but at the same time, educate yourselves! Educate yourself on what Thanksgiving actually is and what actually happened. Just be thoughtful of what we weren't taught in school."  
Sprain encourages students to be thoughtful about their words and clothing as well. "People don't realize it but clothing with [native] mascots can be offensive, and sometimes people say 'savage' and that's also very offensive." 
Overall, Sprain wants to emphasize the presence of Indigenous students at UWL. "Some students still don't understand that we're still around. We're still here, Native American students do exist, and are probably in your classes...just be mindful of who you're around and be more welcoming, more inclusive." 
Helen Clark, Sophomore 
Helen Clark is majoring in political science with minors in legal studies and public administration. Clark said that she sometimes feels erased as a native individual. "At UWL, it's [Indigenous history] sort of like nothing. It's not addressed ever, a lot of the American government classes that I take are very…colonist-centered."  
Clark is Native Arctic and identifies as part of the Qawalangin tribe. Clark said, "I like Native American [heritage] month, just because I appreciate the sentiment, but I don't think that anyone really talks about it more than a few flyers." 
Clark said that she feels a lot of people are uneducated and very unaware of Indigenous history and culture. "I feel like people just sort of overlook natives most of the time, just because we are a really small percent of the population and people don't care."   
She said she's done her best to inform her friends at school. "I personally feel like I've had to educate all of my friends, well, specifically Native Alaskans but also Native Americans. They didn't even know the tribe in the area." 
Clark referenced the 'Hiawatha' sculpture of Riverside Park, which was removed this past summer due to controversy over its public perception. "They [Clark's friends] didn't understand why the statue needed to be taken down at Riverside Park." 
Clark said that she'd like to see more Indigenous history taught in classes at UWL. "I think it would be useful in history class and political sciences classes specifically, and any classes about national government. You need to understand that a lot of the land that people live on today was built on native burial grounds, literally. There's more history to it than what you were taught in kindergarten." 
Clark said that there are certain terms that she wishes more people would avoid using. "'Indian,' isn't terribly offensive, but it does show that you have no idea what you're talking about, and it's just really invalidating," Clark said. "'Eskimo' is a colonizer term that means 'eater of raw meat,' and it's offensive." 
Clark said that she thinks there needs to be more awareness of the diversity amongst Native American tribes. "I think people should learn about the differences in native culture, instead of just roping us all together. There are so many different and diverse cultures, it's like comparing Norwegians to the Spanish. Even native arctic is so different from native America, it's crazy." 
"Educating is honoring. And I think that no one educates themselves," Clark said. For more information about the ancestral Ho-Chunk land that the city of La Crosse occupies, readers may visit https://ho-chunknation.com/.  
About the Contributor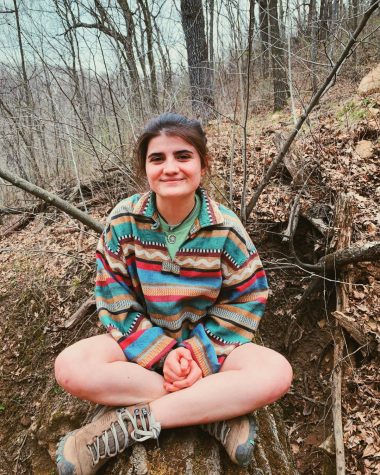 Sophie Byrne, Social Justice Reporter

Year at UWL: Sophomore
PGPs: She/Her/Hers
Hometown: Mazomanie, Wisconsin
Major: Political Science
Minor: Environmental Studies, Professional...