"Cases are continuing to rise and so are deaths": UWL students talk about going home for winter break
University students across the country are facing a decision as the holiday season approaches. As COVID-19 numbers rise, students have to make the choice between staying put or going home. At the University of Wisconsin-La Crosse, Chancellor Joe Gow announced the Friday before Thanksgiving that all classes would go remote after Thanksgiving break.  He also said that it is "safest to celebrate where we are right now, and only with those who live in our immediate households."  
Students at UWL were then given the choice about what to do. UWL freshmen Kennedy Jeske talked about her experience on-campus before going home for the holidays. Jeske said she went home for Thanksgiving and decided not to come back to campus after Thanksgiving break. She said it wasn't worth it to go back for such a short period of time and decided to stay home and work. Before going home for Thanksgiving, she took precautions by having a COVID-19 test and avoiding going out. On Thanksgiving Day, she decided it was safe to see her family. 
When asked about how UWL has handled COVID-19 during the holidays she said, "I think that UW-La Crosse has handled the COVID-19 crisis as best as they could. During the holiday season, they were very helpful in allowing students to get tested and sending out reminders as to when to start quarantining, so we were able to see our families." Jeske said she thinks it is safe to travel home during the holidays as long as people are doing it responsibly. For Jeske, the end of her first semester will happen at home instead of at UWL. 
UWL sophomore Nicole Hachtel lives in an off-campus house and had to stay in La Crosse over Thanksgiving break. She said, "For Thanksgiving, I originally wasn't going to go home because my mom takes care of my grandma and she is at high risk." 
Hachtel talked about missing her family and considered going home during Thanksgiving if she took the right precautions. She said, "Then my mom and my sister ended up getting COVID-19, and later my dad." She was then unable to go home for the break because her family was in quarantine.   
Hachtel said her mom had symptoms two weeks before Thanksgiving and that was when she knew she wouldn't be able to go home.  A week later her sister developed symptoms and she figured it had spread throughout their family.   
Hachtel said her roommate doesn't celebrate Thanksgiving, so she decided to stay at their house in La Crosse with her. She said over Thanksgiving break she did homework and watched movies. Hachtel said "I kind of felt lonely. Everyone else was like 'woo-hoo' I get to go home and see my family.  It's kind of like a family tradition, and I was not with my family." 
Hachtel said she has decided to go home for winter break and stay home until the second semester.  She says her family is supposed to be immune for the next couple of months, so she feels it is safe.   
UWL sophomore, Rachel Anderson, lives off-campus and said, "Personally, it was a very hard decision to decide on whether I wanted to go home or not."  She has decided to go home for winter break and went home for Thanksgiving break.  She said she has struggled without seeing her family. When she goes home, she takes precautions by quarantining for two weeks and getting tested before she goes. Anderson said, "It's never going to be 100% safe, but I think you can take precautions to make it safer for yourself and your family members."  
Anderson plans on following guidelines once she is home and spoke about her experience over Thanksgiving break. She said, "I only saw the people in my household.  We did a driveway visit with my one side of grandparents, which was outside, socially distanced, and we had masks on. Then we had a zoom thanksgiving dinner with the other side of my family."   
Anderson said it is important to follow COVID-19 guidelines during the holiday season. She lives in Dane County and when asked about the safety guidelines put out, she said, "I think it is reasonable to ask people to follow safety guidelines. Cases are continuing to rise and so are deaths. We need to do something."
She said she understands how hard it is to not see family and to feel isolated during the holidays. However, she says that everyone feels that way at this time. Anderson said, "I would rather see my family for the rest of their lives rather than bringing something to my grandparents and never see them again." 
About the Contributor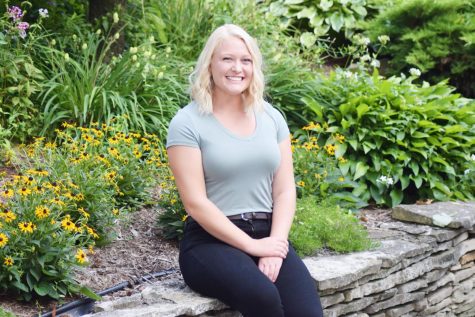 Jenna Dinkel, General Assignment Reporter
Year at UWL: Sophomore

PGPs: She/Her/Hers

Hometown: Jefferson, WI

Major: Public Administration and Political Science

Other Campus Involvement:...