"I was so impressed with how resilient the students were": UWL professors reflect on communication and fall 2020 semester
Due to COVID-19, this semester has looked different than any other. In addition to students adapting to the online and hybrid schedules, the University of Wisconsin-La Crosse professors have had to do the same. The Racquet Press spoke to UWL professors who have worked on making the best of this semester and spoke on their experiences with communication with administration.
Kristina LaPlant is a first-year assistant professor in the department of political science and public administration at UWL with a doctorate in political science. She teaches all her classes this semester online asynchronously. She discussed her decision to teach completely online this semester and said, "It was very clear from the onset of this pandemic that we had politicized mask-wearing. One of the best ways to safeguard against the virus is by wearing a mask. I knew very clearly that this was not going to go away."
LaPlant completed her dissertation last fall at Georgia State University and taught classes there last spring. LaPlant said, "I've essentially gone through this pandemic at two different institutions and I think both of them handled it way differently." 
LaPlant explained her frustration with her previous institution saying, "It was about spring break when everyone got the email. We are shifting to 100% online instruction, good luck," she said. "I didn't see the same caliber of response at State as I did at UWL." 
In regard to the administration's communication LaPlant said, "At least from a comparative perspective I would have to give the administration very high marks for their communication. It was ten-fold what I was getting from my other institution. I think most of the credit has to go to [Center for Advancing Teaching and Learning] CATL," she said. "We were constantly getting emails from Provost Betsy Morgan. She was constantly keeping the faculty and instructors in the loop."         
 LaPlant spoke about how she had to readjust her priorities and expectations while teaching online. She said, "My top advice for everyone is to be as flexible and lenient as possible.  This is unique. We shouldn't have the same expectations of our students and be super hard on them when nothing is normal. So, why teach normally?"
When asked about her first semester at UWL she said, "Honestly I'm really impressed. With everything going on, I don't think it could have gone any better." 
Professor Sam Scinta is an associate professor who teaches american government, political theory, and courses based on law and the judicial process and has his Juris Doctor degree. Scinta has been teaching at UWL for ten years. When discussing his decision to teach all online this semester he said, "It seemed pretty obvious to me by June and July that the likelihood that we would be able to keep students in the classroom the whole semester was going to be rather difficult." 
Scinta also discussed missing student interactions. He said, "I like to tell bad dad jokes during my class.  It's really hard because when you're trying to convey a sense of humor and you're doing it to maybe two students with cameras on and everybody with cameras off you have no idea what the reaction is." 
In addition to empty zoom rooms, Scinta spoke on the general difficulty of the semester. He said, "It's not the same. Being able to interface with students was a major issue. Moreover, psychologically this was just a hard semester for students."
Scinta is prepared for another semester online in the spring. He said, "I think there is hope on the horizon. I also think that this is going to continue to be a challenging time for us. What I'm trying to do in the midst of all the chaos: I want my classes to be a source of stability."
Looking back on the semester, Scinta considers it a learning experience. "Once it comes time to reopen everything again and everything is back to normal; how much better is it going to be? There is a lot we will learn from this process," he said.
Professor Anthony Chergosky has been a professor for three years at UWL and is an assistant professor of political science with his doctorate in political science. This year he decided to teach his classes in a hybrid model. When discussing his semester and how it has been different than previous semesters. "It was just a lot of work. I think everyone was putting in a lot of work this semester. I was pouring so much time into figuring out how to make my classes work," he said.
Chergosky also discussed the communication he has received this semester from administration.  He said, "I think the administration has faced challenges unlike we will hopefully ever have to face. I think so much of what we were going to experience was unknowable and so unpredictable." He discussed having multiple plans going into the semester based on the presumption that we would have to go online at some point. He said, "We all would look back and say there are things I would've done differently.  There was just so much that was fundamentally unanswerable."
In Chergosky's final thoughts he wanted to give praise to the students this semester. "I was so impressed with how resilient the students were." He said this semester has shown him the importance of being a professor. Chergosky said, "This is why I do what I do. To have awesome students and be part of their academic journey. This semester, as challenging as it was, has proved to me this is why I do what I do."
About the Contributor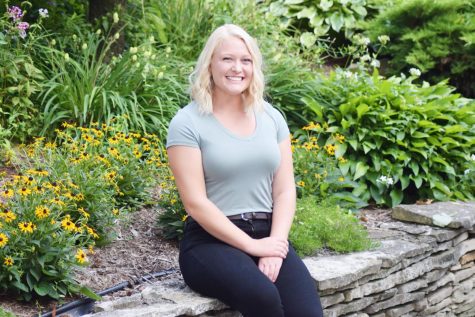 Jenna Dinkel, General Assignment Reporter
Year at UWL: Sophomore

PGPs: She/Her/Hers

Hometown: Jefferson, WI

Major: Public Administration and Political Science

Other Campus Involvement:...