News Release: New testing information for off-campus students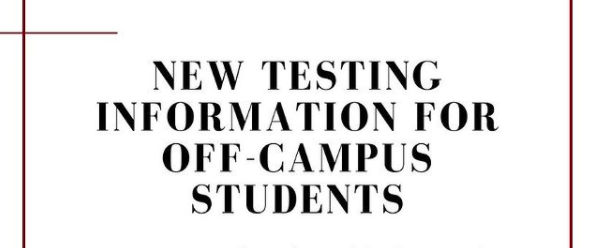 The University of Wisconsin La Crosse Student Association released a statement on their Instagram [@uwlstudentassociation] today, Jan. 31, regarding new testing expectations for students.
"Beginning Monday, Feb. 1, and for the remainder of the semester, off-campus students will be expected to report for testing on the third floor of Cartwright once every two weeks.
The initial BinaxNOW antigen test will provide results within 15 minutes. Some students may be advised to take a confirmatory PCR test. 
Register at www.doineedacovid19test.com using your @uwlax.edu email address and La Crosse address."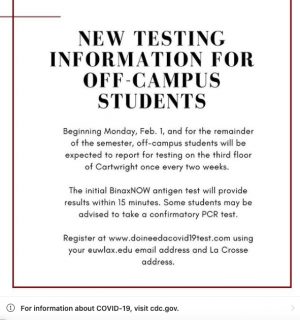 To access the drive-up surge testing center students are required to create an account on the virtual healthcare filter, eTrueNorth. To find the Cartwright center listed amongst the sites, click on the Wisconsin testing-site locations. The center will be open from 8:30 am to 4:30 pm for the first week of classes.