New department of Race, Gender, and Sexuality studies to launch in July 2021
In late November it was formally announced that the departments of Women's, Gender, and Sexuality Studies (WGSS) and Ethnic and Racial Studies (ERS) would be merged into one department. This announcement came in the form of an email composed by ERS and WGSS faculty, which was forwarded by Provost Betsy Morgan to the greater University of Wisconsin-La Crosse community. 
The brief email explained when the new department would launch. "With approvals from Faculty Senate on November 19th, 2020, and the Chancellor, the new department of Race, Gender, and Sexuality Studies will be in effect as of July 1, 2021." 
July 1 is the beginning of the respective fiscal year's third quarter. As the 2021 spring semester is beginning, The Racquet Press spoke with Provost Betsy Morgan and College of Arts, Social Science, and Humanities Dean Karl Kunkel to learn more about the reasons for the merger and the process of launching the new department.  
According to Provost Morgan, a merger of WGSS and ERS had been discussed in various ways previously, but, until the summer of 2020, had never gone farther than suggested. "What brought it to a head this year is that Sarah Sillinger, who is one of the two [tenured] faculty members associated with ERS, announced her retirement." This effectively left ERS with just one faculty member. "There are more than two people who teach ERS classes, but there are only two of these [full time] ranked tenure track lines," said Morgan. 
Morgan and Kunkel were uncomfortable with hiring an entirely new faculty member into such a small department. "Academic departments have a certain amount of work that they have to do, between program assessments, curriculum revisions, and representation in administrative entities," said Kunkel. "When you have very few people in a department, it becomes a burden on those people to cover those roles, whereas when you have a larger department those responsibilities are dispersed."  
WGSS is similar to ERS in that it has numerous affiliated faculty members (faculty from other departments who teach courses within WGSS programs), but only a handful of full time, dedicated faculty members. 
According to Kunkel, the ERS and WGSS merger is meant to consolidate resources and reduce pressure on two small departments. "We brought the faculty from both departments together for a conversation to determine whether they thought it was a good idea or not, and, had they said it was a bad idea, we simply wouldn't have done it," said Kunkel.  
When the merger was initially announced, it drew criticism from the Milwaukee based student political action group Leaders Igniting Transformation (LIT) given the larger context of 2020 and the events surrounding racial justice and Black Lives Matter.
The merger was ridiculed as a way for the university to save money amid the UW system tuition and a hiring freeze and said that it reflected badly on UWL's commitment to advancing social justice and intersectionality. However, according to Kunkel and Morgan, this is not the case.  
"Did we consider the fact that this was particularly bad timing for this [merger]? Yes," said Morgan. "On the other hand, we had a retirement in a department of two. Our goal at UWL is always to strengthen the faculty and the departments, who are under a lot more stress especially this year. It's never been an easy job, but this year especially the faculty of WGSS, ERS, and all faculty of color have had additional personal and professional burdens." 
"Someone from the outside may look at it and say, 'they're collapsing two departments together and that's not a sign of support,'" Morgan said. "In the long run, the goal was to strengthen both departments. Women's studies and ERS play an important role in the mission of UWL and the mission of their college." 
"We're creating a situation where there is more strength between those programs because they're more concentrated in a single department," said Kunkel. "I would argue we're actually strengthening those programs and the ideas they put forth." 
Kunkel and Morgan held an open forum in late November where faculty from WGSS and ERS were present to answer questions from the campus community. Kunkel said, "We did do our due diligence and gauged if there was a major backlash or pushback from the campus community over the idea of merging the two departments…and nobody showed up." 
Before the fall semester, Morgan and Kunkel worked hand in hand with the faculty of the ERS and WGSS departments to determine the feasibility of the merger.  "One of the really interesting questions," said Morgan. "Was whether it would be a purely administrative merger (where the two departments basically just coexist separately) or a more synergistic merger that reflects the intersectionality of ERS and WGSS." The faculty ultimately decided that they wanted it to be a true merger of the two areas of study, and decided that the new curriculum will eventually be looked at in conjunction with the merger. 
The five programs offered between ERS and WGSS—the ERS minor, the Hmong and Hmong-American Studies Certificate, the social justice minor, the WGSS minor, and the WGSS major are all currently slotted for continuation under the new, merged department. However, this may change as the new department reevaluates its curriculum and assesses students' needs. As stipulated in university policy, students who are already on any of these tracks will complete their respective programs, regardless of any future changes in program offerings.   
Currently, faculty from WGSS and ERS are focusing on the logistics of the merger in preparation for its launch. "July 1 is the target date so that gives quite a bit of time for run-up, working out details, people getting used to the idea, and also gives us more time for revising the website, creating flyers and brochures and those types of things, etc.," said Kunkel.
Primarily, faculty are in the process of writing new bylaws for the merged department. Kunkel said, "Bylaws dictate how departments operate, how they're divided up into committees, who's responsible for what, who gets to vote in what situations, what the criteria are for faculty seeking tenure and promotion, etc." 
In addition, the administration has recently finalized its search for a tenure-track faculty member who will join the new department in fall 2021. Taylor Johnson is completing her Ph.D. in Communication at the University of Utah. According to Morgan, she takes intersectional and interdisciplinary approaches to research and teaching. Her particular focus is on Indigenous rhetorics driven by a broad interest in environmental justice, settler colonialism, race, and gender.  
Due to the hiring freeze, very few faculty members are receiving tenure. "That's [the hiring of a new faculty member for RGS] one of only two tenure track faculty searches that are going forward right now at the university," said Kunkel. "Which I think demonstrates a tremendous commitment to the success of the new department." 
The new department of Race, Gender, and Sexuality studies will be housed on the fourth floor of Centennial Hall, where WGSS currently resides.    
About the Contributor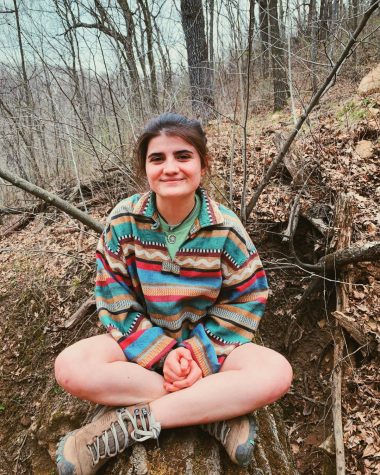 Sophie Byrne, Social Justice Reporter

Year at UWL: Sophomore
PGPs: She/Her/Hers
Hometown: Mazomanie, Wisconsin
Major: Political Science
Minor: Environmental Studies, Professional...