Humans of UWL: Amanda Goodenough
First-generation college student, self-described lifelong learner, and social justice activist Amanda Florence Goodenough has embodied the mission of The University of Wisconsin-La Crosse Research & Resource center for Campus Climate for over 15 years. 
As Campus Climate director, Goodenough conducts staff and student training, cultivates programming, and provides resources that help to advance social justice, equity, and inclusion on campus. Goodenough is currently splitting her time at UWL between staff and students while pursuing a doctorate degree. 
She was recently recognized with the 2021 Dr. Martin Luther King Jr. Leadership Award, which was awarded to her at a virtual ceremony on Jan. 18, 2021.
Goodenough said she didn't always have a passion for social justice. "Those seeds were planted very early on in life, with experiences that my family and I had with discrimination, but it wasn't my life's calling or anything that I thought of as a career."  
Goodenough completed her undergraduate degree at UW-Platteville, where she initially declared an engineering major. "[I] realized that wasn't my path and switched to communications with an emphasis in graphic design." 
She worked as a graphic designer for several years after her undergraduate but found herself wanting more. "While I liked the creativity that came along with [graphic design], I realized I needed to do something more fulfilling, and to make a difference in the world…even if it was just my small corner of the world. That's when I started to do more soul searching and realized I needed to pick a different path." 
Goodenough then pursued a master's degree in College Student Development & Administration at UWL, where she worked as a graduate assistant in the Office of Multicultural Student Services. 
She attributes those years with awakening her passion for social justice and preparing her for her eventual hire into the Campus Climate office. "The office [Campus Climate] didn't exist when I first started grad school. It came into existence in 2005–halfway through my program—and when there was an opportunity to join that office after I graduated, I was like, 'this was written for me,' and so it was an easy choice." 
Goodenough had three job offers from different administrative offices at UWL upon her graduation. "Campus Climate was probably the riskiest choice because it came without full benefits due to it being an emergency hire. The pay also wasn't as good as the other positions, but it aligned the most with my values."  
Goodenough said that she feels like she was meant to work in Campus Climate. "It was a little bit of the universe and the stars aligning… when I look back, any creative freedom I had with academic assignments [during her master's] definitely prepared me for the position. I was always looking into hate crimes, bias and discrimination, multiculturalism, justice, etc." 
Goodenough worked as the Communications and Program Coordinator of Campus Climate until 2013 when she was promoted to Assistant Director. She has been the director of the office since 2018.  
In her time at Campus Climate, Goodenough has worked on numerous initiatives. "It's a huge mission for a small office," Goodenough said. "I feel like I eat, sleep, and breathe Campus Climate." 
She oversees Awareness Through Performance (ATP) and the Racial & Intersecting Identity Symposium for Equitable University Progress (RISE UP). These annual programs work to give students and faculty a safe and immersive platform to speak their truths regarding issues of racism, discrimination, and marginalization on campus. 
Goodenough said that the two programs have similar missions. "RISE UP is another labor of love that mirrors the ATP experience but it's just to kind of give employees space and skills and community to engage in advocacy and activism alongside students, again all around making the campus more just and equitable."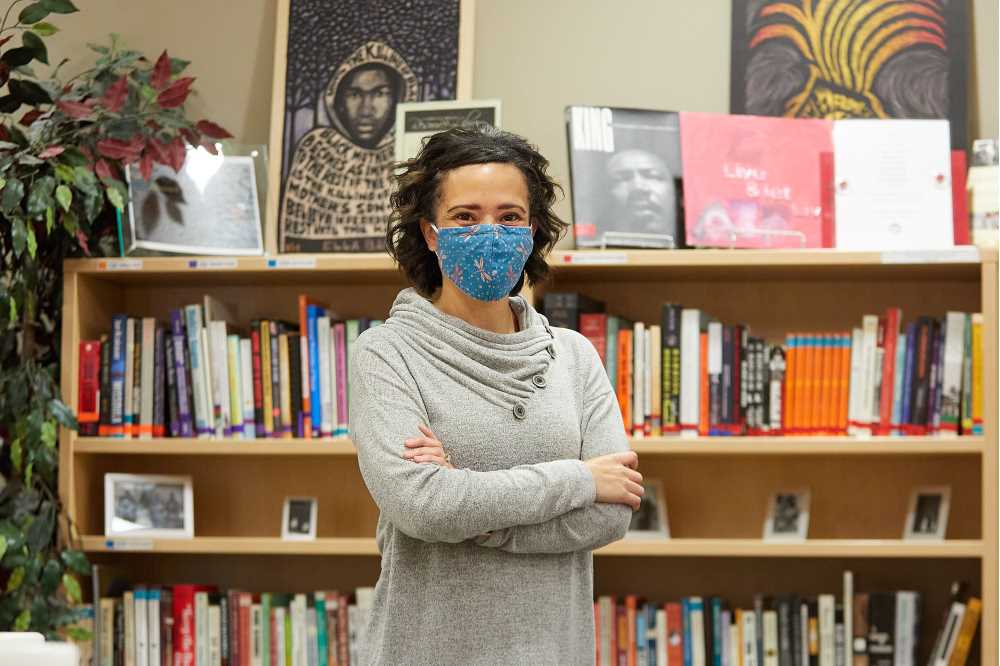 Goodenough also oversees Students Education & Embracing Diversity (SEEDs), a collective of student peer educators who have a passion for social justice work. She organizes an annual Hate & Bias Response Symposium, which allows for community members and experts to gather and discuss how acts of hatred may be responded to and mitigated.  
Goodenough also leads the Hate & Bias Response Team, a Campus Climate program that allows for students, faculty, and staff to report incidents of hate and bias in the community. "The Hate & Bias Response team provides an outlet for people to share their experiences and tell us why or how they might not feel safe or not be experiencing an equitable climate in the classrooms, residence halls, or even on the sidewalk," said Goodenough. "That's a really important part of the work that we do and the team that I provide leadership for because it adds pieces to this larger puzzle of the campus climate, and it helps to shape and inform the rest of the work we do." 
Goodenough is set to receive her doctorate in Student Affairs Administration and Leadership in 2025. "I started that program just last summer, which has been difficult. Not necessarily the program, but it's a major life transition to go back to school after 15 years," said Goodenough. "I'm a mom of two little ones, I have a six-and-a-half-year-old and a three-and-a-half-year-old, so it's a lot to juggle."  
Goodenough was not expecting COVID-19 when she applied for her doctorate. "I didn't know that we would be in the middle of a pandemic when I would start my program. I didn't know that my dad would get sick and pass away in March. I was juggling all these things, and then there was also the racial justice pandemic that started with the murder of George Floyd." 
Despite the challenges of 2020, Goodenough is passionate about continuing her education. "I hope that I never arrive at this place where I'm done learning or don't care to expand my knowledge anymore. I'm a cliché—a lifelong learner." 
Being recognized with the 2021 Dr. Martin Luther King Jr. Leadership Award was humbling and overwhelming for Goodenough. "It's a huge event in this area and I know some of the people who have gotten the award before me, so to be a part of that prestigious group of people that I've looked up to and been influenced by, as far as activism goes, was a huge honor." 
She said, "I get a lot of love from students and colleagues, and I get a lot of resistance and backlash. There are equal forces of love and…everything on the other side of that. I try and hold on to the love, but it's hard work sometimes and some of those other voices can be really loud and hurtful and frustrating. Something like this is a reminder that the work matters, and to have those efforts validated and affirmed….it just felt great to be seen." 
Goodenough is proud of her work at Campus Climate. "If there's somebody who says that they feel they can breathe easier, or that they feel a sense of belonging here, or they feel like they matter because of—even in some small part—my effort…well that feels like success to me." 
Campus Climate Program Coordinator AJ Clauss has worked closely with Goodenough for the past five years. "Working alongside Amanda is a life-changing experience. I am truly humbled and honored to have the opportunity to work with such a driven, dedicated, passionate leader like Amanda. She provides you the space for self-reflection, developing awareness, and brings perspective to how we are all interconnected with our identities. I have worked for numerous people and have never felt so validated, supported, and appreciated as I do working for Amanda."  
Clauss said that Goodenough has a strong impact on the campus community. "Amanda has had a positive impact on the UWL community that will be felt for generations to come. Amanda's creativity and drive for social justice has challenged how we approach our work and how we support students."  
 "Amanda impacts everyone she encounters. Her approachability, accessibility, and humbleness draw you in. She creates a space where social justice is accessible and attainable. As Amanda changes the people around her, we do our best to challenge the oppression surrounding us, thus, making UWL a better place for marginalized communities." said Clauss.  
Clauss said Goodenough is well-deserving of the MLK award. "Amanda is long overdue for recognition of her leadership. She does not need recognition to continue the movement towards social justice but deserves to be seen for the energy, time, and love she puts into her work," they said. "I am truly a better person, social justice activist, and change agent because of Amanda's leadership. I am not the person who I am growing to be if Amanda was not in my life. She is truly a gift and her leadership needs to be studied and replicated. Amanda is truly a leader for the voices of social justice."