UWL Alum, Cindy Marten, Nominated Deputy Secretary of Education
On Jan. 18, President Joseph Biden announced multiple appointments to his cabinet. One of those appointments included University of Wisconsin-La Crosse alum, Cindy Marten. Cindy Marten was nominated as Deputy Secretary of the Department of Education. 
UWL addressed the nomination in a statement, "UW-La Crosse was delighted to see one of our alums, Cindy Marten, nominated to serve as Deputy Secretary of Education for the incoming Biden administration. Marten has had a remarkable career as a teacher, principal, and superintendent, and we look forward to seeing how she will use her talents to serve our nation's schools." 
Marten graduated from UWL in 1988 with a degree in elementary education.  According to the La Crosse Tribune, she continued her education at the University of California San Diego receiving her master's degree in teaching and learning. Marten has since been in the education field for the duration of her career. According to the UWL archives, during Marten's (maiden name Cohen) time at UWL she was involved in the sorority Alpha Xi Delta and she later student taught at Hintgen Elementary School. 
According to the La Crosse Tribune, Marten spent ten years working at Central Elementary in the City Heights neighborhood, which is one of San Diego's most ethnically diverse and economically disadvantaged schools. It is at this school that she implemented programs such as a bi-literacy program, a school garden, a daycare center for children of staff, and an after-school preschool program. 
 In a 2013 edition of The Lantern, UWL's alumni magazine, Marten was referred to as a "Super Superintendent." She was being recognized for becoming the superintendent of the San Diego Unified School District, one of the largest school districts in the nation. In this article, Marten said, "I worked with a team. A strong leader doesn't do anything by him or herself." 
In the same edition of The Lantern, Marten said, "I give credit to UWL for providing me with a very solid education. UWL started as a teacher's college and those roots ran deep providing me with a traditional and strong foundation." 
Marten was later featured in a 2015 edition of The Lantern for her achievements throughout her career as an educator. She received The Burt and Norma Altman Teacher Education Award for her "significant contributions to children and communities." 
According to ABC News San Diego, Marten released a statement to San Diego Unified School District families. Marten said, "This week, our nation will celebrate a new beginning, as we witness the inauguration of President-Elect Joseph Biden and Vice President-Elect Kamala Harris.  It will be, in the words of another great president, 'not a victory of party, but a celebration of freedom — symbolizing an end as well as a beginning — signifying renewal as well as change.' I am honored to share with you that President-Elect Biden has invited me to be a part of that change as his nominee to be the next United States Deputy Secretary of Education. Therefore, I will be leaving my post as your Superintendent, following confirmation by the United States Senate." 
The statement continued, "I grew up in San Diego Unified, attended Hardy Elementary and Mann Middle schools, served as principal at Central Elementary and as your Superintendent since 2013. I have had the joy of watching some of our students learn to read for the first time; I've seen others become the first in their families to graduate from college."   
Marten continued the statement by recognizing accomplishments of the district and the students within it.  She said, "Simply put, every time we have challenged our students to accomplish more and given them the resources to do so, they have not only met the challenge – they have exceeded it." 
She ended the statement by giving thanks to people in the community.  Marten said, "Thank you once again for all we have done together, and I know our work will continue." 
About the Contributor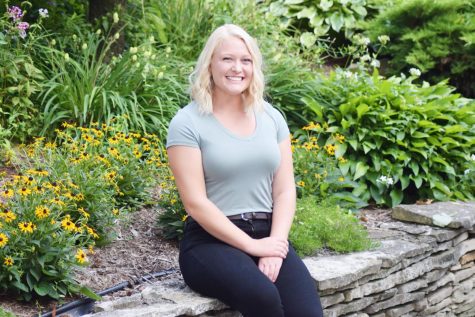 Jenna Dinkel, General Assignment Reporter
Year at UWL: Sophomore

PGPs: She/Her/Hers

Hometown: Jefferson, WI

Major: Public Administration and Political Science

Other Campus Involvement:...