La Crosse community members gather together for a walkout following hate crimes at Viterbo University
At 12:30 p.m. on Thursday, March 11, La Crosse community members gathered for a walkout at the Assisi courtyard at Viterbo University. The event was hosted by Rachael Armstrong and others. 
 The walkout was due to a recent incident that had occurred this week on Viterbo's campus. A person or persons, whose identity remains unknown, had written "Get out of our school. You're a bad person because you're black" on a student's dorm room door. After the writing had been cleaned off, the person then wrote "Leave our school. You ugly black girl. I'm not joking" on the same door.  
 Viterbo students organized this walkout to give a platform to other minority groups, show support, and to send a powerful message to the administration. Students, faculty, and community members came dressed in black with posters to show their support.  
 The walkout began with a few minutes of silence to reflect on the events that happened this week and everything that's been happening in the world in the last year that's been brought forward. People were then invited to come up and speak on their feelings or any reflections they've been having. 
 Viterbo sophomore, Jordan Mann, said, "Speak with us, not for us. We have our own voices. Uplift us, don't push us down. Show your support by lifting our voices and not speaking for us." 
 Sophomore at Viterbo, Maria Dade said, "As a Black person you fear for your life every day. We are scared for our lives any day, so the fact that something like this happened on our campus is disgusting. I'm grateful for the support and everyone who showed up today." 
 Senior at the University of Wisconsin-La Crosse, Kiante Mac said, "This is a movement, not a moment. This is the start, not the end. We have to keep progressing and uplifting each other. I'm at a loss for words because this keeps happening." 
 Freshman at Viterbo, Victoria was the victim of this hate crime. "Do we have to show our hate this way? You can come up to me and tell me I did something to you and say it to my face, so we can have a conversation and work things out, but expressing hate this way isn't right" said Victoria, "We shouldn't be gathering here because of this. I'm really sad and angry about this." 
 Viterbo senior, Christian said, "To feel unwelcome in your own home with the people you trust, love, and see every day hurts so much. Students, like Victoria, shouldn't feel unwanted in the place they worked so hard to get to." 
 Viterbo freshman, Anika Philips said "I can't tell you how many times I've been stopped by someone asking me if I belong here, to show my ID card. I made it into this school too, just because I don't look like you, doesn't mean I don't belong here." 
 Viterbo Professor of Music, Mary Haupert said, "I am so disgusted by what is going on here on campus. There is no place for hate at Viterbo, it is good you are all here so that our students can feel safe and be surrounded by love, and not hate." 
 Viterbo University administrations released a statement surrounding the hate crimes, saying:  
"Our community is saddened and frustrated by recent hate-filled incidents. We have taken active steps to identify those involved and hold them accountable. Racism and bigotry are never tolerated at Viterbo University. Any actions, beliefs, or statements that devalue, disrespect, or harm others have no place in our campus community. Viterbo stands in unity with our students of color in denouncing all forms of discrimination, prejudice, and hatred. Our first concern remains the safety and well-being of our students and employees. We are also prioritizing support for the victim of these hate-filled acts and completing a formal investigation of this crime to identify the individual or individuals responsible." 
About the Contributor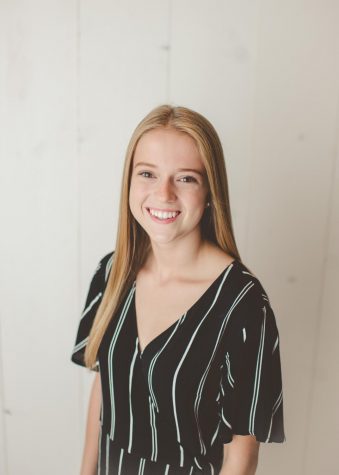 Morgan Hose, Assistant Editor

Year at UWL: Junior
PGPs: She/Her/Hers
Hometown: Austin, MN
Major: Political Science and Communication Studies with an emphasis in Public...